Raku pottery was initiated by a Japanese tea master, Sen Riky, in the 16th century. Boni and Dave Deal, Raku artists from Camas, follow some of those same practices now, marching their feet through the centuries and across mountains in the life they have created together.
Boni and Dave met on hikes to glaciated peaks like Mt. Adams, Mt. Hood and Mt. Jefferson, and it was not long until her interest in design and his interest in pottery meshed into making Raku.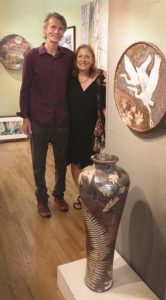 "It worked out for both of us. I can do the surface designs; he does the dramatic firing," said Boni.
Operating a Business With No Electricity
Soon after connecting they became "caretakers" of a 160-acre tree farm in Camas. It had a rustic cabin and no electricity. Forty-four years later they are still there. To the outside world it would seem like a struggle to produce and market a volume of pieces far from shipping companies while using minimal power.
They use a generator for the compressor to spray on glazes and for the wheel to throw large pots. Dave points out he uses a battery-operated head-lamp when he has to work on the kiln at night. It is sometimes going for days at a time.
"We don't even have internet here. I guess we're old fashioned," Boni said. She uses her computer with a battery and gets intermittent cell phone reception.
Still, buyers find them. Boni recently got an email from and made a triptych for a woman in Malta. She was not sure where Malta was or how the woman found out about them. "It mystifies me how she found me. I don't promote sales on the website." Their website was created by their son as a high school project. He is now 40.
Raku Technique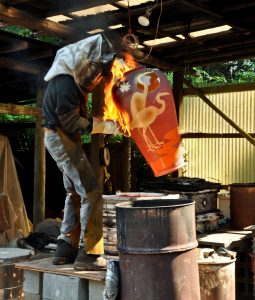 The Raku technique has a two-step firing process. The first one is called the "bisque," and Dave carefully brings the pot up to 1900 degrees, starting with a very low flame and slowing the heat increase at specific temperatures to avoid cracking. Then the red-hot pot is cooled, the glaze is applied and it is fired again in a reduction barrel with the burnables. Copper, when reduced, creates a metallic, rainbow effect, and they use fir bows a lot as well. Dave scours his tree farm for fir needles, 30 gallons at a time.
This last step is distinctly from the American school of Raku, initiated by Dave's pottery teacher, Paul Soldner, who made an inadvertent discovery after firing a pot. "He takes it out and tosses it into a flowerbed," said Dave. Once it cooled "he noticed there was a reaction between the pot and fir needles and leaves."
Dave is still passionate about the process and feels he is still learning and changing as the years go by.
Allyn Cantor, of the While Bird Gallery, said the design aspects of their work have not changed over the years.
"I think they've been consistent with the Northwest flora and fauna," said Cantor. But that's not to say their techniques have been static. "It seems like the work has evolved to be more colorful."
Pottery Sales + Hiking the Pacific Crest Trail
Most of the Deals' income comes from gallery sales. Otherwise they do not keep a standing inventory and do commissioned orders, such as the mural above the circulation desk at the Camas Public Library. Often the work is to replace other work lost in moves, but frequently customers will request a pot or a platter, and Boni will send them photos and designs.
Currently Boni said there are 20 orders pending. "Too bad, because that's a lot to do," she said, before their annual hike on the Pacific Crest Trail.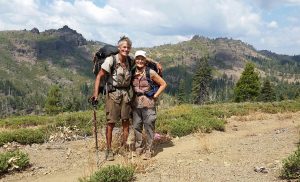 They do approximately 500 miles each summer on the Pacific Crest Trail. They have done all of Washington and Oregon and are working their way through California. Each 500 miles takes a month, although this summer it might take a little more because, "it's really, really steep and rugged in the Sierra Nevada Mountains."
When they did their first section of the trail, they brought along their then four-year-old son. They have three children, all doing well, and all using art in their lives. The family of five is linked together by their passions for art and Pacific Northwest wildlife, nature and geology.
One daughter has been teaching in Africa; a son in Seattle is a nature photographer and a snow climber and another son in Portland founded Portlandia, which makes Portland Organic Ketchup, to which Boni contributes designs for bottles and boxes.
Boni and Dave are graduates of Hudson's Bay High School and will be celebrating with the other remaining class members for Dave's 50th reunion.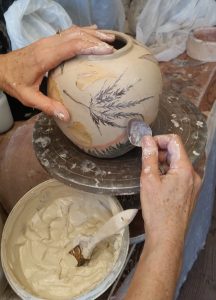 "We're all old Clark County. Our families have been here for generations." Boni said. Despite sales all over the world, they stay close to home.
"We mostly stay in the Northwest," Boni said. "Dave would preferably live up in the Yukon in Alaska, but it's sort of a compromise to be here." It would seem that staying close to nature and their roots is where their inspiration comes from.
Cantor has seen other old-school artists with minimalistic lifestyles. "To be successful you need to be that dedicated to your artwork; you need more quietude for the process," said Cantor. Raku is a measured process – from inception to completion it can take a month or more per piece. Patience is essential to the process. And a life that respects time and nature seems to be working for the Deals.
Their work can be seen this fall in several galleries: The Camas Gallery, The Real Mother Goose in Portland, The White Bird Gallery in Cannon Beach and Childhood's End Gallery in Olympia. They will also be participating in November in the Wild Arts Festival put on by the Audubon Society each year.
They also get to fire on the beach at the annual Canon Beach Plein Air Festival. Another big show for them is the Oregon Potters Association Ceramic Showcase in the spring.
To learn more about Boni and Dave Deal, visit their website.