There has not been a single list of the top cities for vegetarians created in the last decade that has not included Portland. The "Portlandia" sketch with people navigating both a vegan menu and a fart patio parody the veggie-inclusiveness of the city. But there is literally a vegan mini mall in Portland, so it is no joke. That is great for residents, as well as people in neighboring cities who are a short drive from meat-free nirvana. However, there are a lot of yummy vegetarian meal items that can be found in Vancouver itself, saving you a trip down I-5 or 205 while also keeping your money in the local economy.
Currently, there is not a single restaurant in Clark County that is solely vegetarian or vegan, which presents a great opportunity (Hello! Calling all restauranteurs!). Nevertheless, there are a lot of items on predominantly meaty menus that allow people seeking out plant-based grub something tasty on which to nosh.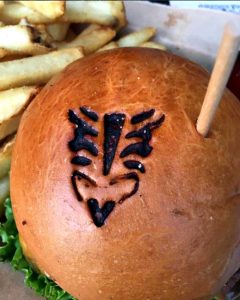 A couple of the items on this list are really spicy; this is one of them. The pub tops a brioche bun with habanero mayo, spicy ketchup, local pickled peppers, fried jalapenos, arugula and pepper jack. The burger is served with a 1/3-pound patty, and you have to pay $1 to have it subbed out for a veggie patty. Nonetheless, this is one of the best veggie patties ever. It is like a samosa filling, rich and full of vegetables. We fully recommend paying to upgrade the delicious, standard house-seasoned fries to the orgasmic herbery fries seasoned with fresh rosemary, parsley, asiago and truffle salt and served with blue cheese fondue.
The Jerusalem Café started serving Mediterranean food in downtown Vancouver in the mid-1990s. A couple of decades later, they are still offering drool-inducing cuisine to a lucky clientele. They have a few vegetarian items on the menu worth trying, but the falafel is exceptional. A soft pita is filled with tahini, tabbouleh, Turkish salad, tart pickled red and green cabbage, and falafel—freshly fried balls of ground garbanzo beans, potatoes, parsley, garlic, spices and onions. If you want to get wild, order a basket of garlic fries and slide some of them into the pita along with the other fillings.
If you have not had Indian pizza, you are missing out big-time. Does this pizza place make a lot of vegetarian pies? Yes. Do they make one better than the Kamal's Special? Not even. This is a hand-tossed, scratch-made crust topped with chana masala (a savory Indian sauce), marinated garbanzos with curry, bell peppers, onion, ginger, jalapenos, cheese and cilantro. It is the perfect union of two cuisines that you would not think to put together. After you eat some, you will not be able to stop thinking about it.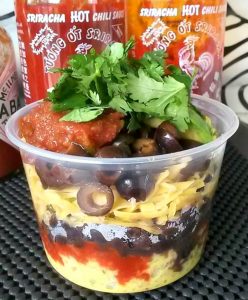 The Mighty Bowl: Bowl with Kiggins Spicy Chipotle Sauce
If you work downtown or attend Clark College, you are familiar with The Mighty Bowl because their trucks are staples of those landscapes. Customers love their quality ingredients and simple menu, which offers bowls, burritos and salads. The bowl, however, is the way to go. It is hearty and filling, but it is also the least expensive option. Bowls and wraps include organic black beans, salsa, brown rice, Tillamook cheddar cheese, all-natural sour cream and olives, avocado and fresh cilantro. You can order your sauce extra-spicy if you are a fan of sweating when you eat. But, be warned, it is genuinely hot. The avocado and sour cream are welcome ingredients, as they break up the heat.
Bleu Door serves some of the best pastries in the region, and their café holds Vegan Thursday each week. They add vegan specials to their breakfast and lunch menu. Sometimes this means cauliflower soup or a Caprese salad with house-made vegan mozzarella. Breakfast generally includes some form of French toast, though it is not a guarantee. Expect thick slices of baguette made on-site dredged in an egg-free batter and cooked with a vegan butter. It may not sound particularly special, but it is literally the best French toast I have ever eaten. It takes on almost a bread pudding consistency and, topped with fresh fruit (as it is sometimes), it is filling without being cloying.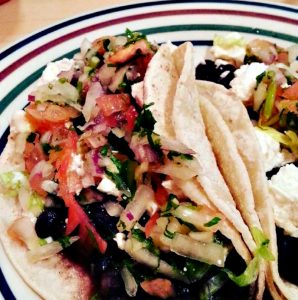 Provecho is dedicated to fresh, healthy Mexican cuisine, so it makes a good break from Muchas Gracias. They make everything to order. The chips are cut in-house each day and fried in peanut oil. The salsas are made daily, and the guacamole is hand-mashed. They make a vegetarian version of each item on the menu (quesadilla, tostada, burrito, etc.), but it is the taco that is the real stand-out. Whole black beans are piled on a warm, handmade corn tortilla and topped with fresh pico de gallo and feta cheese. A squeeze of lime over the top makes each bite perfection.