Perhaps it's a bold claim, but I absolutely think there is something redeemable about every doughnut. Truly great ones are obviously satisfying on multiple levels, but even stale ones have a charm and can be perked up with a cup of tea or coffee. There's a place for the average grocery store bakery offering. And those that may not meet our sweetness level of preference are still delicious, fried dough. There's no losing.
The following tour includes great places to get fresh doughnuts in Clark County. There aren't as many as we might like, but there are enough to make sure you are never more than 20 minutes from someone who can sell you a flipping-fantastic doughnut.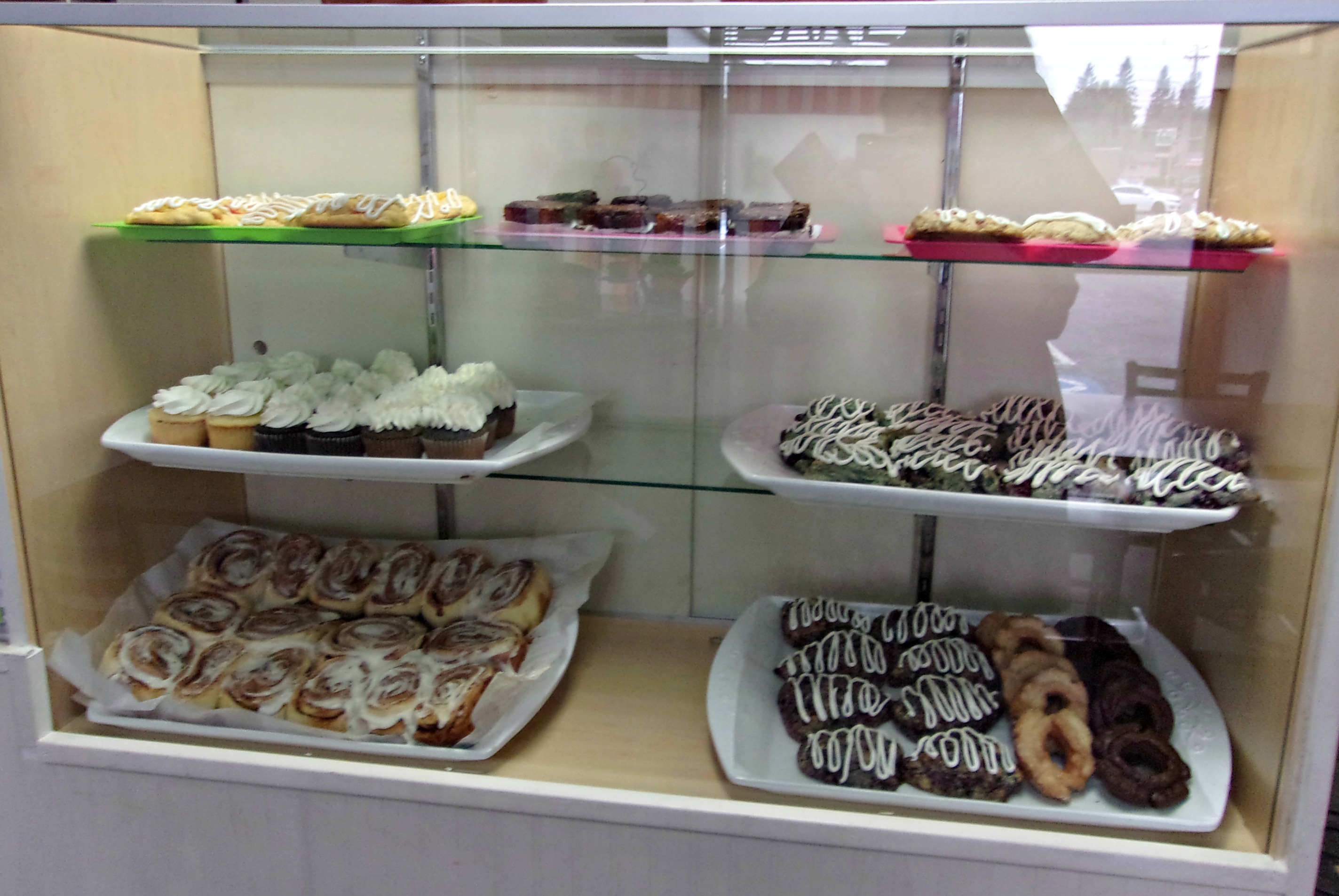 Sandwiched between a dog groomer and a chiropractor, The Hungry's Bakery is a storefront where homemade goods baked offsite are sold. The treats are made fresh daily, but they come in rather small numbers, so customers are unlikely to grab a couple dozen doughnuts without special ordering. The selection is also small and varies. On a recent visit, the options were glazed old fashioned and chocolate-dipped old fashioned. That's it. However, the glazed doughnut was one of the freshest, least greasy I have ever had. Hungry's also appears at the Camas Farmer's Market on occasion.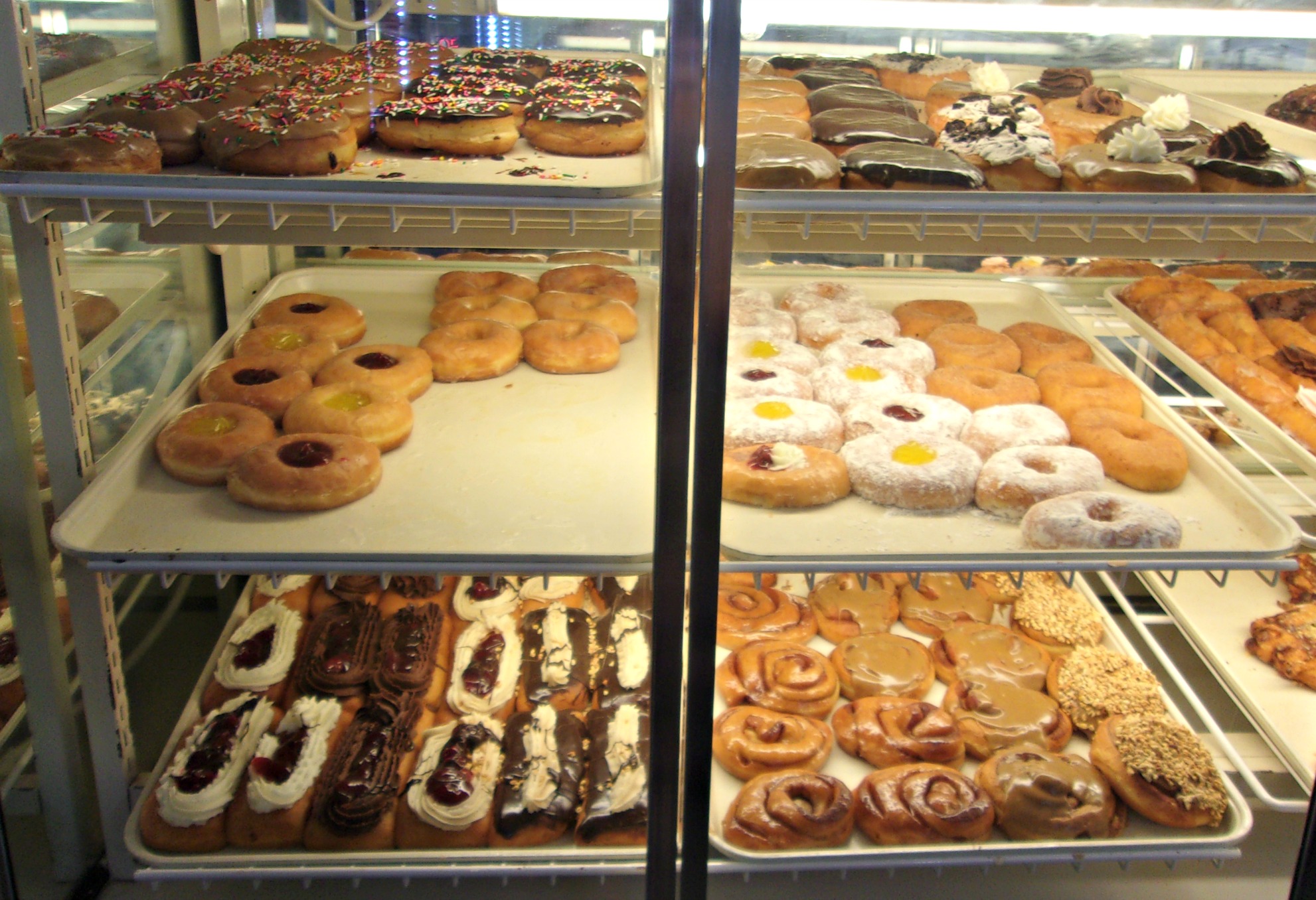 When you step into Sadie and Josie's Bakery, there's a good chance that you are going to be greeted by Sadie or her sister Josie. After years working at Save on Foods in Woodland, the pair opened a mobile bakery with their parents before the family took on their present adorable location. They keep a doughnut case full of old favorites and few innovations, like the Oreo doughnut and the banana fritter. Sadie recommends people try the chocolate buttermilk bars topped with fresh strawberry buttercream made in-house. There is literally no reason for people in Northern Clark County to go south for doughnuts with this bakery in their midst.
Little has changed at the Donut Nook since Phil Pomeroy opened it in 1976. Heavy wooden end tables and a large couch upholstered in aged brown sit in a corner, inviting the many old timers who hang here with a drip coffee and a cherry fritter to take a seat. The store still sells the same, scratch-made doughnut they have sold for over 30 years. This shop is a religion among its many customers who argue their goods rival anything that can be found in neighboring Portland. Fridays offer the largest selection, including cinnamon rolls and sticky buns. On occasion, you can also buy day-olds for a significant discount.
This is the most innovative doughnut seller on this tour. Whereas the others stick to the traditional offerings with one or two specialty items, most of the items on the Dot menu are unique. That means you can get a Bavarian or old fashioned, but you can also get wild cherry, mango tango, coconut cream, salted caramel, cotton candy and strawberry blast. You don't have to go nuts, but you should because every one of their doughnuts – from the plainest glazed to the most decadent blueberry lime – is fab. Every day, 30 types are prepared and, when they are gone, that's it. This is a husband-and-wife-owned local business making a quality product, so you can't expect it to operate like a grocery store or chain bakery.
This is the only national chain on the tour, which means it functions differently than the rest do. We are talking automated production, late hours, and fresh goods being prepared throughout the day. This all adds up to a consistent, satisfying product. Although the menu leans heavily toward the original glazed and other yeast doughnuts, there are some cake options, too. They have some limited time options, as well. Honestly, hit this up when the other places are closed, when you need a drive-thru because you don't want to get out of your car, and when the light indicating hot, fresh doughnuts is lit up. The popularity of Krispy Kreme doesn't make any sense until you eat a hot glazed doughnut and it feels like custard in your mouth. It's insanely good.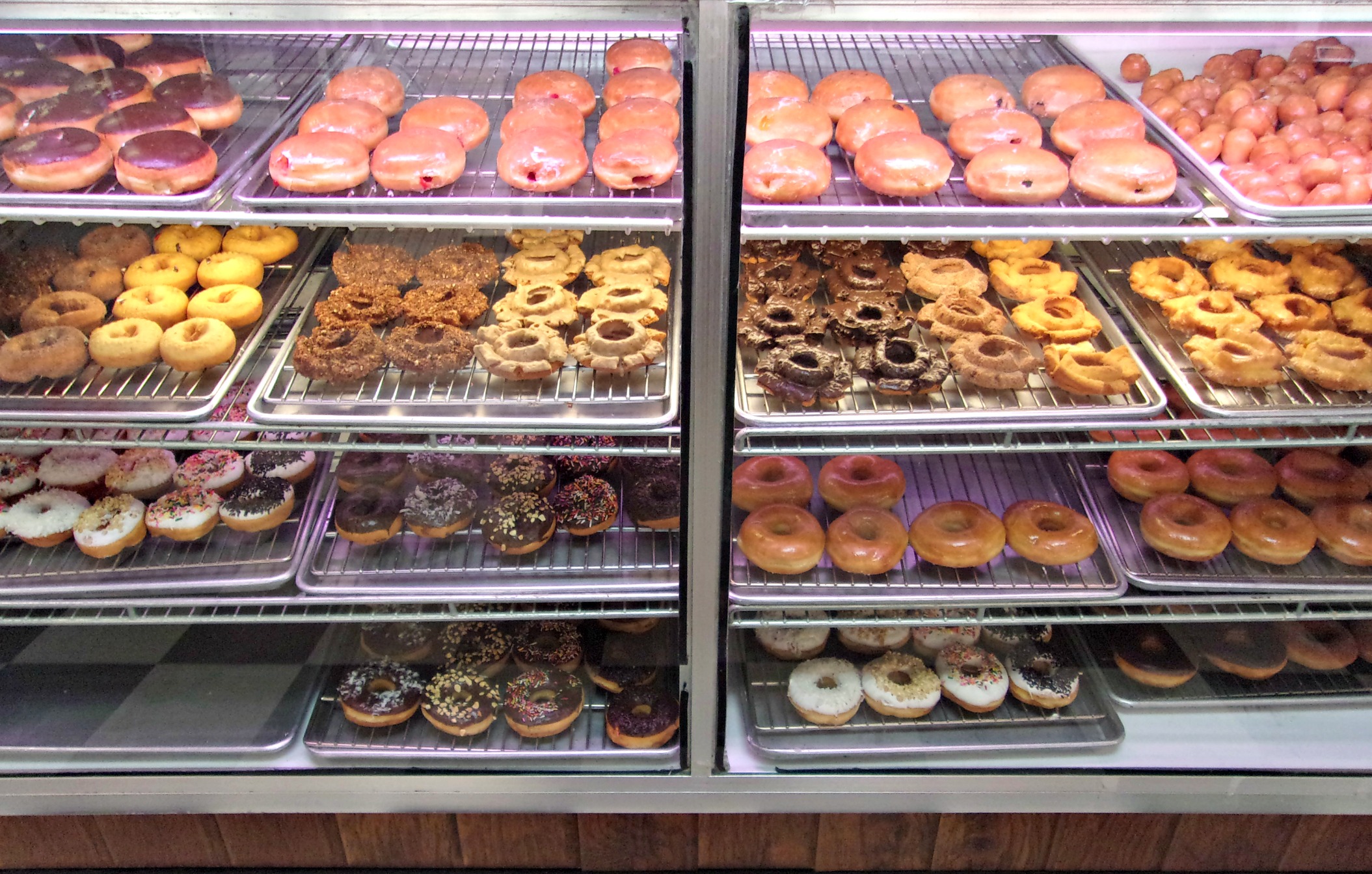 This is a straight-forward doughnut shop. Expect the usual suspects, like maple bars and frosted cake doughnuts, to be done well, but not for there to be seasonal specials or outrageous ingredients. They stick to the classics. Customers sing the praises of their fritters, which are available in apple and blueberry every day and raspberry on the weekend. There is seating for people who want to relax and enjoy their doughnut and a coffee before moving on with their day. People unimpressed by the artistry of Dot and the corporate nature of Krispy Kreme will feel at home in Tonallis.