Sophie Landers doesn't seem like the type to get all nostalgic and weepy.
But the Columbia River High School senior couldn't help but see the symmetry as she readies for the final weekend of her prep soccer career.
Thirteen years ago, Landers and her good friend Katie Lee played on their first rec team with the Salmon Creek Soccer Club.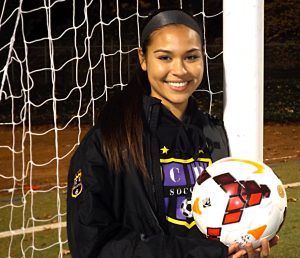 This weekend, Landers and Lee will start for the Chieftains at Shoreline Stadium as they finish off their defense of the Class 2A state title they won a year ago. Columbia River plays White River in the second semifinal at 8:00 p.m. on Friday, Nov. 17.
Landers, a center back who was recently named the 2A Greater St. Helens League's Defensive Player of the Year, has thought about playing college soccer, and her mother, Kathy, and coach Filomon Afenegus have made their thoughts known that she needn't give up the sport.
But Sophie has thought long and hard about it. Her focus right now is finding the right college – she's applied to Gonzaga, Loyola Marymount, San Diego and Seattle Pacific – and focusing on academics, with an eye on studying either physiology or healthcare.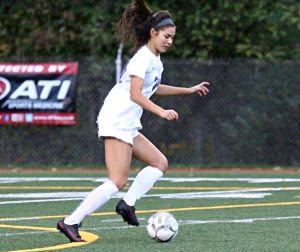 "My mom has been pushing me. She does not want to see me give it up," Sophie said, smiling. "I couldn't give up soccer completely. I love it too much. I'll play club soccer. But all good things come to an end."
It's been a great ride for Landers, who has started all four seasons for Columbia River and played a big role in the Chieftains winning the third title in the program's history, scoring a goal in their 3-2 shootout win over Liberty of Renton last November.
"Ask anyone on that team, and they will say winning state is their favorite memory," Landers said. "But for me, it's more than that. It's the relationships that you build. I've been with this team for four years, and for three months straight, all these girls, they become your family. That's the most important thing I can take from this."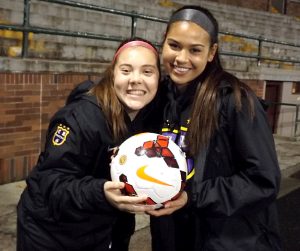 Landers remembers fondly the annual Halloween practices just as much as the victories. One year, she dressed up as Afenegus, which her mother still considers the funniest moment of Sophie's career.
This year, Sophie, Lee, Ava Greer and Liz Canton came dressed as The Wiggles – Landers was the purple-shirted Lachy – and revels in the crazy costumes everyone wears.
"She's so funny. She always makes us laugh," said junior goalkeeper Alex Schulz. "She's also always there to tell us to keep our heads up when things aren't going our way."
That hasn't been too often this season. With Landers anchoring the back line, the Chieftains have won 10 straight games, allowing only one goal during that stretch.
For the season, River is 18-2-1, on a 15-game unbeaten streak, and has given up just seven goals all season.
Sophie Landers' Favorite Things
TV show: Grey's Anatomy
I have a whole lot of Netflix shows that I like to binge watch. I've watched all the Grey's Anatomy seasons. All the drama and suspense, I'm always hooked.
Movie: The Devil Wears Prada
I don't necessarily have a favorite, but I'll always watch it when it's on TV.
Book: The Fault in Our Stars
I read it a long time ago, but I read it at least three times.Food: Pad thai
I love all Thai food, really.
School subject: Science
I love learning about the human body. As an athlete, I'm interested in learning about anatomy and physiology.
Superhero: Batman
I loved The Dark Knight movie. All superheroes are mysterious, but this movie kept me intrigued.
"Sophie is a lifesaver," Schulz said. "She's the brick of the back line. She holds everyone together, and she's always there when I need her."
Defense oftentimes is the unnoticed part of any sport, but Landers' play didn't go unnoticed by her peers. Yes, she occasionally cracks the scoresheet – she has four goals and four assists this season – but it's all the little things that Landers does that made it so when it came time to select the league's Defensive MVP, Afenegus said there was no debate.
"Sophie was a unanimous choice, and that's rare for coaches to have unanimity on anything," he said. "But she's a selfless player. How many tackles a defender makes doesn't show up in the scoreline, but Sophie has an edge to her – she enjoys the tackle, the physical part of the game. She has a blue-collar, gritty personality that you have to have as a defender."
That's been the case almost from the very start of Landers' soccer career. She's played as an outside back and a wing in the midfield, but invariably, she found her way back to the center of the action.
She's perfectly happy with the anonymity of playing center back, getting noticed usually only when the ball finds the back of her net.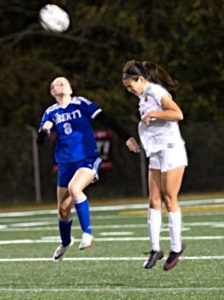 "There's definitely a lot more pressure back there. You mess up, people remember it," Landers said. "But that's just what the position is. You get used to it."
That same pressure will be on the Chieftains this weekend as they look to win another championship.
"Filly has said we'd have a target on our backs this season," Landers said. "We know what to expect. If we put everything we have out on the field, do our best and reach our ceiling, then we've reached our goal. We'll be happy.
"But a win would be nice, for sure."