When you walk into Little Conejo on Vancouver's West Sixth Street, you'll first be taken with the flow of light into the space, followed by the wonderful smells of a traditional Mexican kitchen. To the right, people chat at a small bar where the bartender helps them through tastings of Mezcal and craft cocktails.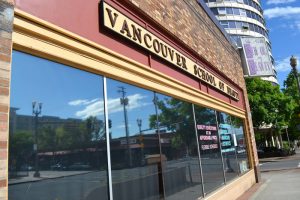 Unless you are new to Vancouver, you may have a sense of déjà vu. The building, across from the iconic round Smith Towers, is not new. What used to be on that corner, you might ponder? Little Conejo is part of an exciting renaissance and growth period in Vancouver. As I sat at a wooden table with co-owners Mychal Dynes and Mark Wooten, the story unfolded. Their story is part of this renaissance and, surprisingly, the history of the space.
Little Conejo – The Building
In the middle of telling me about their desire to try something new and to open their own restaurant, Dynes said, "You know, this used to be a beauty school, and my mother cut hair here." I recalled the aging beauty school that had trained many cosmetology students from Vancouver and Portland over the years. People went there for low cost haircuts and manicures. Dynes talked about his mother. She earned her license there and then the family moved to California.
The building is now perfect for their airy restaurant with the open kitchen and chalkboard listing a selection of creative and traditional tacos. It's also perfect for sipping a flight of Mezcal as the sun streams across the wooden tables.
The Vancouver Renaissance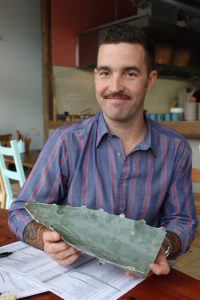 "Vancouver was ready for something different," Dynes explains. He and Wooten had worked in notable Portland restaurants — Wooten at Nodoguro and Dynes at Noble Rot. They had wanted to open their own restaurant and had considered several options. One was to locate at Vancouver's new waterfront, but the location didn't fit their vision. And then they found the empty building on West Sixth. It was perfect.
Dynes, with his expertise in wine and spirits, wanted to focus on Mezcal, an agave-based liquor made primarily from plants in Oaxaca. Premium Mezcals have found their way to the bars of the Portland area and are growing in popularity. Wooten, with his Phantom Rabbit produce farm in west Portland and his love of Mexican food, put together the idea of focusing on the best tacos that could be made. It's this simple combination that has catapulted Little Conejo to success since their opening.
Their vision of farm-to-table Mexican food and a place to try the best Mezcals available was a hit with Vancouver area folks. People were finding that every place in town was offering taps of craft beer — all good, but nothing different. As I sat sipping my margarita one evening, I watched people coming to pick up take-out tacos and gather around the bar. Families made use of the larger tables. It was a vibrant atmosphere with upbeat Latin music and those wonderful smells coming from the kitchen.
Sitting in the restaurant brought back memories of sitting in the kitchen of a dear Mexican friend.
Little Conejo's Tacos
There are tacos everywhere, especially on Taco Tuesday. So why are Little Conejo's tacos special?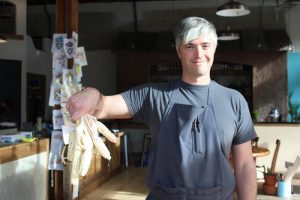 Dynes explains, "We are selling unique tacos." They were surprised with the popularity of the lengua tacos (braised, crisped beef tongue), traditional in Mexican culture, but something new to many diners. They kept running out. They offered lamb barbacoa, not usually on a traditional American taco menu, and that was well received. Part of the success is that they source their meats locally through Nicky USA, a specialty meats purveyor in Portland with high standards that deals with small farmers.
The other parts of the magic are the house-made sauces and salsas and the focus on fresh and local ingredients. Wooten, while not Mexican, spent most of his life appreciating the Mexican food of the California Central Valley and Los Angeles, where he lived. Where he grew up, half his classmates were Mexican American, and the foods of Mexico were common.
Wooten explains, "In my early 20s I started cooking Mexican food for myself and have pretty much done that for the past twenty years." He wanted fresh, and that was the impetus for starting Phantom Rabbit, his one-acre farm with greenhouses. He grows things like tomatoes, chiles and tomatillos, as well as beans and squash. Much of that produce makes its way across the river to Little Conejo (Little Rabbit in English).
Other produce, like the Nopales (prickly pear cactus), comes from local Mexican food purveyors. Even the tortillas are special and traditional, including white corn from Mexico. It is cooked and soaked overnight in an alkaline solution. They have a mill downstairs where they grind the fresh masa for their tortillas. Tortillas are made using a Mexican machine throughout the evening. Their fresh taste is the result.
Freshly ground corn and freshly made tortillas are the foundation for the pork carnitas, pork al pastor (watch it being roasted on the rotisserie in the kitchen), beef, fish, lamb and veggie fillings. Add in the house-made sauces and salsas, and that is why people come back for more.
Fresh, local, and high quality foods are why everything tastes (and smells) so good.
More from Little Conejo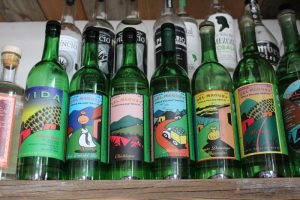 Since doing things simply has been such a success, their main dessert is simple, too. They offer piloncillo shortbread cookies with a Mexican chocolate dipping sauce. I was there as a fresh batch was brought out of the oven. The crunchiness of the unrefined Mexican sugar and the buttery richness made a little piece go a long way.
When You Go to Little Conejo

You'll find Little Conejo at 114 W 6 Street in Vancouver with street parking. For more information see the Little Conejo Facebook page and follow their deliciousness on Instagram.