Kim Mahan, owner of Class Cooking in downtown Vancouver doesn't have a lot of time these days to try new things, but that's only because she's so busy teaching other people to whip up dishes like paella, baked apple French toast, hazelnut caramel chocolate tart, kebabs with roasted cauliflower, coconut shrimp with pineapple-chili sauce, or mussels marinara with chorizo. Are you hungry yet? Good, because Mahan's apron is on, her oven is hot, and she's ready for you at her friendly cooking school.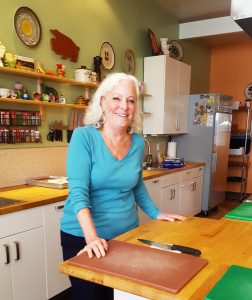 "I wanted it to be like you're going to Grandma's," explains Mahan, describing her cheerful, retro-modern teaching kitchen. "I have always collected vintage stuff, so putting all the things that I had collected over the years in this space – and having people come in and they're like, 'Oh, my mom had that!' or 'My grandma had that!' or "I had that!' – it just brings back all these warm, fuzzy memories."
It might feel like a home kitchen, but the space is definitely designed to teach culinary skills. In the center is a large island with room for 12 work stations, so each student has his or her own cutting board, utensils and recipe booklet. The focal point is a professional, six-burner stovetop, where Mahan demonstrates different techniques and sets food to fry, steam or simmer. There are benches and hooks for stowing your stuff, shelves to display Mahan's vintage kitchen goodies, cabinets for cookware, a deep pantry for spices and dry goods, a commercial-grade sink for food prep and dishwashing and a fancy coffeemaker for daytime students. Those who take evening classes get to sip and sample wines from Burnt Bridge Cellars, located right next door and co-owned by Mahan's husband, Mark.
"People ask me what my favorite thing to cook is," says Mahan, "and I always tell them, 'It's the thing I've never cooked before,' because I love experimenting." Class Cooking is a natural outgrowth of Mahan's passion for cooking, although she also has degrees in painting and early childhood education.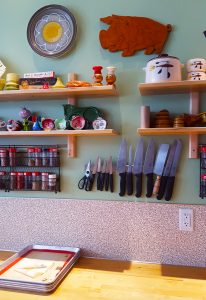 She was teaching at Clark College when her daughter was born and she became a stay-at-home mother. The family moved to England for a year, then back to Vancouver. When her daughter turned four, Mahan considered new career possibilities, asking herself—as she jokingly recalls—"What do I want to be when I grow up?" She decided on culinary school at Clark College. Next, she interned at The Grant House, Portland's Bread and Ink Cafe, and Vancouver Pizza Company before starting her own catering company.
Then the Mahans moved to Spain, where Mahan undertook another internship at a high-end restaurant in Barcelona. She was approached by several ex-pats who said, as Mahan puts it, "Okay, you cook, we don't. You're gonna teach us how to cook!" Mahan taught classes in people's homes, and kept teaching when the family eventually returned to Vancouver. The Mahans bought a home with a large kitchen and it served as Mahan's cooking school for the next eight years.
Meanwhile, Mark and his business partner had opened their winery and tasting room in downtown Vancouver. In a delicious bit of luck, the space right next door came open. The Mahans remodeled and customized it, making it bright, open, and food-friendly. The two establishments were then connected via a wide doorway, so that students can share family-style meals around the winery's massive wooden table.
Classes at Class Cooking
Classes are two hours, plus time to eat all the delicious things prepared during class.
Students learn how to make a complete meal or variations on specific dishes, like appetizers or salads.
Mahan teaches four or five recipes per class, as well as cooking techniques and shortcuts, knife skills, and food safety.
Mahan's classes usually center around a particular cuisine, including Moroccan, Spanish, Thai, Indian, Mediterranean, Mexican and Turkish food, among many others. Her most popular class is paella—a specialty of Mahan's, perfected during her years in Spain—followed by tapas, tamales, and her legendary holiday classes, which include a formal holiday dinner and a "morning after" holiday brunch. Classes are often booked months in advance, with spots filling up as soon as her newsletter hits inboxes. There's a mix of women and men, a blend of serious cooks, friends enjoying an activity together, and couples looking for a memorable date night. The age range is wide in every class. "I had people that were 70 and I had one kid that was 15 who was taking a class with her mom, so it's all over the map," she notes.
Mahan is patient and personable with everyone, from beginners to experts. Mahan structures her classes so that every person gets a chance to try every part of the recipe, with plenty of participation. "I like to show people shortcuts," she explains "I want people to take the recipes home and actually make them. All my classes are hands-on, which I believe in strongly, because if I'm doing a demonstration, you're going to see me cook, but you're not going to cook. You may go home and go, 'Oh well, I don't know how to do this.' But if you do it yourself, and you try it, you'll know you can do it."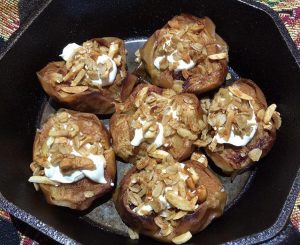 Mahan loves it when she gets calls and emails from her students. "The best thing that happens is people will send me emails saying, 'I made this and my friends were thrilled and it turned out great!' or they'll send me photos," she enthuses. She also enjoys helping people out of culinary jams. "They'll call me and say, 'Okay, I'm doing this and I'm not sure I'm doing it right.' I can talk them through it, and tell them that they are doing it right, and it's okay! Breathe! It'll be great!"
For more information, visit the Class Cooking website or call 360-600-8006.