Festive lights, decorations, music, and more will inspire Christmas cheer this year in Clark County. It's easy to get in the spirit through joyous efforts of our neighbors and friends. The following are a few quality lights venues sure to please so fire up those navigators or, if you're a compass point wiz, just bundle up and go where the Christmas glow shines brightly. Here is where to find Christmas lights in Vancouver and throughout Clark County.
Vancouver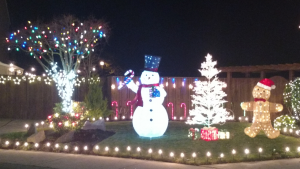 A Mini Peacock Lane
NW 42nd Street, Vancouver
Nestled between Washington and Columbia Streets on a part of Northwest 42nd Street in Vancouver is a small lane featuring a lawn brimming with flamingos, and trees wrapped with lights, arches, and stars. The sweet street is a good one to stroll through on foot.
Under the Mistletoe
4610 NW Franklin Street, Vancouver
Christmas on Franklin Street features 30,000 lights spanning seven themed properties, music and Santa in the window greeting visitors. This house is a show stopper – or at least a car stopper – that is sure to generate smiles. The lights shine nightly from 5:00 p.m. to 10:00 p.m. Snow will fall on December 22-23 at 7:00 p.m., on the hour Christmas Eve between 4:00 p.m. and midnight, and on the hour Christmas Day between 9:00 a.m. to 9:00 p.m.
Winter Wonderland
14427 NW 25th Court, Vancouver
Consider taking a fun spin through a series of cul-de-sac houses off Bliss Road in this Winter Wonderland.  Most of the houses are creatively adorned and elaborate enough to inspire driving slowly around the circle to savor the lights and decorations. Expect traditional holiday favorites like snowmen and gingerbread men amid the bright and colorful lights.
Humbert Family Home
1719 SE 162nd Avenue, Vancouver
Imagine 10,000 lights and traditional Christmas music (FM 88.9) from the comfort of your own car. The 20 minute show includes computer controlled animation and runs nightly through December 25 from 4:30 p.m. to 9:30 p.m.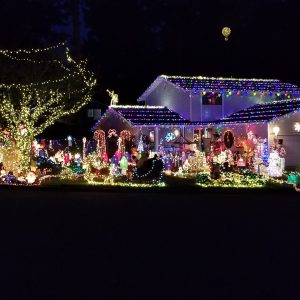 RiverRidge Neighborhood
11806 SE RiverRidge Drive, Vancouver
For those who like to be embraced by every type of Christmas decoration along with lights, try sampling the joyous offerings at the Peppers' home. The house is drenched with lights and festive energy and has been a Christmas delight for the past 29 years. "It grows a little bit each year," says owner Randy Peppers of his family's tradition to decorate. The characters are super fun and include Santa, reindeer, trains, teddy bears, angels, vintage blow molds, a carnival, Rudolf, the misfit toys and more. There is even a hot air balloon over the house, a pathway to stroll through, and Christmas music. Lights and music run from 5:00 p.m. to 10:30 or 11:00 p.m.
12816 SE 24th Street, Vancouver
A beautiful home popping with 4,000 plus lights synchronized to Christmas music is sure to generate fun. The lights and music were programmed to work harmoniously together to a variety of songs by 14-year-old Jack Ormson. The nightly show will run from 4:30 p.m. to 10:00 p.m.
12508 SE Angus Street, Vancouver
A mere jog from the Ormson home is another special Vancouver lights experience created and programmed by Adam Nelson. Visitors can gaze upon 5,000 plus multi-colored rhythmic lights set to music. "Each light can do its own thing," says Nelson. "These are a new style of lights – so bright compared to regular lights." The lights respond in numerous creative ways to show off their unique and innovative sequencing to match the music. This house is quite cool indeed and will get your feet tapping and your imaginations moving! Nelson's show starts Sunday, December 8 and runs nightly from 4:30 p.m. to 10:00 p.m.
Majestic Blue Tree
6523 NE 52nd Street, Vancouver
Tree lovers will enjoy this blue lit tree and moving lighting effect. It makes you want to just stop and watch it for a while to take it in. The house features other colorful lights as well.
Really Big Inflatables
20306 NE 68th Street, Vancouver
Capturing a bit of land is another Christmas glow scene featuring numerous lights cascading from the roof down to the yard. From the road you can see enormous Santa and snowmen inflatables. There is even an impressive nutcracker guarding the lot. The home, tucked in a beautiful setting, is sure to inspire head turns and smiles.
Ridgefield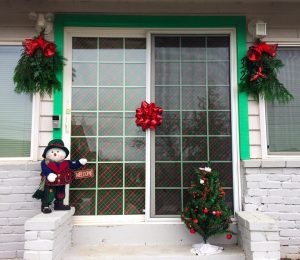 Destination for the Holidays
The Ridgefield community is helping to make the city a festive destination thanks to The City of Ridgefield promoting having everyone decorate their front door in honor of the season. This means businesses and homes adjacent to downtown are getting in on the holiday decorating action. Christmas decorating contests have sparked plenty of imagination. Ridgefield's Hometown Celebration, lots of fun activities, and tree lighting is happening Saturday, December 7. Check here for more information.
Camas
Holiday Lighting
Lacamas Shores by Lacamas Lake, Camas
Lights and decorations are up on more than 20 houses in Lacamas Shores, a social and vibrant neighborhood overlooking the south shore of Lacamas lake. The area is known for its friendly neighbors and lots of activities, including an annual holiday decorating contest to vote for your favorite creative holiday display. Ballots are available by the main entrance across from the former UL Labs at 2600 NW Lake Road.