If you are craving outdoor recreation or something new to do, Tarbell Trail in Clark County might just be what you need. The roughly 21.5-mile Tarbell Trail loop is nestled amid an impressive 35-mile trail system on Washington State Department of Natural Resources' land that provides multi-user nonmotorized northern access to hikers, horseback riders, and mountain bikers.
"The trail is popular due in part to its proximity to the Vancouver/Portland Metropolitan area," says Sharon Steriti, recreation manager for the Washington State DNR Pacific Cascade Region. "It is low elevation easy access, and the natural scenery makes it attractive to many users."
Parts of Tarbell Trail have been in existence for more than 100 years and connects visitors to a variety of scenic viewpoints. These include an array of waterfalls, such as Hidden Falls; vista views; wildflowers; Mount Hood on a clear day; and opportunities to see a working forest re-grow. "Some of my favorite spots are Hidden Falls and various points along the trail that offer views all the way to Portland," says Steriti.
Tarbell Trail also goes through the extensive Yacolt Burn area, which is over 100 years old. Steriti explains the burn area has since recovered and been replanted and harvested for the state trust. "The Yacolt Burn State Forest is also a working forest," shares Steriti. "The current Tarbell Trail transects a few timber harvest areas, which due to recent timber sales, allow for open vistas of the surrounding areas."
The new connector trails that Washington DNR has been working on over the past few years have created loop opportunities that continue to make the Tarbell Trail system a destination for short-or-long-day outings whether on foot, a mountain bike, or riding a horse. "There are crazy views up there," says Paige DeChambeau, recreation communications manager for the Washington State DNR. "It is a beautiful area."
Camping and hunting also add to the popularity of Tarbell Trail and the west side of the Yacolt Burn State Forest. DNR camping is free with a Washington Discover Pass. "The pass is easily attainable," says DeChambeau. "You can purchase them online, and it is best to get that ahead of time."
Recreate Responsibly
With all this outdoor fun to be had, DeChambeau explains that safety for hikers and people visiting the area are encouraged. This means to recreate responsibly and make sure to go prepared to handle weather conditions and to make safety a high priority. Recreate Responsibly guidelines provide a starting point for getting outside to keep yourself healthy and to maintain access to our parks, trails, and beaches.
"We want people to come out and enjoy the trails and make sure that they are safe while doing so," emphasizes DeChambeau. "There are seven tips on Recreate Responsibly and it is also good to have a plan B just in case."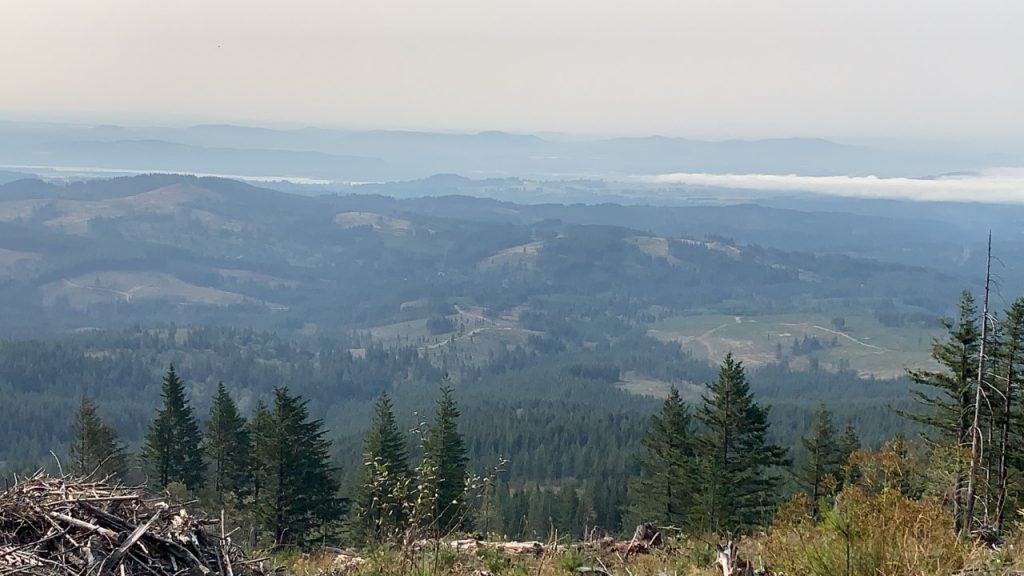 Other safety tips and reminders DeChambeau encourages, include bringing your own water, hand sanitizer, leave no trace behind you by packing out human or pet waste, and being respectful of the land. "There are rustic restrooms with composting toilets at the trailhead."
Really long hikes might require bringing a Wag Bag or a human kit designed for picking up waste. Additional tips include planning ahead and being prepared for the elements so you can dress accordingly or pack extra waterproof layers if needed. It is also good to research your destination, as roads and facilities could be closed in the winter.
Tarbell Trail is named after George Lee Tarbell. Tarbell was considered a hermit to some and a kindly and sociable old man to others. He created a part of the current trail route to access his isolated shack. Enjoy a bit of history as well as a glimpse of the future growth by getting out and enjoying this amazing trail.