Adventure anyone? Clark County's Columbia Springs awaits to answer this call. The nonprofit located at 12208 SE Evergreen Highway in Vancouver is nestled on 100-acres of urban green space next to the historic Vancouver Trout Hatchery. The natural area's family-friendly campus is ripe with interesting things to see and do.
"This is a hidden gem of Clark County," says Kylie Sahota, engagement specialist at Columbia Springs. "And we are trying to get rid of that hidden for people. This place is beautiful, and we want to share this place with everyone."
Outdoor goers of all ages can fall in love with feeding fish at a working hatchery, walking trails, eating a picnic, or taking advantage of learning activities offered through the organization's on-site education programs. Historical displays, wildlife viewing areas, nature play areas, and more are on tap to sample. If you are lucky, you might even meet Hank, the resident Great Blue Heron.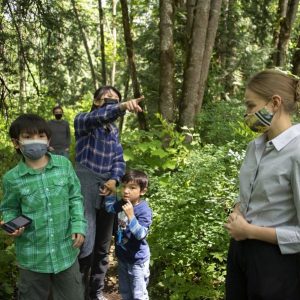 "I feel like there is something special about falling in love with nature," shares Sahota who is also a fisheries biologist. "And by bringing everyone together to take care of this ecosystem everything around that will spider out."
Columbia Springs has a reputation for bringing people together to become stewards of the land through excellent programs, events and volunteering opportunities. And you don't have to be an environmental scientist to enjoy what is offered. Just come out, walk around, and start exploring the magic.
You can download a free self-guided tour app called "Behind the Scenes at Columbia Springs" for your phone. You can also access the app through Geocaching Adventure Labs.
"It's a little bit of a mystery," says Sahota smiling. "There are six spots, and it's like a scavenger hunt," she adds. "It's kind of a secret until you get here so come and see for yourself."
Environmental Education
Among featured education programs, Salmon in the Classrooms, funded by Clark Public Utilities, reaches more than 50 Clark County teachers to engage students kindergarten through fifth grade in raising Coho Salmon. Kids watch the salmon grow up inside tanks in the classrooms while learning about how they live, their life cycles, and reasons why they are endangered. The hatchery is a crucial part of Columbia Springs education programs, as it provides the fish for most of Clark County's recreational fishing. In 2020 amid the pandemic, onsite education teams created virtual content for this program to connect with students in their homes. Re-imagined volunteering, expanded virtual offerings, and distance learning are among other 2020 accomplishments.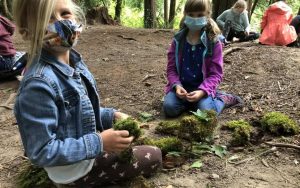 "They really get to know these fish," explains Sahota. "At the end, when the fish are ready to be released, they are put into cups. The kids look at the fish, name them, and then tell them what they will do to protect them before letting them go."
Field trips and summer Nature Day Camps are other ways youth can receive fun, on-site environmental education. Kids can role play and learn what it means to be a stream engineer by looking at soil decomposition, or a soil scientist learning why all the creepy crawlies—or anything without a spine, like snails and slugs—are important, explains Sahota.
Currently, various workshops focused on sustainable living, ecology, and other environmental topics are also great options to explore and learn in the wake of the pandemic. This includes annual events like the Beaver Festival and an annual dinner with auction.  "When you bid, the funds help to run our programs," explains Sahota. "And you also learn more about the story of Columbia Springs."
Programs, events, and site restoration work at Columbia Springs are maintained almost entirely by volunteers. And volunteers are always needed. "If you come," says Sahota, "we will find a place for you."
Repair Clark County, another of Columbia Springs programs, needs volunteers with skills to repair broken household items. A free service for people and funded by the Department of Ecology, Sahota says this program is about reducing waste, conserving resources, and saving money. "It's a win-win," she explains. "You get things fixed for free and less goes into the landfills."
"I love it," says longtime volunteer Tom Musser. "As a volunteer, I keep learning new things."
Musser, who is also chair-elect for the Columbia Springs board of directors, originally discovered the local oasis when he went for a class. Then he decided he wanted to make a positive difference by working outside to help preserve and protect the unique nature experience.
"It's a great way to contribute to the community," shares Musser, "and teach people about our environment and its importance."
Columbia Springs continues to have many exciting projects in the works. To learn more and stay in the know, you can follow the nonprofit's Facebook, Instagram, visit the Columbia Springs website, or subscribe to the newsletter. Donations are also always welcome to help support Columbia Springs programs.