Spanning the 100-foot wall of Andersen Dairy in Battle Ground is the "Snapshots in Time" mural created by Kara Krieger-McGhee, a local award-winning decorative painter and fine artist. The mural was created to connect the community to the rich history of Battle Ground. It began in 2007 and took 12 years to complete with many twists, turns and complexities. It is a labor of love by many, especially Krieger-McGhee, who is dedicated to the perfection of her craft and a devoted to her community.
"It has been a privilege and a great opportunity to be able to make a permanent contribution to the Battle Ground community that will help to remind people of their town's historical roots in a visual way," says Krieger-McGhee. "The pictures look contemporary to their timeframe, and they look like they are floating off the wall. The pictures progress to the right as we visually move through time."
The mural project, originally launched by the Old Town Battle Ground Association (now disbanded) features a pictorial timeline of significant points in Battle Ground's history from the mid-1800s to the present day. The images on the mural are all things that mean something to the community. Historical suggestions and photo images came from the community, numerous sponsors, The Reflector, and "Battle Ground…In And Around" by Louise McKay Allworth Tucker.
Krieger-McGhee designed the layout of the mural to showcase hand-painted replicas of actual photos and documents of important people, places, and industry in Battle Ground. To preserve historical accuracy, the earliest photos are in the same sepia tone (reddish brown) cameras first produced. The photos progress toward black and white images typical in the 1960s and continue moving to full blown color reflecting today's photography.
"We tried to find things that the community would have an emotional connection to," explains Krieger-McGhee, "along with being historically significant."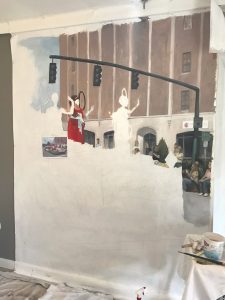 Chief Umtuch and Captain William Strong were among the first photos. As legend goes, an averted battle between the Lewis River Tribe led by Umtuch and a calvary company under Strong's command where Umtuch was the only casualty is how Battle Ground earned its name. But there is continuing speculation. "It is kind of like an Andy (Griffith) and Mayberry episode," shares Krieger-McGhee spiritedly, "Nobody really knows what happened."
Krieger-McGhee used a specialized mural technique called "trompe l'oeil," which means "to trick the eye" to create the illusionary effects of depth achieved on this magnificent mural. The trompe l'oeil technique allowed Krieger-McGhee to capture the historical experience of space, time and action.
Also holding honorable spaces on the wall are a 20-foot-long scrapbook exuding a 1904 census with about 20 people, one of Battle Ground's original Christian churches, early road construction, the Clark County Fairgrounds, Battle Ground Lake, which once served as a west coast resort destination in the 1940s and 1950s, The Reflector, a primary outlet for news in central Clark County since 1909, Central Park, and the Battle Ground Rose Float. The featured logging/timber industry is significant because it was vital to Battle Ground's economy.
"Logging was historically a major industry," says Krieger-McGhee. Pointing to the picture of the logging truck with a one-log load, she reflects on a phone call she received from Hoot, the gentleman standing in front of the truck who is now 80-something. "Hoot had taken his girlfriend to eat at Happy Family, a restaurant up the street from the mural," Krieger-McGhee shares. "His fortune had read, 'you will be famous one day.' Still laughing about 'being too old' while driving past the mural, he glanced up to see himself, stopped the car, and exclaimed, "I'm famous! And for more than five minutes."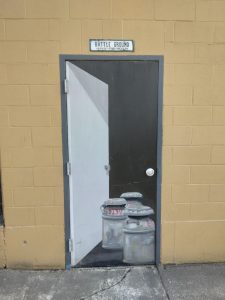 The Battle Ground Dairyman's Cooperative also has a significant position on the mural. The dairy co-op started production in 1924 and was running day and night by 1928, handling more than 557,000 gallons of milk by February of that year. "I had to really represent the Dairy Industry," explains Krieger-McGhee, "because it was the largest single employer in Clark County."
The cool thing about Krieger-McGhee's depiction of the cheese factory started in 1903 by L.G. Allen is when you stand in front of the mural there are two doors painted to appear open. And right above one of the doors is a painted sign that reads: "Battle Ground Cheese for Health" that the Dairyman's Cooperative used to have. Krieger-McGhee also skillfully painted the big roll up door to look open using her illusionary techniques to reveal events inside the old cheese factory.
"I had a couple of people who used to work in the dairy come up to me and tell me how much the cheese factory image brought back memories and that it looked just like that," shares Krieger-McGhee. "It is really cool to hear the impact of older generations still living in town."
The mural is located at 305 E Main St. in Battle Ground. Expect to feel inspired when you see it. To learn more about Kara Krieger-McGhee's fine art visit her Facebook page.