Truly Scrumptious, a boutique baking and treat shop nestled on 231 NE 4th Avenue in the heart of downtown Camas, is creating joy and community connection. The treats are indeed truly scrumptious, in both taste and vision. The beautifully presented handmade baked goods embrace you in the charming store like a hug.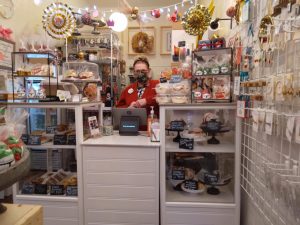 "I feel like every special thing that happens, I am a part of it by getting to provide a moment of joy for people, even if it is time to eat a cake or cookie," says Kimberly Koch, Truly Scrumptious owner and baker, "and that is enormously fulfilling."
Born and raised in Springfield, Oregon, before spending 20 years in Portland, and 10 years homesteading in Vancouver, Koch moved with her husband Jason and two twin sons, Aiden and Owen, to Camas in 2010. Since then, she has become deeply rooted in the Camas community. "Camas is a wonderful place to live and raise children," says Koch with appreciation and pride for her community.
A Sweet Dream
The road to Koch's business success has been one of devotion and challenging work. She first started Truly Scrumptious out of her home in 2008 when the economy was struggling, but that didn't stop the dream catcher from jumping in the entrepreneur waters with both feet, her entire heart, and a vision to own her shop. "Like all things you want," reflects Koch, "it is a labor of love."
In the beginning, Koch started with custom orders for birthdays, showers, and anniversaries that she says morphed into weddings. She also began selling at the Camas Farmer's Market, where she gained momentum and met many of her customers through word of mouth. She still enjoys selling at the market. "Now I do dessert buffets," she says. "Because everybody has their likes and dislikes, and everybody has their dietary somethings, the one-size-fits-all approach doesn't work for most people."
Koch's dream was to own a neighborhood shop, which happened in March 2020, right when the pandemic occurred. Still, this didn't deter Koch from working hard to ready the 350-square-foot, high-vaulted ceiling haven for its eventual opening on December 1, 2020. Before Koch took ownership of the space, it had been the home to an interior designer. In addition, the venue served as a barbershop, a sunglasses shop, and a florist. "Someone told me it was originally a Greyhound bus stop," says Koch, "but I don't know if that is true."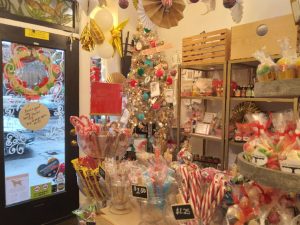 "It took a lot of years to get here," she continues. Renovations included getting the space water, electrical, and health code compliant, painting, cleaning, and preserving some original wood flooring. "We built what we could, and we put up shelving," shares Koch spiritedly.
And the name? If any of you grew up on Disney musicals you might recognize it. Koch named it after the lead female character in "Chitty Chitty Bang Bang."
Unique Baked Goods, Handmade to Order
Koch's business is one-of-a-kind to the community because of her ability to customize your party, special event, or gift box with baked goods made from scratch. Even gluten-free and vegan options are available by special order, and she can usually accomdate other allergens, including nut. Being able to customize orders means that every dessert, treat, or occasion created – big or small – is designed just for you. Koch encourages you to share your dietary needs as you place your order at your consultation.
With a long history of assisting party makers in creating genuinely memorable events, the team at Truly Scrumptious can provide the support that gets it done. You can also discover many creative ideas, unique solutions, and tried and true concepts. "It is better to give than to receive," shares Koch on the nature of service. "We are in the joy business, and it's better to add something to someone's life of value."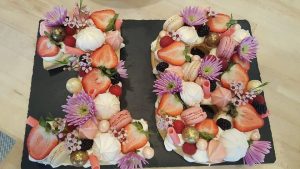 "My primary goal is to be happy," adds Koch of her dedication to Truly Scrumptious. "And this is a direct line to being happy. I hope that my shop is a moment of joy. I hope when people come here that they forget about all the negative stuff and leave their troubles outside, feel the season, and can't help but be in a good mood."
More than just a treat shop, you will also find exciting gift ideas from local artists and other vendors with a flair for the unique. To learn more, or book a consultation, visit the Truly Scrumptious website. You can also check out Koch's Facebook page for her videos and other useful information and Instagram.