Birdhouse Books in the downtown Vancouver Arts District is a gem shining brightly with used and vintage classic best sellers sure to resonate with book lovers and anyone craving comfort that only a book with pages and ink can provide. The welcoming bookstore opened in July 2021 and winds creatively around 3,200 square feet on the lower level of a historical building on 1001 Main Street. Rows of books, seating areas and artful lighting give a feeling of coziness. This perfectly aligns with reading, browsing, and the joy of discovery.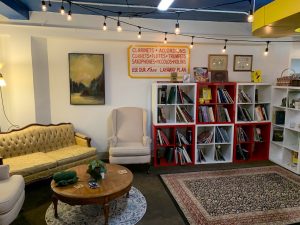 "Being here gives us the ability to create ripples of impact that go far beyond ourselves," says Lucas Gubala, co-owner of Birdhouse Books, with his partner, Sarah Summerhill. "A book can change a life." 
Making a meaningful difference in the lives of others through books and building community is what drives Gubala and Summerhill's mission to circulate vintage and used books in the community while giving them a prominent place in the hearts and minds of those who read them. The friendly and charismatic duo also features the works of local authors and poets. "We try and eliminate as many barriers to having local authors as we can," shares Gubala. Nearly every genre is on tap at Birdhouse Books. Come and sample inspiration and thought-provoking reads in an array of literary fiction, nonfiction, westerns, mysteries, philosophy, science fiction, children's books, antiques, and more. The selection of books is quite diverse, and Gubala and Summerhill hope visitors will find something that interests them or speaks to them at the moment. "Books and art can transcend time," says Summerhill. "A book written a thousand years ago can still impact a life today."  
Gubala emphasizes how wonderful it is when visitors come in and browse while sometimes striking up a friendly conversation with others. "The conversations," he shares spiritedly, "could be about books, life, the universe or anything." 
Destiny Fulfilled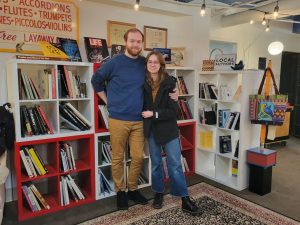 The journey leading to Gubala and Summerhill launching Birdhouse Books is one of kismet origins or—at the very least—signs that pointed the destined way. The pair initially met at WSU Vancouver at a poetry slam three years ago, seeking community and things to be involved in before graduating. Gubala later realized that his computer science major was not making him happy in graduate school. "I wasn't following my heart path," he shares, "and I could feel my body saying, 'Do this, do this,' but I was ignoring it and not listening to myself." 
The wrong path came to a head, and Gubala left graduate school to follow his intuition guiding him away from computer science. Then, seeking his life mission, and after a series of synchronistic events spanning two years, the couple, in sync with their life paths, leaped together in new business faith, and Birdhouse Books was born. Initially, the bookstore opened in a shared space with Phoenix Rising Art Gallery, located on the upper level in the same historic building it enjoys on the lower level now. The landmark building, according to Gubala, is considered the first federal bank in Vancouver. "We stepped into our heart paths," shares Summerhill, "and it's been magical, and it's continuing to be magical." 
Treasure Hunting for Books 
Birdhouse Books thrives on receiving donations and doing business with other book antiquarians in the community. "We get a lot of donations from the community," says Gubala, "which we are really grateful for." 
Visiting estate sales – or thrifting – is another way the duo uncovers thousands of book treasures. "We go out," explains Gubala, "whenever we can and look for books that we know are popular and try to bring them back."
"It's the best way to get old books," says Summerhill. One estate sale the pair visited was a home owned by a theatre professor with four floors brimming with books. "It was crazy," Summerhill recalls. "He had the most books I have ever seen. It's a high to see the bookshelves, and then a pile of books, and you go and start looking through them, there is like a zone." 
Beauty is revealed at estate sales too. "There are books with gorgeous covers," says Summerhill. "Marble, paper, and leather covers. There was a really beautiful copy of 'The Old Man and the Sea' (1952 student edition) with a swordfish on the cover." 
The team has also found valuable books, the oldest dating back to 1877. "When you get into that realm of vintage books," says Gubala, "they really are beautiful objects, and that is why a lot of people like to have them."  
Poetry readings, book clubs, literary talks, discussions and signings are among the offerings at Birdhouse Books. To learn more, donate or purchase books, see the latest on featured local authors and artists, or check out their calendar of events, visit the Birdhouse Books website. You can also follow them on Facebook and Instagram.