Scott Flury, age 55, is the kind of guy who likes to have his fingers in the Figgie pudding—figuratively, of course. The restaurateur entrepreneur who began his foray into the food business with Latte Da Coffee and Wine Bar now owns The Eatery at the Grant House as well; both are in Vancouver, Wash.
Latte Da opened its doors in 2010 in Vancouver's Lincoln neighborhood at 39th Street and Creston Avenue. Its homey quality is due, in part, because the bistro (it serves soups, salads and sandwiches, too) is housed in a house (built in 1901) and, in equal part, because of the warm hospitality of Scott and its staff.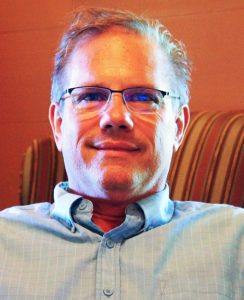 Of his first foray into the food and beverage industry Scott says, "It had been empty for about three years before we took possession in February, 2011. It was a baptism by fire – I didn't have a background in construction. We had to remodel it, but we tried to keep it the same architecturally. Hardwood floors, arched entries – a lot of it is original."
Scott himself is no longer the friendly fixture he once was at Latte Da. He's left the smooth-running, well-oiled machine in the hands of his hand-picked staff and says, "They're doing a tremendous job of continuing [its] success."
That's given him confidence to follow his twitch onto a new enterprise. As of April 1, 2017, Scott and his wife Sarah took ownership of the restaurant business housed in the Grant House on Officer's Row previously owned by Lynn Rullman, her sister Suzy Taylor and her husband John. The new name for the new establishment is The Eatery at the Grant House. The lovely, historic building is leased from the city and provides a welcoming atmosphere for dining and congregating with friends.
According to Scott, he and Sarah, were looking for just the right place for two years. He had considered purchasing a home adjacent to Latte Da for expansion into a breakfast and lunch café, but says, "The Lincoln neighborhood has been great, but we didn't feel it was the right time—there wasn't a need for [a restaurant there] just yet."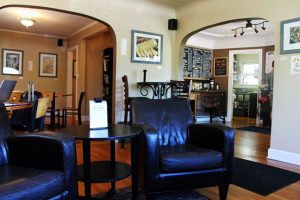 Taking on a full-scale restaurant he says, "is much different than what we're used to at the coffee shop." The couple shadowed the former owners for two months. Since then they've added breakfast dining to the fare which previously consisted of lunch and dinner only.
"We feel that we have a great menu," says Scott. "We're excited about our breakfast, our produce is delivered every day, and our seafood gets delivered three times a week. It's a quality product and very fresh." The Flury's place a high value on locally-grown ingredients and farm to table freshness. The Eatery has access to nearby farms and fresh seafood is just an hour away. Because of this, they're able to bring the freshest ingredients to their kitchen, and therefore to your plate. They even grow many of their herbs right on the premises.
The focal point of Officer's Row, the Grant House was built in 1849 as the residence of the commanding officer. Although named for General Ulysses Grant, he never lived at the house.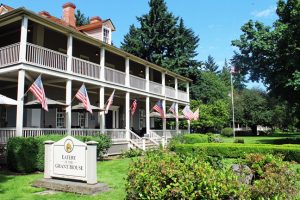 The Flury's took on the Grant House because, as Scott says, "I think this historic location has a lot to offer." And so does the restaurateur; customer service, quality product, and an attractive setting are all assets he sees as essential to satisfied patrons. That and community involvement.
"When blessed, be a blessing," he says. At Latte Da he's graciously offered space to artists, authors and civic groups. Their annual neighborhood children's Halloween Party has been a longstanding tradition. And the couple plan to extend their blessing at the new eatery.
"We really want to continue to make a difference in the community," says Scott, "and right now we're looking at what will make the most difference." Some ideas mulling around in his head are: movies on the lawn, historical talks and something for the solar eclipse, maybe even some ghost stories (the building is said to be haunted).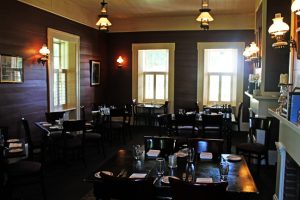 Scott obviously enjoys being part of the Vancouver business scene and is excited about the growth and pride he's seen from the people and the administration. "I think the Waterfront development is going to be the game-changer for Vancouver," he says with a smile. So, does he have plans for another venture in that part of the 'Couve. He's not saying…but his fingers might be twitching.
The Eatery at the Grant House is located on Evergreen Blvd. near Ft. Vancouver. Live music (blues, bluegrass, jazz, Irish) is offered Tuesdays and Wednesdays from 6:00 – 8:00 p.m. Menus, hours, reservations, rental information and more can be found on The Eatery at the Grant House website.
Latte Da Coffee and Wine Bar's website also lists hours, menus, rental info and more.