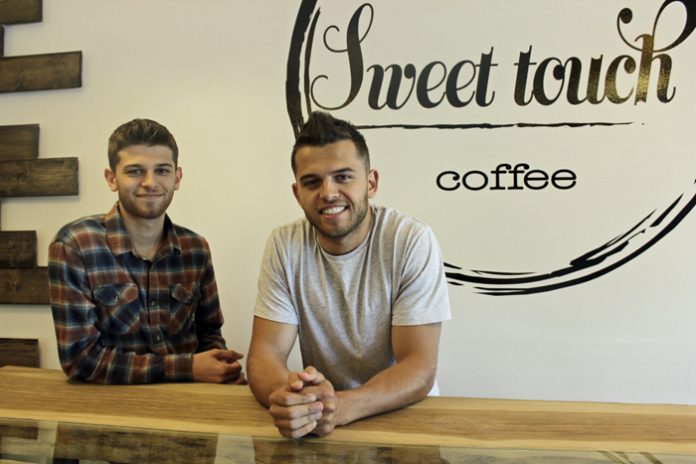 In 2016 two brothers put their dreams into action and the result… Sweet Touch Bakery and Café on Thurston across from the Westfield Vancouver Mall. Find yourself transported to another world. You'll be drawn to the long cases of colorful house-made European pastries, fluffy cakes, macarons and pastry savories. Italian coffees, kombucha, and specialty teas round out the offerings. They make crepes, too.
Inspired Brothers Fulfill Their Dream
And the brothers? Ben Mikhalets is 20 and his brother Slav is 21. In a time when many young twenty-somethings are seeking direction in their lives, Ben and Slav have taken charge of their dream and, together with friends and family, created a welcoming Northwest decor café with a decidedly European twist.
I met them at the Camas Farmers' Market one Wednesday afternoon. I was immediately drawn to the fruit look-alike cookies and fresh apple pastries. After they took care of a steady stream of customers I asked them about their business and found out about the café and bakery where over 10 bakers and pastry chefs work behind the scenes to create an impressive array of delectable treats. The next day I visited the café and bakery in Vancouver.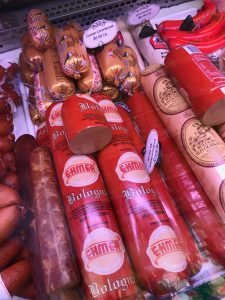 Their inspiration? Next door to the café is the 15-year-old Slavic bakery, deli and grocery store, Svitoch, owned by their parents, Olga and Yaroslav Mikhalets.
Their work ethic is no surprise when you hear their parents' story. Ben explains, "My parents came to the United States from the Ukraine 21 years ago with my brothers Anatoly and Slav," Ben explains. "I was born soon after. In 2002 they started the bakery and the store. We never saw them until nighttime, they worked so hard." Ben showed me the extensive European deli case in his parents' store. "See that? The goose liverwurst is what I had most every day for a sandwich at home," Ben says.
The store is full of German and East European candies, frozen specialty dumplings, jams and beverages. In the front there is a case with freshly made take-out meals. In the back are loaves of freshly baked bread. And it's busy.
A Pacific Northwest Café
But Ben and Slav had a different idea. Not only did they want to create a space where people originally from Slavic countries could gather, they wanted to attract everyone in the community. Ben's enthusiasm is evident. "We are breaking the stereotype of a European bakery," he says. "When our customers come in, they won't recognize half the things here, but we enjoy teaching them."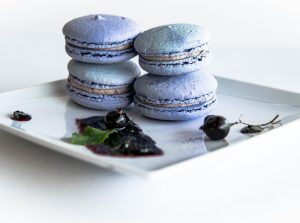 And, it appears to be working. Customers, of all backgrounds were in the café enjoying a latte, savoring a slice of cake with fluffy creamy frosting, working on their laptops.
It takes a community of creative people and skilled crafts persons to turn a dream like this into reality. Ben and Slav proudly showed me the details. "The photographs of Mount Hood are from a photographer friend and see that wall? Our friends helped us put the tongue and groove lumber wall together overnight."
Friends made the beautifully finished natural timber tables with glass inserts. The brothers made the simpler furniture by hand. Everything in the café has a story but it all works together to create a Pacific Northwest casual vibe.
Bakery Goods Take Center Stage
Ben and Slav have not forgotten their heritage. Their pastry chefs and bakers are originally from mostly Slavic countries, including Russia, Ukraine, Romania and Moldavia. They explained that each baker has a specialty. "One baker for certain cakes, one person for the fruit cookies and baskets and another for cannolis."
Their offerings run from an Egyptian take on baklava to French croissants. Most of the cakes and pastries are Russian, Ukranian, Georgian, Polish and Romanian. And, I was surprised to learn their mother had a hand in all of them. "Our mother wrote the blueprint for all of our pastries. They are all traditional but she has her own way of doing it." And their mother has taught the bakers and pastry chefs her take on the traditional.
Friends who have traveled to Europe have taken a look at my pictures of the colorful cakes and pastries from Sweet Touch Bakery and have exclaimed that the offerings reminded them of what they saw in Paris or Berlin. Macarons are all the rage both in Europe and here. Sweet Touch has a beautiful selection.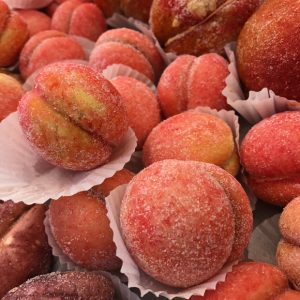 After sampling several of the items at Sweet Touch, I have to say I appreciate that they are not overly sweet. To me, the sweetness is in the appearance. If there is fruit in an item, the sweetness comes from the natural fruit, not added sugar. And the brothers ensure that the freshly made pastries are not dry. There is quite a bit of turnover in the baked goods. People order for parties and family gatherings. Catering is part of the business.
When You Go to Sweet Touch Bakery and Café
Expect the unexpected. Sweet Touch is not about standard sheet cakes with hard buttercream frosting. It's about the art of baking and the beauty of the product. Some of their cookies and sweets are so beautiful they don't look real. Yet look for local berries embellishing them. Now, that's both real and fresh!
Find Sweet Touch Bakery and Cafe and Svitoch in the Vancouver Village Shopping Center anchored by Total Wine at 4804 NE Thurston Way. They are open 9:00 a.m. – 10:00 p.m. Monday through Saturday and from 12:00 – 9:00 p.m. on Sunday. (The cafe is open 9:00 a.m. – 6:00 p.m., while the bakery itself has the longer hours.) Follow Sweet Touch Bakery and Cafe on Facebook to keep up with what's new.