Asked what kicked started her team's strong postseason run and Ridgefield High School volleyball coach Sabrina Dobbs didn't point toward a key game-deciding play or motivational speech.
Instead, the Spudders turned to one of their low points of the season.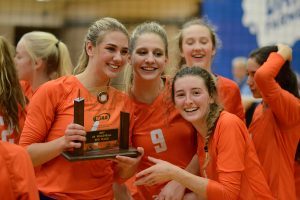 "The truth is, it all started right after a bad loss," Dobbs said. "We did a reality check and started focusing on each game. We weren't focusing on state or what was ahead of us. We focused on each individual match and I think that's what got us to where we are."
The tactic was successful as for the second time in the last three years Ridgefield, which finished second in the 2A Greater Saint Helens League, claimed the third-place trophy at the Class 2A state volleyball tournament after knocking off White River, 3-1, at Saint Martin's University in Lacey on November 11.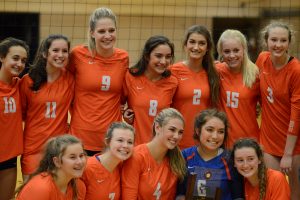 "We definitely didn't expect to get this far, especially at the beginning of the season with how many seniors we lost (from last year)," said Kenadi McCaskill, one of four seniors on the team. "We are really pleased to get third. I'm so proud of this team."
The third-place finish caps a remarkable run to end the season for the Spudders, which won nine out of its last 10 matches to finish the year with a record of 17-4.
Included in their impressive end-of-the-season run was a win over Black Hills to claim the 2A District 4 championship and a district semifinal victory over Tumwater, the defending state champion.
Ridgefield simply carried all that momentum into the state tournament where it swept both Sehome and Washington in the first two rounds to secure a spot in the semifinals.
The Spudders received a huge performance out of Delany Nicoll to knock off Washington (26-24, 25-17, 25-12) in the first round, getting 20 kills, 18 assists, eight digs, three aces and a block out of the sophomore.
Freshman Kohana Fukuchi distributed 16 assists and senior Anika Nicoll finished with six kills and 11 digs in the quarterfinal win over Sehome (25-21, 25-19, 25-16).
Ridgefield would stumble in the semifinals, losing in three sets (25-20, 25-17, 25-21) to Lynden, which would eventually fall to Burlington-Edison in the championship. Delaney Nicoll finished with a team-high 11 kills, while McCaskill added 16 digs in the loss to the Lions.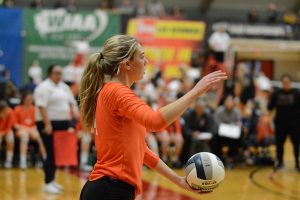 "We knew Lynden was going to be so hard. We knew mentally it was going to be hard and we were ok with whatever the outcome was going to be because we knew we were playing against a good team," Dobbs said. "We started off today knowing that we were playing two matches regardless. We knew if we lost, we weren't done."
The disappointment from the semifinal setback, however, was nowhere to be found when the Spudders stepped on the court to take on White River in the placing round.
"We wanted to come in and play lighthearted and kill it and get that third-place trophy," Dobbs said. "I am really proud of them. Third place is amazing for us."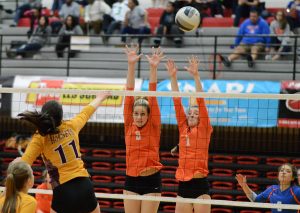 After dropping the first set, 25-21, to the Hornets, Ridgefield rallied to win the final three sets, including a marathon 30-28 second set. Anika Nicoll ended the third set with a devastating kill, giving the Spudders the 25-23 triumph, before Ridgefield wrapped up the match, winning the fourth, 25-20.
"We had to pull it off," McCaskill said. "We wanted to come out strong (in the third-place match). Last year we got down after we lost (at state) and didn't want that to happen again. We just came out and played."
McCaskill and fellow seniors Caylee Lewis, Anika Nicoll and Haley Paul finish their three years on varsity with three consecutive state trophies. The team finished sixth last year to go with the third-place finish during their sophomore season of 2015.
"They came out like how I needed them this year," Dobbs said about her seniors. "We lost a lot of seniors (from last season) and this group stepped up and did their jobs. They were awesome. I couldn't ask for better seniors."
The Spudders' roster also featured juniors McKenna Moore, Kameryn Reynolds, sophomores Brynnley Hunzeker, Delaney Nicoll Bailey Norris and Mackenzie Sparks, and freshmen Kohana Fukuchi, Presley McCaskill and Emilea Stepaniuk.