Sawyer Racanelli may very well end his high school playing career owning every single Hockinson High School receiving record.
But when it's all said and done, the talented sophomore may end up being best remembered for his lone carry in the 2017 state championship game.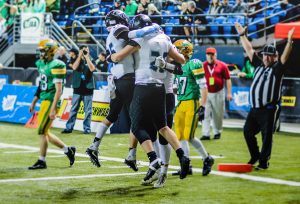 With the outcome still hanging in the balance, Sawyer Racanelli scored on a 48-yard reverse with just under three minutes remaining to help the Hawks capture their first state title with a 35-22 victory over Tumwater in the Class 2A state championship game at the Tacoma Dome on December 2, 2017.
"It was crazy," said Sawyer Racanelli, who finished with 12 receptions for 135 yards, about his late-game heroics. "We talked about (that play) the entire game. We were trying to set that play up since the first quarter."
If Sawyer Racanelli's TD run wasn't the backbreaker, teammate Aidan Mallory certainly delivered the final blow 46 seconds later after returning an interception 45 yards for a score.
The Hawks finish their banner season with a perfect record of 14-0. Tumwater, which has finished as the state runner-up four out of the last six seasons, ended its campaign 11-3.
Canon Racanelli, Sawyer's older brother and Hockinson's record-breaking senior quarterback, made his final case for 2A state player of the year an impressive one, throwing for 316 yards and three touchdowns, while adding 83 yards on the ground on 16 carries against a stout Tumwater defense which limited top-ranked Archbishop Murphy to just 71 total yards of offense in the Thunderbirds' 10-6 victory in the state semifinals.
Canon Racanelli finished his senior season with 4,121 passing yards and 56 touchdowns, which is the seventh most ever in state history for a single season.
His younger brother entered the state record book as well, finishing his year with 90 receptions for 1,766 yards and 27 touchdowns. Both his receiving yards and touchdown catches are fourth all-time for a single season regardless of classification.
"I told (Canon) at the beginning of the year that every game can be our last game (playing together) after we get past the ninth game," Sawyer Racanelli said. "We're finishing on top. We played when we were younger together. We've always won championship, but this is by far the best one."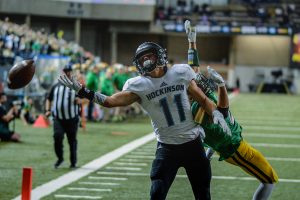 Peyton Brammer pulled down seven catches for 78 yards, while teammate Jake Beslanowitch caught four passes for 82 yards.
Hockinson outgained Tumwater 437 to 304 and were a strong 6 of 12 on third-down conversions. The Hawks received a team-high seven tackles from Matt Henry and six stops from Jonathan Doming.
The two programs came into the title contest with two drastically different legacies.
Tumwater was looking for its sixth state title in school history and were playing in its ninth championship game ever, and fifth since 2010.
The Hawks were playing in just their eighth state playoff game all time with half over that total coming this season.
The T-Birds certainly looked comfortable in the high-stakes surroundings, jumping out to a 10-0 lead less than 4 minutes into the game.
A 45-yard run on the opening play led to a 10-yard TD run by Zane Murphy for Tumwater. The woeful start continued for Hockinson on the ensuing kickoff as the T-Birds recovered a fumble, leading to a 44-yard field goal and a rare double-digit deficit for the Hawks.
Canon Racanelli and his pack of gifted receivers took over from there and went to work.
Sawyer Racanelli hauled in his first score of the game less than a minute into the second quarter and Bailey Jones caught a 17-yard touchdown pass with 8 seconds remaining in the first half to give Hockinson a slim 14-10 advantage at the intermission.
After a scoreless third quarter, Canon Racanelli tossed an 11-yard scoring strike to his brother with 10:48 left in the contest, pushing the Hawks' lead to 21-10.
Back charged Tumwater, using their powerful ground game to march down the field and score on a short touchdown run to trim Hockinson's lead to 21-16.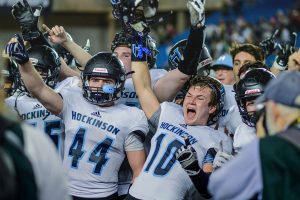 Then came the fireworks with Sawyer Racanelli's long touchdown run followed by Mallory's exclamation point of an interception return for a score.
The T-Birds were able to add another short touchdown run with 1:27 to play, but failed to recover the ensuing onside kick. Four simple kneel downs later by Canon Racanelli was all that was left before the Hawks and the 2A title.
The Hawks' run toward their first state title began with a 49-8 win over Aberdeen in the district playoff round. They defeated Pullman (53-18) in the first round and Liberty of Renton (34-20) in the quarterfinals before advancing to the state semifinals for the first time in program history. There they knocked off West Valley of Spokane (53-30) to punch their ticket to the title game.