When Britney Knotts took the job coaching the Washougal High School girls basketball team, she heard about the Division I player she would inherit in the program.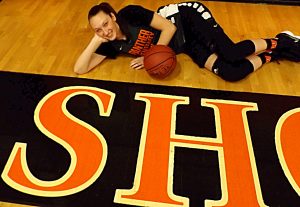 Knotts had never seen this player in person, though, until the Panthers gathered for their first practice over the summer.
Instantly, she knew. One look at Beyonce Bea in action was all she needed.
No one who really knows her calls her Beyonce (the e is silent), instead using the nickname B.
"She stood out in every drill we had," Knotts recalled. "She stood out as a ballhandler, and along with her size, that's a really great combination."
B, a 6-foot-1 junior, is the reigning Greater St. Helens 2A League Player of the Year after a season in which she averaged a double-double (16.2 points, 11.0 rebounds) every game, shooting 45 percent from the field, to lead the Panthers to the GSHL 2A title and a berth in the 2A state tournament.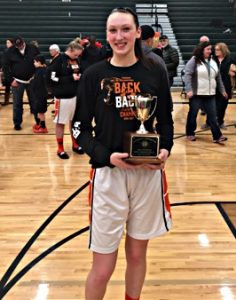 A first-team All-Region selection, B opened the 2017-18 season right where she left off– with a 25-point, nine-steal, eight-rebound performance in a 75-33 rout of Evergreen in the Panthers' season opener.
"I just want to be there for my team to do what they need me to do to win," B said. "I push myself to be someone who can do a little bit of everything."
That's been the case since B first hit the court as a 5-year-old, following in the footsteps of her father, Brad, who hooped it up himself in high school. He encouraged B's love of the game to grow until she quickly was playing basketball year-round.
Brian Oberg first coached B as part of the Future Lady Panthers (FLP) youth program, then when he became the high school coach in 2013, he had to wait two seasons for her to join the Panthers.
"There's a reason she's as good as she is," said Oberg, who resigned last spring to focus on his company, Calvert Company. "Seeing her as a young player, not only with her size but her athleticism, the footwork, the mechanics – you don't see it in too many players."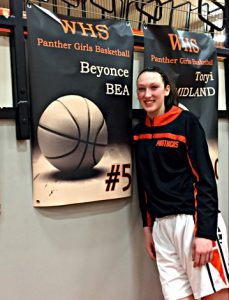 Oberg said watching B in action reminds him of another recent women's basketball great – former University of Connecticut star Breanna Stewart, a three-time Associated Press Player of the Year in college and the 2016 WNBA Rookie of the Year.
"Minus a few inches, of course," Oberg pointed out. "But they're both inside-out players, lanky bodies, fearless players who'll take games over when they need to. B's versatility as a player makes her a nightmare. You can play her at 1 through 5. I've seen a lot of good players in the area, and her versatility is unmatched by anyone."
Jesse Norris, the Panthers JV coach, compared B to Jayson Tatum of the Boston Celtics. "They're both just scorers," he said. "She has a 3 (small forward's) body but can handle the point, can shoot, play defense, handle the rock. She can play anywhere on the court."
Even as B has developed into an all-league hitter for the volleyball team and teamed with Rebecca Boylan to capture the GSHL subdistrict doubles title, there's no doubt which sport is her first – and only true – love.
"I just love to play the game, I guess," she said. "I love the competition, for sure, but being able to work as a team, having them there to support you – when you succeed as a team, it's such fun."
B has set some lofty goals for herself over the final two years of her high school career. She's already closing in on 1,000 points for her career – she's at 858 after Washougal's 2-0 start to the season, No. 5 on the school's career list with Krissy Bassett's all-time best 1,351 total primed to be broken eventually – and is No. 1 all-time in school history in career blocks and No. 3 in rebounds.
She wants to average not just a double-double, but an even more impressive 20-10 in points and rebounds, and win not only league but All-Region MVP honors. She's already received scholarship offers from a number of West Coast Division I schools – Portland State, Portland, Hawai'i, Fresno State, and Idaho – so becoming Washougal's first-ever D-I women's basketball player is well within her sights.
Most important to her, though, is to lead Washougal past the first day of the state tournament in Yakima. As a freshman, the Panthers lost their opener at the Yakima SunDome but rallied to win the fourth-place trophy – the first time the program ever placed at state.
Last year, though, they went 1-2 at state, and B had perhaps her worst game of the year – five points on 2-for-11 shooting as Wapato eliminated the Panthers from the consolation bracket.
THISorTHAT with Beyonce Bea
Hot or Cold
Italian or Chinese food
Cat or Dog
Tom or Jerry
Batman or Superman
Heads or Tails
LeBron or Steph
Madden or World of Warcraft
Hamburger or Hot dog
Ketchup or Mustard
"It's frustrating a little bit after all the hard work we put in," B said. "But then you realize we got real far compare to our program's history. I just want to see us get further and further, continue our success."
That won't be easy in a league that now is gunning for the Panthers, who graduated only two seniors but also lost Oberg's daughter, Mason, a guard who averaged nearly 15 points per game but transferred to Union along with 6-1 post junior Toryi Midland.
"Most of it is going to be about believing in ourselves, coming out with the same intensity every game and playing defense," Knotts said.
But Knotts knows she'll need that Division I player she quickly learned to appreciate coming up big for Washougal night after night.
"B has always had a second all-star to play with, but now, she'll have other players around her learning to play together," Knotts said. "Her job is to show them what to do."