With the perfect blend of beer, bad puns and book-learnin', trivia nights offer the opportunity to use those random history facts you remember from school or to flaunt your savant-like knowledge of 90's hip-hop. Trivia nights are also a great way to try Clark County's many breweries, with the chance to win a discount on your tab.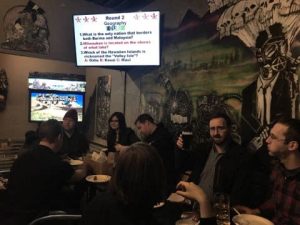 History of Pub Trivia Nights
Trivia nights started across the pond in the 1970s. Pub owners looking to increase business on slow nights hired fun and engaging hosts to run team trivia nights. In the UK, teams pay a fee to play, and the winning team receives the pool of money. In the United States, trivia is free to play, and the winning team typically receives a discount on their tab or a gift certificate towards a future visit.
Trivia Nights in Vancouver and Clark County
In Clark County you can play free pub trivia five nights a week with 5 Star Trivia. A 5 Star Trivia game lasts about ninety minutes and includes questions about arts and literature, history, geography, sports, nature, science and multimedia questions where trivia teams identify a famous person, song or movie. The feud and wager rounds offer an opportunity for upsets and team comebacks.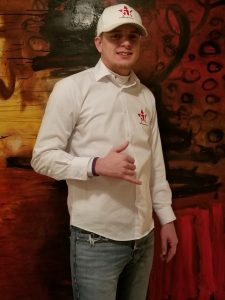 Owner and trivia host Michael Fleming started running trivia nights because he loves being around people and entertaining them. In addition to reading off the questions and bantering with the audience, Michael is also responsible for writing the trivia questions for the nine trivia events 5 Star Trivia hosts each week.
Trivia Night Questions – Where Do They Come From?
It's been said that an ideal trivia night question is one where:
– At least one person knows the answer
– Half the players can make an educated guess
– Everyone will find the answer interesting
With that in mind, how do trivia jocks come up with their trivia questions? According to Fleming, "I spend a lot of time googling questions and answers that I believe would be fun and challenging. Some topics are much harder than others. Movies and songs are the toughest categories to come up with because it is hard to judge what the demographic in the audience is going to be on any given night. A good trivia question is one where people say, 'I know the answer, I just can't think of it right now!'"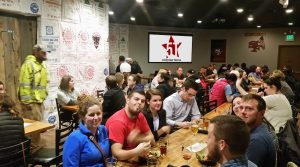 If you're looking for a fun activity for a birthday party, holiday party or wedding, 5 Star Trivia offers custom trivia for private events. Fleming explains, "I did a wedding where they wanted a couple of rounds about Disney, so I came up with Disney-related questions in different categories and we did a whole round devoted to Disney. Also, every year on 4/20 we do a custom trivia all about 4/20 for Heathen Brewing Feral Public House's event."
Trivia Night Tips
You don't need a team of PhDs to win at pub trivia. Fleming's tips for becoming a trivia night champion are as follows: "Follow 5 Star Trivia's Facebook page and go as much as you can. The more you go, the better feel you will have for my style of questions."
Where to Find 5 Star Trivia Nights in Clark County:
Sunday
5:00 p.m. Doomsday Brewing (Washougal)
7:00 p.m. Brewtopia (Vancouver Mall)
8:00 p.m. Low Bar (Downtown Vancouver)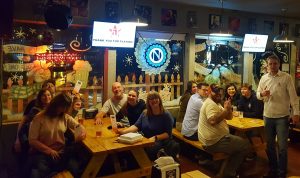 Monday
7:00 p.m. Doomsday Brewing Safehouse (Vancouver)
Tuesday
6:00 p.m. Pizza Schmizza (Salmon Creek)
7:00 p.m. Heavy Metal Brewing (Vancouver)
Wednesday
7:00 p.m. Mill City Brew Werks (Camas)
8:00 p.m. Heathen Brewing Feral Public House (Vancouver)
Thursday
7:00 p.m. Ghost Runners Brewing (Vancouver)
The schedule above is current as of this article's publication date, but please visit 5 Star Trivia's Facebook page to confirm times and locations.