There is something amazing about standing on the crater rim of Mount St. Helens, gazing down the steep slope, peering directly into an active, smoldering and ever-growing dome. In each direction, stunning views of the region are observed, with mountains Hood, Adams and Rainier each looming large in the distance. For many, standing on the summit of Mount St. Helens is as iconic as it gets for day hiking in Washington State, and those lucky enough to saunter up the slopes are rewarded with one of the most unique and impressive hiking experiences of their lives. While not easy or for everyone, those who look at the erupted mountain with longing for adventure in their eyes need to climb St. Helens.
Permits are needed to climb Mount St. Helens all year, but depending on when you climb, obtaining a permit might be difficult. Permits are required because, like many iconic trails in the Pacific Northwest, the area can be incredibly popular. On one weekend in early March, 93 cars were counted in the parking area. Because of the crowds, permits are needed for all who climb, with a quota placed on the number of climbers allowed on the mountain each day from April through October. No matter when you summit, the National Forest Service has climbing conditions updated often on their website so you can know what the weather is like before you head out.
Snowy Summit Trips
If you plan on scaling the summit of this volcano in the winter months, from November 1 – March 31, a permit can be obtained, free of charge, from the Marble Mountain Sno-Park area. You do not need reservations online and can just show up at the mountain on the day you hope to hike to the top. During the snowy months, this access point has you hiking the Worm Flows Route, which is the best and easiest way to reach the summit.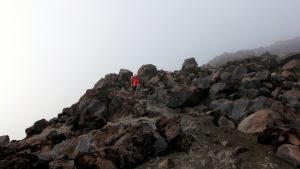 This route gains 5,700 feet in just 6 miles, and is 12 miles round trip. This route typically takes 8-12 hours for hikers who are used to elevation gain. While the snowy conditions may scare some away, others prefer hiking in the snow, as it is much easier to walk in with the right snow gear than in the ash and rocks of the summer months.
Summer Summit Trips
Once the snow starts to melt, reaching the summit of Mount St. Helens still requires a permit, but this time you have to pay for and reserve your dates in advance through the Mount St. Helens Institute. From April 1 until  May 14, 500 hikers are allowed to summit the mountain with permits. This number drops to just 100 a day from May 1 – October 31, so you'll need to plan ahead.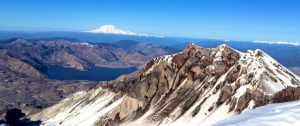 When you climb Mount St. Helens in the summer, if you are lucky enough to get a permit, you'll wander on a landscape completely foreign to anything else you'll experience in the Pacific Northwest.
Known as the Monitor Ridge Climbing Route, the summer trail leading to the summit of St. Helens is 10 miles round trip, gaining 4,500 feet over the first 5 miles. For just over 2 miles, the trail weaves through the forests, gaining over a thousand feet in elevation, before spitting you out above the tree line. From here, the path winds and climbs through old lava flows, loose pumice and frustrating ash, slowing down your pace and making most hikers second-guess their decision to try and conquer this peak. Stay positive, take your time and try to smile, as the rewards reaching the summit are world class.
Getting a Permit for This Year
If you haven't already picked up a permit for 2018, you may be out of luck. When permits went on sale on February 1, 2018, the demand was so high the system crashed. As of the time of this publication, nearly all the permits for the summer have been sold. Once permits are purchased, the date cannot be changed.
You can also join a Facebook Group like Washington Hikers and Climbers and see if anyone is willing to sell or trade permits. You should also check purmit.org to see if they have some available, as many people will get a permit, then change plans and have to sell.
Mount St. Helens is not an easy hike, nor one that everyone can handle. If you do attempt the mountain, take it very seriously, as it deserves your respect. This is just a steep, long hike and can be accomplished by those in shape enough for the elevation gain and mentally strong enough to handle the frustrating false summits and slogs through loose rock and ash. Once at the top, exhaustion disappears, replaced by a feeling of awe as you take in the incredible panorama found at the top. With Mt. Rainier, Mt Hood and Mt. Adams all visible, as well as steam rising from the growing dome below, you'll be glad you took a day to reach the top. This is a classic trek and if you aren't hiking it this year, make it your goal to stand on the summit of America's most famous erupted volcano soon.
As always, if you go hiking, stay safe, be smart and make good decisions. Follow these steps to not get injured so you can hike another day.