Tom and Debra Youngers were on the hunt for a good business. Much like picking out a puppy, it was unclear what was ahead for them both. "We wanted something the kids and grandkids could work in that was fun and that we could pass onto our family," Tom shares. "Debra was a real estate broker for 20 years and a friend offered her an opportunity to buy Top Burger in Camas. We stopped in shortly after and made an offer."
The History of Top Burger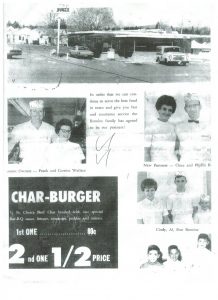 Top Burger has a long history before Tom and Debra bought it in 2010. Tom has done a lot of research on the history of Top Burger, which was once known as Crown Freeze. "The first day of business was August 15, 1957," he shares with me. "The original owners were the LJ Herber family. Burger joints were huge in the 1950s and Leonard Herber was an excavation contractor looking for a fun business that his wife and children could work in while he did his 'dirt work.'" According to his research, the location proved ideal as there was a high school, a junior high and elementary school all within a four block radius, as well as two private schools. It was also conveniently located by the Crown Zellerbach Paper Mill. The original restaurant was geared toward ice cream in its early years. "The layout has changed through the years and we did an extensive remodel in 2014," Tom adds.
Owning and fixing up a business hasn't always been easy. With several owners between Herber and Youngers, the reputation has changed a lot. In 61 years, it takes a lot of work, patience and passion to build a new reputation.
"Without question, the feeling that you are your own boss and in control of your own destiny/success would be my favorite joy of small business ownership," Tom says.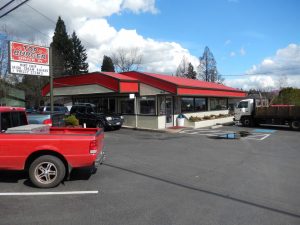 Top Burger Today
Now they have a hangout similar to Mel's Diner in the blockbuster hit "American Graffiti." "We have a ton of fun at the end of each school year," explains Tom. "All the customers anticipate summer fun. The local middle schools try to capitalize on those feelings and will bring groups of students up to Crown Park and come by Top Burger for a shake, fry, burger or chicken strips. They hangout in our outdoor seating area on the picnic tables and benches and talk about summer plans and the excitement of the last day of school."
Much like Mel's, he also gets to see a diverse series of cars roll through Top Burger and it gives him insight to the diversity among his customers. "There is no typical Top Burger Customer," he adds. "We have people coming through with cars that barely run. Then we have customers in exotic sports cars, Teslas and Antique Bentleys. In the dry months, there are a lot of cool old restored cars and motorcycles."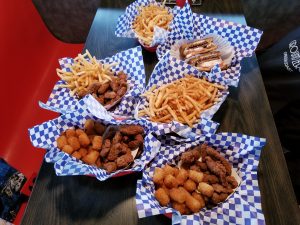 People are not just coming for the atmosphere though, the food is righteous. Tom doesn't just run the show, he loves to eat there too.  "My favorite current item is our BBQ Bacon Burger," he shares. "The burger comes on a buttered brioche bun with fresh lettuce and tomatoes. We add BBQ sauce and cheese and it is off the hook yummy. I like to add grilled onions. It goes really well with an order of fries and a vanilla shake."
Tom also believes that fries and shakes are their most popular menu items and explained to me that one of their former workers was an engineering student at the University of Portland and they figured out that they have over 850,000 combinations of shakes if four flavors are considered, reflecting their huge menu. "Our most popular menu item for new customers is our Top Burger with cheese," Tom adds. "If you want spicy, the jalapeno burger is the top choice." They also serve dinners such as fried chicken, finger steaks, shrimp, clams, etc. These come with cheesy bread and coleslaw. He said one of the items most talked about by customers is their french fries.
The Top Burger Legacy
"I believe our best contribution is helping to make more quality members of society by exposing our young workers to proper work habits and responsibility," shares Tom. "Our front people are held to the highest level of customer service." Tom and Debra both take the time to teach their young workers about human behavior and the importance to accuracy and patience.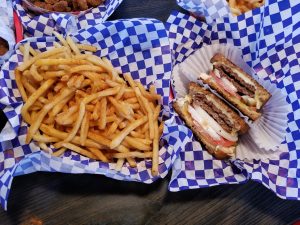 Since they don't serve alcohol, Tom also sees them as a great place for "good clean fun," where kids can hang out and stay out of trouble, the type of place every community needs.
As for the future of Top Burger, Debra and Tom will own it for at least the next 10 years and would like their grandchildren to run it one day.
With Tom and Debra at the helm, Top Burger has a good chance at staying a beloved fixture in the Camas community for another 60 years.