Chef Peter Gallin, owner of Say Ciao! Creative Catering and Say Ciao! Columbia River Tap Room and Eatery in Vancouver, is not exactly the type of person you might expect to find in the midst of an industrial business section. This well-traveled adventurer brings his international life experience and culinary talent together to create a bustling catering business and cozy bistro/taproom that just may be one of Vancouver's best secrets.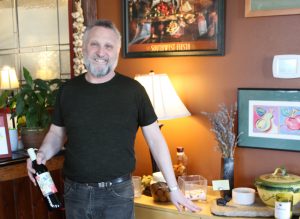 World Travel Leads to International Cuisine
Peter Gallin is the son of an anthropologist and a sociologist. Because of his parents' professions, he was exposed to different cultures as a small child. During his youth, he lived three different times in Taiwan, one time learning fluent Mandarin and attending school with village children.
What did his parents do during breaks in the academic calendar? They traveled extensively with their sons. The family traveled the "back roads" of the world, seeking out historic and cultural experiences. "We didn't do the tourist things," Peter shares. "We dined with the locals and visited museums."
As for cooking, he seems to have gotten that from his mother. "She was an amazing cook and to this day still calls me to share ideas for dishes," he adds.
By the time Gallin was 18, he had traveled in 36 countries. When he graduated from high school, his parents gifted him with plane tickets and an itinerary that afforded him 4 months of world travel and even more unique and memorable experiences.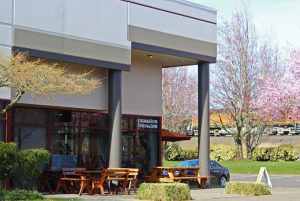 His travels took him all over North America, including the East and West Coasts, the Deep South, the Southwest, the Midwest and the Northwest. His past pursuits have included being an avid skier, 14 winters were spent in Colorado, Taos, New Mexico and Utah. Windsurfing in Hood River during the summer rounded out his year. Riding his Ducati motorcycle to places like Hood River and Astoria is his main sporting pursuit now. And his successful businesses have helped him put down roots in the Pacific Northwest.
Keeping it Simple While Changing it Up
At one point in Gallin's travels and employment in restaurants, a chef pointed out to him that he had a talent for cooking. He encouraged him to apply to culinary school and he did. Gallin is a graduate of the California Culinary Academy in San Francisco with a curriculum focused on classical French cooking techniques. He has worked as a chef since graduation in 1988.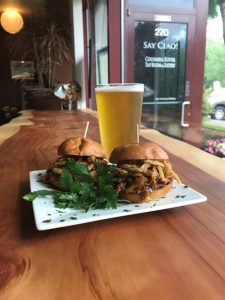 Gallin's business, Say Ciao! Catering, handles 6 to 14 catering events each week. Catering has been a consistent thread through his business life. He's also run large restaurants like Applewood on SE 192nd staffed with 36 employees.
Aside from cooking, his loves being in touch with the customer and creating a place to showcase his eclectic cuisine. The Say Ciao! Tap Room is just that. For Gallin it was a natural next step.
While the kitchen areas are extensive at Say Ciao! because of the catering business, the restaurant is small and light-filled. The day I met with Gallin, we sat and chatted while trains passed alongside Columbia Way, bright pink cherry trees swayed in a light wind and customers were greeted like old friends. The restaurant is simple as is Chef Gallin's philosophy, "Simple elegance; deliciously common ingredients."
You never know what to expect when you dine at Say Ciao! Tap Room. One evening I was there with friends and the menu included Southwest favorites as well as Pacific Rim-influenced dishes. Chef Gallin always has several soups of the day to surprise you. That evening my choice was a Mulligatawny, a traditional English curry soup of Indian origin. The day I visited for an interview, the choices were a curried lentil soup with chicken and veggies or a sweet and sour hot soup. I liked the zing of the sweet and sour soup.
Gallin spent some time in Taos, New Mexico, and often incorporates the local flavor in his dishes. "Santa Fe's Coyote Café was one of my inspirations for food made with chiles and the spices of Northern New Mexico," Gallin shares.
Gallin loves this new smaller venue. He has always been personally involved in the business, making everything from scratch with seasonal foods. "When I cater lunches I do things like go to the store and personally select every single apple," he explains. "I shop locally and personally."
With 13 taps and a wine list focusing on Northwest wines, music on Fridays and the smell of Chef Gallin's creations wafting from the kitchen, Say Ciao! Tap Room is a place that will entice you to settle in and savor the unique creations of the day. Part of the ambiance is Gallin himself. He enjoys people and has many a story to tell based on his travels and experiences. He's an avid writer, having kept travel journals and writing poetry and short stories.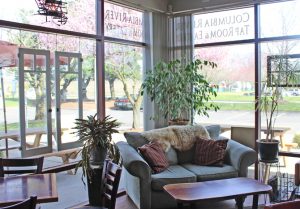 For more information visit the Say Ciao! Creative Catering and Say Ciao! Columbia River Tap Room and Eatery website, and gaze at the ever changing menus. You can also follow their Facebook Page and Gallin's blog, which includes some killer recipes.
Say Ciao! Creative Catering and Say Ciao! Columbia River Tap Room and Eatery
2501 SE Columbia Way, Suite 270
Vancouver
Tap Room: 360-448-7111