The annual Scandinavian Midsummer Festival in Astoria, Oregon is not to be missed. It's a fun-filled family-friendly adventure that transports many of us to the land of our ancestors. Enjoy Nordic Viking Dancers, the Queen's Coronation and Ball, Scandinavian history, food and music during the festival which is happening June 15-17 in 2018 at the Clatsop County Fairgrounds. Many people, like the Folk Voice out of Seattle, travel from Washington each year to be a part of this celebration of their Scandinavian roots. This includes our very own Madalyn Hellberg from Camas, who was selected as Senior Miss Sweden for this year's festival.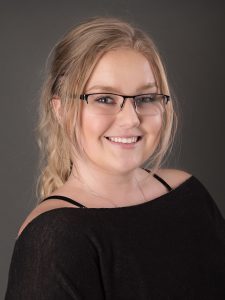 Madalyn, 17, has been going to the Scandinavian Midsummer Festival since she was just 9-months-old. "I've been attending it basically my whole life, I don't really remember," she recalls. "I think my first introduction to the festival was when I was like 9-months old. I was in a fashion show and wore a Finnish costume. It's a big deal in my family."
It's no surprise the festival is a big deal for her and her family, both sets of grandparents are Scandinavian, and Madalyn says she has Swedish, Danish, Finnish, and Norwegian roots. Since her grandparents live in Astoria, going to the festival became their family tradition, as a way of keeping their ties to their roots and ancestors.
"It's a fun way to celebrate your culture," Madelyn says. "Every year I learn something new about my family. So like this year, I learned that my Dad's grandparents, who came here first from, I think, Denmark, where the host family for my mom's grandparents who came from Sweden."
Her favorite part about the festival is by far the food, particularly the Norwegian Lefse bread with butter and cinnamon. "It's really good, I look forward to it every year," she says.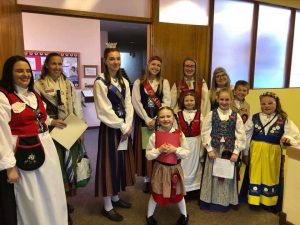 This is not Madelyn's first time on the court. In 2008, she was Junior Miss Sweden. "My grandmother Joanne was the one who really got me excited for the festival and got me the interview with the Scandinavian lodge for the court," she explains. "I did the interview and then got picked." The festival court is an application process and does not have a pageantry element.
This year, she got a call from a lady at the VASA Swedish Lodge, asking if she would be interested in the senior miss position. "Living two hours away from Astoria and having to go there each week, I was a bit hesitant at first," she admits, "but I said yes and I am actually having a lot of fun because I have become really good friends with another one of the girls on the court."
As part of their courtly duties, the ladies go to different lodges each week to promote the festival, which includes giving a talk, followed by a social hour and asking people to buy their raffle tickets. The money for the raffle tickets sold goes to the girls as scholarship dollars and one lucky ticket holder will win $1,000. They also go to other events. Like last weekend, they were at a crab festival in Astoria, manning a booth where they handed out flyers for the festival and sold raffle tickets.
It's not all work though, Madelyn says she gets to go on boat rides and to luncheons, which is fun. They also were given matching causal wear – this year it's black slacks, a floral tank top and a cardigan – for events where they don't have to wear their native dress.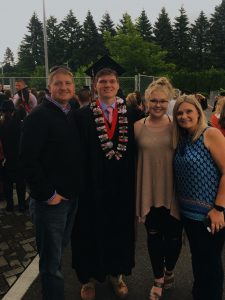 Her grandmother Joanne has since passed on, but Madelyn has a very special keepsake that keeps her close. "The Swedish native costume that I wear at court was my grandmother's," she shares. "The fabric was made in Sweden and altercations were done by a local woman in Astoria." She admits that it's not the most comfortable dress, being heavy fabric with three layers – a dress, shirt and bib – but she enjoys wearing it just the same.
When she is not representing her Scandinavian culture, Madelyn enjoys playing soccer, which she has played her whole life, up until this year. "I stopped this year to focus on school, but up until my junior year I played for the Unified Soccer Team," she says.
Madelyn is planning on majoring in education in college. As an elective at her high school, she goes and works in the pre-school, where she reads and plays with the kids. "I haven't decided on a college yet, but I am leaning toward Oregon State University," she adds.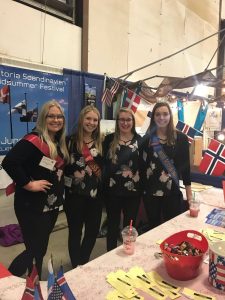 You can meet Madelyn and buy last-minute raffle tickets at the Scandinavian Midsummer Festival June 15-17 at the Clatsop County Fairgrounds in Astoria. Be sure to stop by the Queen's Coronation, June 15 at 7:00 p.m. in the arena. Each princess will speak about their Scandinavian heritage. A panel of judges will select one to reign as Miss Scandinavia 2018. The Princesses are sponsored by the Danish Society, Finnish Brotherhood, Sons of Norway and VASA Swedish Lodge. Come early and listen to the feature entertainers who will perform from 5:00 p.m. – 7:00 p.m. Soloists from the community will sing the national songs of Denmark, Finland, Iceland, Norway, and Sweden. The Nordic Viking Dancers will perform traditional folk dances. Stay afterward for the Torchlight Procession, Bonfire and family-friendly Queen's Family Ball with music from Scandinavian Country.