Washougal's Wildflour Cafe and Cupcakes is the hometown eatery with a big heart, a joint labor of love between Bethani Higdon and her mother, Connie Higdon. This cheerful café with sunshine-hued walls opened on Main Street in 2013 and later moved to 3010 Evergreen Way for the larger square footage and full kitchen, where Bethani whips up comfort food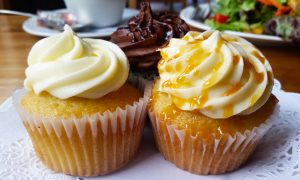 with a modern twist. Popular lunch items include the roast beef panini with melty Provolone, caramelized onions, and a garlicky cream cheese spread; the Italian melt with ham, turkey, salami, Provolone, pepperoncini and a red wine vinegar drizzle; or the tomato-basil soup that sings with just-picked garden flavor. And don't miss the ranch dressing; it's dairy free, yet tastes of creamy buttermilk studded with fresh dill. Fridays are chowder days, says Connie, who proudly adds, "We would challenge anybody that we have the best chowder they've ever had!"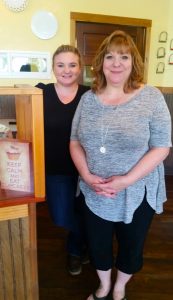 Bethani, just 25 years old, graduated from Oregon Culinary Institute and did a two-year internship Columbia Edgewater Country Club. She loved the job, but the long hours, commute, and working holidays were rough. "I kinda just did cupcakes on the side for people," Bethani says. "I'd post pictures of them on Facebook and then I'd have people be like, 'Well, are you willing to do a wedding? Or a birthday?' I was like 'Yeah, sure!'" Eventually, she was making so many cupcakes that she and her mom figured they could make a business out of it…and the cupcakes turned into a café. Now Wildflour allows Bethani to pursue her passion for cooking while keeping hours suited to the rhythms of small-town life: lunch every weekday, and breakfast Tuesday through Friday. The café was originally open on Saturdays, but now it's often reserved for special events, like bridal and baby showers, birthday parties, and wedding receptions. "We don't charge anything for the venue as long as we're providing the food here," explains Connie.
Customers Come for the Love
But Wildflour's customers don't just come for the homestyle cooking—they also come for the love. Connie, a talker and a storyteller, is who you'll see out front, while Bethani, shy but fiercely talented, keeps things humming in the kitchen. When Bethani sees regular customers rush in, she'll start prepping their orders, lickety-split. "They'll laugh because they aren't even to the till yet," says Connie, "but she's got their lunch started because they're in a hurry."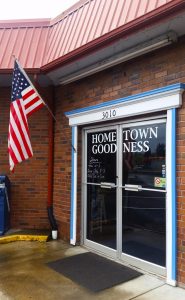 Customers are also loyal to Wildflour because Bethani is fastidious about food sensitivities. "We have several people that eat here because she takes food allergies very seriously," explains Connie."They come here because they feel safe. And Beth knows the minute they come in—she knows what they can have, and they like that." It's this individual attention that makes patrons so devoted—a genuine care and concern that often goes both ways. "About two months ago we had a family emergency, we had to close for the day," recalls Connie. "We get here the next day, we have one customer come in with flowers because they were so worried about us. Every customer that came in the door, the first thing they said was, 'Is everybody OK?' It's just so sweet. We love our customers and they love us."
A Hauntingly Popular Destination
Connie, a staunch Washouglian who's lived in the town for 53 years, remembers when the building was a corner grocery and gas station owned by the Vandeventer family. "He had the only gas pumps and pay phone in town, and if he didn't like you, he wouldn't sell to you," chuckles Connie, remembering Mr. Vandeventer fondly. He and his wife were famous for selling giant bags of buttered popcorn, which Connie's family would enjoy on Sunday nights while watching "The Wide World of Disney." Connie likes to think that Mr. Vandeventer, long since passed away, comes to visit them in the kitchen, where he might knock aside a heavy pot lid or make a cookie cutter fly across the room. Sometimes they'll hear snatches of whistling or a spectral sneeze. The two ladies aren't bothered. "Good morning, Mr. V!" they'll say.
It does seem like Mr. V has put his blessing on Wildflour Cafe, because business is brisk, drawing a cross-section of young families, retirees, locals and tourists. It's a neighborhood hub where friends gather to play Scrabble or knit, a favorite destination for day-tripping seniors, and a meeting space for church groups and local businesses. Wildflour also caters employee lunches at the Camas paper mill while feeding the steady stream of hungry shoppers referred by Pendleton Woolen Mills. Connie and Bethani do their best to make Wildflour welcoming to everyone and strive to keep their prices reasonable. "We have to serve the community that we live in," says Connie, "and we want our food to be really high-quality and affordable." It's a strategy that's paying off; Connie estimates they serve 50 or 60 people a day.
Great Food, Gifts & Goodies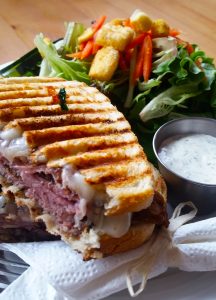 Connie and Bethani also make and sell their own scented candles, botanical soaps, and "farmhouse chic" home décor, and don't miss Connie's curated assemblage of vintage kitchenware and her beloved assortment of potholders, which serves as colorful wall art. Altogether, Wildflour has more than a baker's dozen reasons to drop in for a country-style breakfast, a zesty sandwich, gourmet cupcakes, or year-round hand-scooped ice cream. Although Wildflour has only been open for five years, it's quickly become the icing on Washougal's cake, the not-so-secret ingredient in this community's recipe for hometown hospitality.
3010 Evergreen Way in Washougal
www.facebook.com/WildflourCafeandCupcakes/
Hours: 10 a.m. to 3 p.m. Monday, 8 a.m. to 3 p.m. Tuesday – Friday, closed weekends