If you thought Clark County had no coffee nerds—that is, people who obsess over beans grown at precisely 4,500 feet up a lush equatorial mountainside, caressed by coastal mists and kissed into ripeness by the midday sun before being hand-harvested by farmers humming tender tropical lullabies—then you haven't met the owners of Hidden River Coffee Roasters. And everything about the aforementioned scenario is true, except the lullabies (although that might also be true.).
This coffee house in downtown Camas is the result of the supreme coffee nerdery of Brandon Pasa, Aaron Baldwin and David Metzner. Pasa had been a partner in a Washougal coffee house called Origins Organics before opening Columbia Chiropractic and Massage. He enjoyed "talking coffee" with Baldwin, a graphic designer, and Metzner, an operations manager for a consumer electronics start-up. Both Pasa and Baldwin were home roasting aficionados; Pasa, in fact, was so serious about craft roasting that he constructed his own roasting room at home. It was Baldwin who eventually suggested that their home roasts were good enough to sell, and that they should start a commercial coffee roastery.
It's not that craft roasts aren't available in Clark County — there's Paper Tiger, Compass Coffee, Relevant Coffee, Kafiex, and 9 bar espresso (to name a few) — but it was tough to find the exact flavors they wanted, in terms of country of origin, elevation, and other variables. Baldwin says, "I felt like the results that I was getting were at least as good as some of the really great roasters around, and far better than average." "Not to mention," adds Pasa with a grin, "we have a heck of a lot of fun with this!"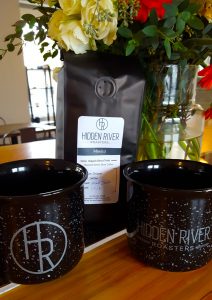 They favor single-origin coffees brewed entirely with beans from one country, even a specific farm or co-op. "You can taste a coffee and tell where it's from," says Pasa. "Some countries are fruitier, some are nuttier, some are more earthy some are spicy…you just get pure flavors." The partners are also particular about using beans cultivated with "natural farming" methods and fairly-compensated growers.
Hidden River began selling beans online in June 2016, but, after about a year, they were ready to make the leap from commercial roaster to community coffee house. Around this time, Pasa visited a fish market located in a 110-year-old clapboard house on the corner of 5th Avenue and Everett. The owner mentioned that he was going out of business and the house was up for lease. Pasa heard a voice saying, "This is your place." The next day, Pasa came back and said he wanted the building. The three men immediately got cracking on renovations. With the exception of dry-walling, they did everything themselves: the coffee bar, shelving, tile, lighting fixtures, even some of the tables, including a beautiful counter fashioned from a storm-damaged tree. They strove to retain the character and history of the house, originally owned by a millworker. "That's why we wanted to leave the original floors. We wanted everyone to see the hundred and ten years of life that had happened, and these floors tell a story," Pasa explains. "It's a lot of fun to think about everyone that's come in here. We love it. We're a little cheesy about it, but we love it."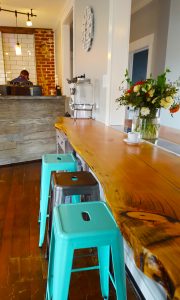 Their wives chose the furnishings—the comfy chairs, the trendy metal stools and seats, and the stunning contemporary art. The overall effect is uplifting and bright, a space that invites you to linger. "This environment is for people to come and escape," says Pasa. "That's why we're Hidden River Roasters. Everybody's 'hidden river' is somewhere, where they can steal away to, get some coffee, hang out with family and friends."
They have plans to expand the front porch and add outdoor seating. They'll serve Truly Scrumptious pastries and baked goods. For tea lovers, there will be Townshend's teas and Brew Dr. Kombucha. In the spring, they'll begin offering artisan sandwiches and soups. They look forward to local partnerships—perhaps a coffee-scented soap with The Soap Chest, or an espresso stout collaboration with the soon-to-open Grains of Wrath brewery. They're also talking with Chef Tim McCusker about serving Hidden River coffee at Feast at 316.
In the end, it all comes down to the coffee. Baldwin pulled me a shot of the Costa Rica espresso, while Pasa waxed nerdy about the flavor profile. "You get such a giant kick of berry and fruitiness at the beginning, and then it goes into a nice honey and a salted caramel, and then it fades out at the back into that dark baker's chocolate." He wasn't kidding. It was an exhilarating mouth-splosion of flavors — almost buttery up front, followed by hints of tangy mango and dulce de leche, with a finish of bittersweet chocolate and something else…my mother's homemade caramels? Or was it something more evocative, like the memory of a sunny afternoon at a sidewalk café in Rome, or the electric tingle of a first kiss?
I'll need to drink many more cups to decide, which fits right in with my plan to make Hidden River Roasters my personal escape. I know that other local coffee nerds — or anyone who wants a comfortable, welcoming spot to spend an afternoon — will flock to join me.
Hidden River Coffee Roasters
536 NE 5th Avenue in Camas
888-661-6612
Open Mondays through Saturdays from 6:00 a.m. to 5:00 p.m.
Follow Hidden River on Facebook, Twitter, and Instagram