You wouldn't think that a teacher, a West Point graduate, a biologist, and a Marine Corps veteran who operated drones would have a passion in common. But, as I recently found out, their life paths have intersected and their passion is growing gourmet mushrooms in Vancouver, Washington.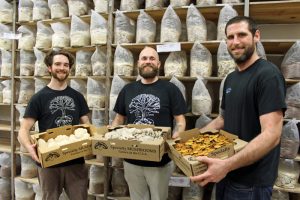 High School Friends Connect Over Mushrooms
Michael Bandy, co-owner of Ash Tree Farms, started growing mushrooms in his basement in Fresno, California. With a degree in biology and a love of growing things, Mike was successful in this venture. He was so successful that he and his high school friend, Eli Browne, a teacher, started researching ways to expand the mushroom business, including where they would be most successful. And, Clark County, with zero mushroom growers and a hot farm-to-table culinary scene, was where they decided to found Ash Tree Farms.
Where's the Mushroom Farm?



I visited Ash Tree Farms recently. It's not what you might expect. There's no rural farm with animals in a pasture and a barn full of mushrooms growing in odiferous dark soil. It's just not done that way.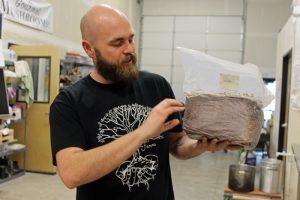 You'll find Ash Tree Farms in the back unit of a tidy blue and white warehouse complex, Contractors Village, just off NE 121st Avenue. The mushrooms are planted and grow in bags, all neatly placed in a row on shelves. And, when the time is right, the bags are slit open and moved to a temperature and humidity controlled environment where they "fruit" and grow to perfection. All that, in addition to sterilizing the growing medium, and getting the mushrooms ready for market, is done inside the warehouse.
Filling a Need for Gourmet Mushrooms
There's more than mushrooms growing at Ash Tree Farms. The business was so well received that there was a need to expand. So Mike and Eli added a partner, Tim Connors. Tim graduated from West Point and once he ended his military duty he was looking for the next step in his life. And, it wasn't mushrooms. He didn't even like mushrooms. But he started working with Ash Tree Farms and, Tim shared, "I fell in love with mushrooms as a concept when I started learning about the roles they play in balancing different ecosystems." Tim recalls, "I used to avoid eating mushrooms, but now that I know about their health benefits I can't pass them up." He has a strong interest in the nutritional benefits of mushrooms and that clearly will be his niche as the business grows.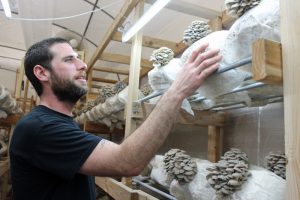 The partners did all the work from sterilizing the sawdust and grain growing medium, inoculating each bag with mushroom spawn, monitoring the growth of the fungal fibers and then slitting the bags when the fungi are ready to fruit. And, of course, that process is carefully monitored too.
So recently, they added a fourth member to the team, someone who actually planned to break into agriculture. Ward Sarkinen returned to Clark County after five years in the Marine Corps as a drone operator. He is participating in a joint Portland Community College – VA program and is interning at Ash Tree Farms. He's enthusiastic and the partners hope he will join them in the business after his internship ends. Meanwhile, Ward is learning the business "from A to Z," as he puts it. Everyone at Ash Tree Farms is a hands-on businessman and farmer. They plant and harvest every day.
Gourmet Mushrooms on Your Plate
"The chefs are blown away by how fresh our mushrooms are," says Mike. Ash Tree Farms delivers to about a dozen area restaurants. Their list of  Vancouver restaurants includes those who really care about cooking with fresh and local produce—Little Conejo, Elements, The Grocery, Rally Pizza, and Lapellah.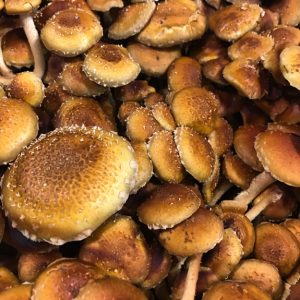 They also sell their mushrooms at the Vancouver Farmer's Market and the Camas Wednesday Market. Their offerings currently include their staple, the Blue Oyster Mushroom, as well as Lions Mane, Chestnut Mushrooms, and King Oyster Mushrooms. I met them for the first time at one of the markets and bought a bag of mixed mushrooms, a great way to sample the mushrooms, most of which are not available in local stores.  Eli, explains "Working the farmers markets really opened our eyes up to the love people have for their local food community, and the ways in which our mushroom farm was embraced with open arms has been really encouraging and heartwarming."
Since the farmer's markets are seasonal, individuals can also buy mushrooms directly from the farm Tuesday through Saturday from 10:00 a.m. to 2:00 p.m.  It's always best to call or email first.
And, for those who love the fresh mushrooms and their health benefits and want to grow their own, Ash Tree Farms sells growing kits and provides plenty of great advice.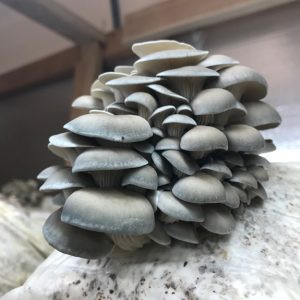 When You Go to Ash Tree Farms



If coming from NE 49th Street, turn north on 122nd. This street becomes NE 121st Avenue. Look for the Contractor's Village sign and then drive all the way to the back section of buildings.
5305 Northeast 121st Avenue, Unit 911, Vancouver (map)
360 -326-3578
ashtreefarms@gmail.com
Calling or emailing first is recommended.