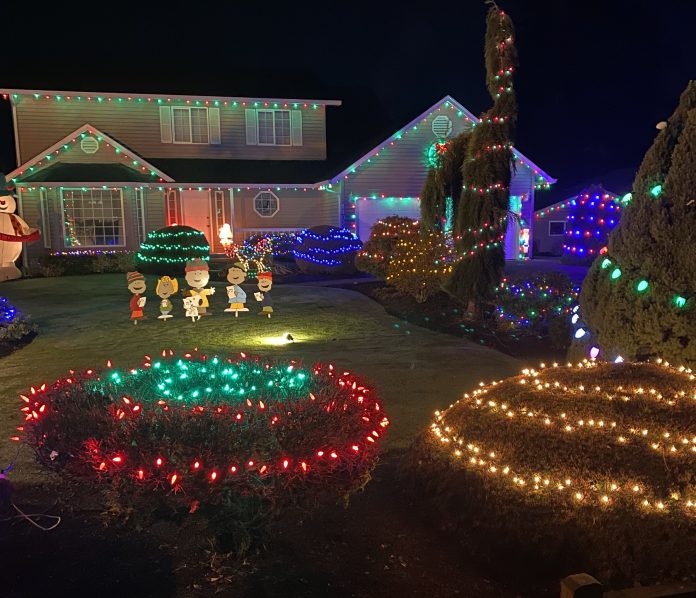 It is a fun adventure to pile into the car, crank up the Christmas tunes, and set out on a quest to find the brightest, most vibrant lights in Clark County. This annual voyage, combined with bundling up in a warm coat, fuzzy socks, blankets, and a cup of hot cocoa, is a holiday tradition for many. It brings families together, bolsters holiday cheer, and adds a little bit of extra charm to the season. Here is where to find holiday lights in Clark County.
Vancouver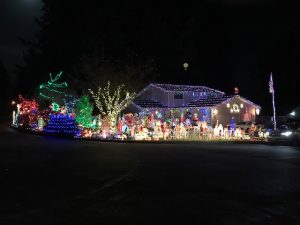 11086 SE River Ridge Drive, Vancouver
This is a destination that you will want to slow down and gaze at. Every year it seems to get a little bit bigger. A gleaming hot air balloon enhances the top of the home and there are lots of other little treasures to discover as you look closer. Some of the best discoveries include a little carousel, characters from the classic Rudolph movie, reindeer, and many Santas in various sizes. This house has every holiday detail accounted for.
2815 NE 124th Street, Vancouver
You can't miss this glittering masterpiece! With leaping ponies, polar bears, and a plethora of other twinkling décor, this house stands out on the corner and generates lots of smiles.
300 W Columbia, Vancouver
Candy canes, a brightly lit archway, and a little gazebo in the front yard with a sparkling angel make this home is a winter wonderland that you can savor as you drive around it.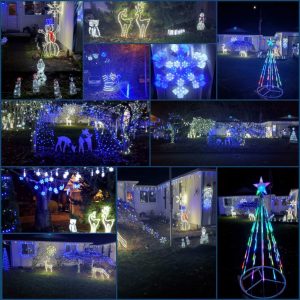 909 SE 121st Avenue, Vancouver
Kevin Ridenour went all out with his holiday display this year, with approximately 15,000 lights. "It's nice to be able to do something that people can safely enjoy this year," he shares. Blue is the theme here, with plenty of sparkling blue and white snowflakes, reindeer, snowmen and dangling icicle lights.
40th and Washington, Vancouver
This one caught our eye because of the beautiful lights on the tree house in the front yard. Simple, yet eye-catching colors on the corner make this a scene that will bring a smile to your face.
6203 NE 78th Street, Vancouver
This home is nestled back off of a busy street and turns the heads of passersby. It is simply adorned, but the lights shine bright. The Colson family enjoys decorating and loves adding more and more lights each year.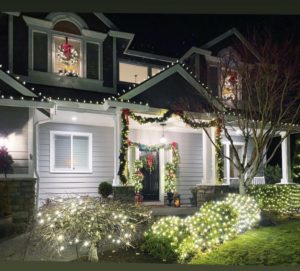 Camas
2392 NW Dahlia Drive, Camas
Brilliant white lights with accents of beautiful green garland and wreaths with just the right touch of red bows makes this Christmas house a sight straight from a magazine. This house embodies the simple enchanting beauty that Christmas brings.
Battle Ground
21020 NE 67th Avenue, Battle Ground
Every year, this family spends a full week getting lights, blowups, cutouts, and spotlights ready for a classy holiday display that's unlike any other in the area.
Washougal
Washougal MX Park, 40205 NE Borin Road, Washougal
This is the first year that Washougal MX Park is offering a holiday light display! The 150-acre property has a 1-mile loop with plenty of bright lights to enjoy! The drive through event is available Wednesday through Sundays and is $15 per car.
Neighborhood Magic
Just off of Sunset View Road on 51st Street, you'll enter a mini Peacock Lane. There are multiple houses that have put time and effort into making their yards and homes sparkle. You'll find little Christmas trees, candy cane lights, snowmen, and much more here.