Tired of cooking? We certainly are! Thankfully there more restaurants offering to go, delivery or take out now than ever. The restaurants will greatly appreciate your support and it could be a fun way to discover new eateries and try new foods. Who knows, it just might inspire some new recipes of your own at home. Not sure where to start? Check out this list of restaurants for to go food in Clark County.
Dulin's Café
1929 Main Street, Vancouver
360-737-9907
Dulin's Café is nestled in Clark County's charming and spirited Uptown Village District. The popular and bustling family-owned café features homestyle comfort eats voted best in Vancouver using only the finest products and ingredients available. In business since 1992, Dulin's is currently offering takeout and curbside pickup, as well as outdoor dining.
Hidden House Market
100 W 13th Street, Vancouver
360-281-8951
Hidden House Market specializes in seafood, soups and complete take-home dinners. You can enjoy beer, wine and a small specialty food market too. The owners are currently offering curbside pickup and takeout. The friendly and homey environment brings history and charm while featuring delicious fresh food and great service. The restaurant is family and pet friendly with picnic tables on a grassy lawn and covered deck seating.
Frontier Public House
4909 NE Hazel Dell Avenue, Vancouver
360-718-2768
Frontier Public House is Vancouver's first gastropub. Now offering curbside pickup and no contact delivery, you can enjoy tasty made-from-scratch Southern-inspired comfort food along with craftily created cocktails and great selections of beer and wine. The popular restaurant is known for its chicken and dumplings, fantastic burgers, and fish and chips. You may also walk in and order food to go.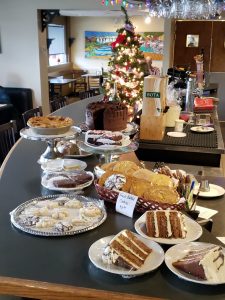 DuckTales Kitchen
612 N Devine Road, Vancouver
360-735-7932
Come on in to DuckTales Kitchen where the party's always quackin'! Enjoy casual American comfort food, fresh baked desserts, and friendly service at a great price in this family-owned eatery offering curbside pickup and delivery options for patrons.
Little Conejo
114 W 6th Street, Vancouver
360-718-2633
Little Conejo is a casual taco shop that opened in 2017. The delicious tacos are intensely flavorful. Local ingredients are used on freshly made tortillas, and you can choose among a wide variety of mezcals. Specialties have broadened as the popular restaurant has grown. The chefs and bartenders continually experiment and explore within the variety of flavors throughout Mexico and beyond. Little Conejo is offering outdoor seating thanks to the City providing a space for a patio parklet and a 10-minute curbside pickup spot on Washington Street. You may also order online, over the phone or in person. The restaurant also has a food truck in North Portland in the Prost Marketplace on the corner of Mississippi and Skidmore.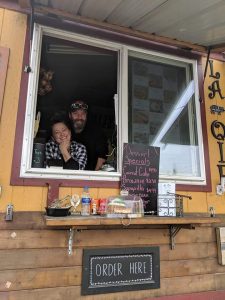 La Oie Cajun Cuisine
9811 NE 15th Avenue, Vancouver
360-980-7866
La Oie Cajun Cusine is a food truck located outside of Brothers Cascadia Brewing. The owners are passionate about cultivating amazing food while interacting with the community. Banh Mi SaiGon, also a food truck, serves up delicious Vietnamese food for takeout. Food lovers can also enjoy the offerings of The Mighty Bowl to round out the trio of options in this friendly location.
The Hammond Kitchen & Craft Bar
4857 NW Lake Road, #200, Camas
360-954-5620
The Hammond Kitchen & Craft Bar's menu is full of high-quality food that simply tastes delicious. You can enjoy friendly, efficient service and craft beverages. Supporting sustainable food and local community is important to them, so many of the restaurant's items are sourced from local purveyors, farms and breweries. Takeout and curbside pickup are currently available. You may also order online.
Caps N' Taps
337 NE 4th Avenue, Camas
360-210-7244
Caps N'Taps is a popular brewpub offering a wide selection of fantastic draft beers and bottle brews. Enjoy a relaxed atmosphere, great customer service, and friendly staff. Currently, the business is offering takeout and curbside options. There is also limited outdoor seating.
Tommy O's at The Camas Hotel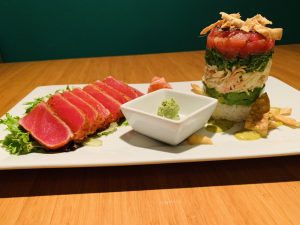 401 NE 4th Avenue, Camas
360-833-0115
For 26 years, Tommy O's has graced Clark County. The downtown Camas location at the Camas Hotel is now the only Tommy O's still open with plans to ultimately retire in Hawaii. Patrons of this wonderful restaurant get to savor Pacific Rim Cuisine with an emphasis on sushi, seafood, and teriyaki. The restaurant's signature cocktail list is island inspired with the most popular drinks being the house made Mai Tai and Lilikoi Margarita. You can take advantage of a takeout window on the side of the restaurant to place and pickup orders. You can also order by phone or online. No contact delivery is available through Skip The Trip Delivery, a local delivery company servicing Vancouver, Washougal and Camas.
Vinnie's Pizza
206 N Main Avenue, #110, Ridgefield
360-887-7200
Vinnie's Pizza is no ordinary pizza. The delicious New York-style pizza is a true Sicilian family recipe that uses only the freshest and best ingredients. The Italian American classics served are from the owner's heritage. Everything is homemade, including the sauce and the dough. Takeout and curbside options are available, and you can call ahead to order or order online for no contact delivery. There is also an outdoor section for those who want to brave the cold weather. Vinnie's Pizza is also located in the heart of downtown Vancouver on 1000 Main Street.
Don & Jo's Drive-In
21903 NE 10th Avenue, Ridgefield
360-887-8111
Don & Jo's Drive-In is considered one of the best places to get old fashioned burgers, fries, chicken strips, milkshakes and soft serve around. The restaurant offers homemade soups and features a wide variety of ice cream sure to please. They have a drive through window open for takeout, and you are also encouraged to call orders in for curbside pickup.