There is something oddly satisfying about little round tapiocas at the bottom of your favorite drink. Whether you call it bubble, boba or pearls, we can all agree they are yummy! Made from the tapioca root, which is formed into balls, boiled and then dipped in a brown sugar or honey bath, boba pairs great in tea or smoothie drinks. If you are craving some boba, here is where to find bubble tea in Vancouver, Washington.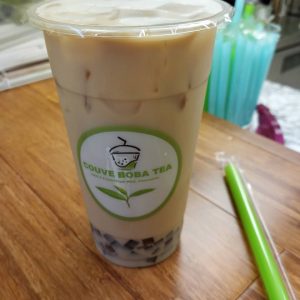 Couve Boba
3405 E 4th Plain Blvd, Vancouver
360.513.7245
Couve Boba is a woman-owned bubble tea shop in Vancouver. Unlike many boba places, she makes her teas from scratch, without powders. If you're looking for an authentic, rich flavor, try hers! She also has a few tasty bites, including her pork and chicken buns that are a must-try. Couve Boba offers several milk teas, including the favorites—taro, Thai and classic black—as well as fruit teas. Something different is their cold-brewed iced tea that comes in black, green, jasmine and Thai.
Boba Factory
8605 NE Hwy 99 Suite 110, Vancouver
360.726.5405
Boba Factory has been serving up delicious boba in Vancouver since 2018. They have all the usuals like Thai, black, and white peach tea, along with some flavors you don't see every day, including blue lemonade and rose milk. It's important to note that they don't offer Taro, which many people enjoy. They have several milk options, so even those with dietary restrictions can enjoy. You can also adjust the sweetness level to your taste. They have other toppings including jellies you can add to your drink as well. Be sure to check out their Korean snow—shaved ice with condensed milk—and their lucky fish—fish-shaped waffle filled with red bean, Nutella or custard. Grubhub delivery available.
Sharetea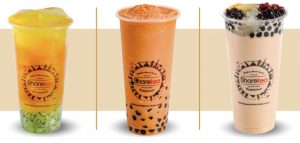 7902 NE 6th Ave Vancouver
360.719.2302
A locally-owned franchise with more than 300 stores nationwide, Sharetea is a good place to get boba tea in Vancouver if you are looking for something specific. With their large menu, including 13 milk teas, 6 brewed teas (no milk), and four fun signature mojito drinks, you're sure to find what you are looking for. You can get their boba tea iced or blended. Fan favorites include their Thai tea blended, classic pearl milk tea and coffee milk tea. They have other add-ins besides boba, including aiyu jelly, which is not seen at other boba stores.
Bobalastic
13510 NE Fourth Plain Boulevard, Vancouver
360.558.9073
If you're looking for a simple menu and a quick in-and-out order, try Bobalastic, a tea truck featuring boba tea in East Vancouver. Their basic menu has a few choices for milk, iced and blended teas with boba or a variety of other toppings including favorites like lychee and rainbow jelly. Hungry? They offer simple food truck fare such as hot dogs, chili cheese fries and nachos, as well as poke and rice bowls. Sometimes you can order online for delivery, but the service is not always available.
Cupidone Coffee House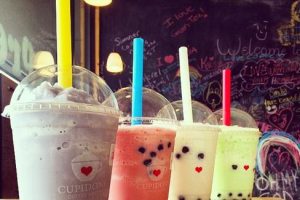 3021 NE 72nd Drive #11, Vancouver
360.839.0211
If you're looking for a good casual meeting place or date night, Cupidone Coffee House is a great choice. This boba tea shop in Vancouver is family-owned and has all the tasty treats you expect to find at a boba place, along with coffee and ice cream. Too cold outside for iced drinks? If you haven't tried boba in a hot tea drink, I highly recommend it—it's amazing and perfect for our chilly winter. Cupidone offers slushes as well as iced teas. They also have quite a few non-caffeinated choices, including decaffeinated chais! They offer soy and almond milk substitutes and, of course, boba and jellies.
Boba Tree
5210 NE Fourth Plain Blvd B, Vancouver
360.721.6915
Boba Tree is a cute little boba tea shop in Vancouver with a large menu. They have 17 milk teas, 16 smoothies and 11 iced teas to choose from or create your own! They offer coconut, almost and soy milk substitutes and you can choose your sweetness level. They just might have more add-ons than any other place too, with 13 choices, including boba. If you want something that is sweet and tastes like a cookie, try their brown sugar milk tea.
Cloud 9 Pho & Teatime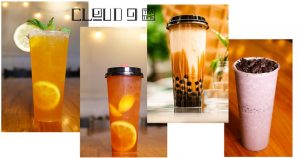 14201 SE Mill Plain Blvd, Vancouver
360.314.6313
Need a meal to go with your bubble tea? Try out Cloud 9 Pho & Teatime. This boba shop in Vancouver boosts a full meal menu with many of your favorite dishes including pho, pad Thai, salad roll and rice plates. Their boba tea menu is smaller than some places, but the drinks are good quality. In fact, some guests swear they have the best Taro in Vancouver, so if you are a Taro lover, you should give them a try. They have pick up and delivery options available online.
Lucky Kitty Bubbles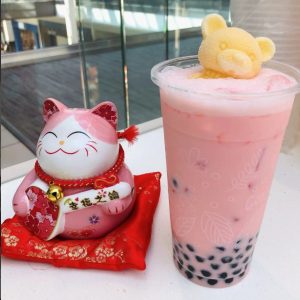 8700 NE Vancouver Mall Drive Floor 2, Vancouver
360.718.8289
If you happen to be cruising the mall and need a pick me up, try Lucky Kitty Bubbles. They have over-the-top drinks with whipped cream, marshmallows, chocolate and more. Be warned, all their items have dairy and they are not able to accommodate requests for drinks to be made without milk. But, if your able to have dairy, check out their marshmallow drink or their lucky kitty boba.
Ding Tea
1125 SE 163rd Pl Suite 103, Vancouver
360.314.6542
Ding Tea is a locally-owned franchise with stores across the nation. They offer a wide-selection of teas and drinks, and many add-ons. A favorite is their signature Thai tea with boba and rainbow jelly. At Ding Tea you can choose your amount of ice and sweetness level. They 15 add-ins, including several types of boba—try the crystal boba if you haven't yet. They use non-dairy creamer in most their drinks, but not all, so if you have a dairy allergy ask to be sure before ordering.