In downtown Vancouver nestled on the corner of 12th and Main Street, is the Wiener Wagon, a humble, green-and-white-striped food cart with a surprising legacy. More than affordable taco salads, hearty hot dogs, polish sausages, and spicy hot links served in warm pocket bread or buns, the Wiener Wagon is a well-known gathering hub for anyone, from the bank president to the local street sweeper. There is no hierarchy in the Wiener Wagon's heart zone, which has encouraged immense community connection over the past 40 years.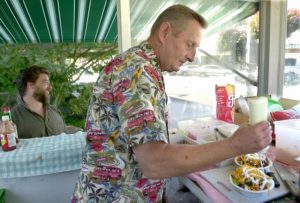 "I love the history of it," says Roz Halstrom, a Camas resident who has been a customer for over 20 years. "This is a downtown Vancouver icon—it's the Wiener Wagon—it's got the wiener man, good prices, good sauce, it's cool."
A Legacy Continued 
The Wiener Wagon's current owner is Robin Povec. Her story is remarkable because she has deep ties to the food cart's 1976 founder Skip Ballweber who died in January 2020. Povec is devoted to keeping his legacy alive.
"I'm trying to carry on what Skip taught me," shares Povec. "He took care of everybody down here. People stop and ask me for a hug, honk their horn, and say, 'I love you.' They say, 'I remember Skip, and you are doing the same good job as he did.'"
Destined Succession on a Heart-Led Journey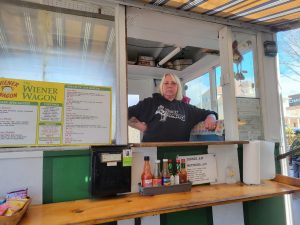 Povec first met Ballweber in 1981 when she was 17 while her mother and she was shopping downtown. Ballweber had accidentally given the duo too much in change for hot dogs. A few months later, in August, Povec, carefree and barefoot and on her way to the beach with friends, would make another stop at the Wiener Wagon. "We got to talking, and I asked if he needed any help," reflects Povec. "He said, 'Go home, put some shoes on, and come back and talk to me." And it all started from there."
Povec would go on to work for Ballweber on and off for years. Her hard work and dedication to learning the intricacies of the Wiener Wagon business were inevitable even as her own life unfolded through the start of her family, additional jobs, and the ups and downs of life. "My dad had never been around, and Skip and I just kind of adopted each other," shares Povec. "He was like a dad to me."
The Wiener Wagon's decades-long success is primarily due to its dedication to making sure a meal was affordable to everyone, according to Ballweber's daughter, Lindsay Deacon. "It's comfort food first of all, and his prices remained extremely reasonable over the years," says Deacon. "He just wanted to help people, and he was humble and easy about how he approached people. Everybody could just be themselves."
Resonating Impacts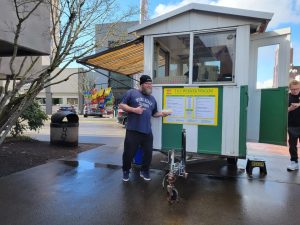 Longtime customer Christopher Stevenson has lived in Vancouver since 1979. He said his mom used to bring home Ballweber's Frito pies when she worked downtown. "I was eating Frito pies early on and didn't know it," says Stevenson. Then, one day passing by the Wiener Wagon on his way to the Clark County jailhouse thanks to addiction issues, Ballweber asked him if he was hungry. "I said I didn't have any money, and Ballweber said, 'I didn't ask if you had any money,'" reflects Stevenson. "He fed me a couple of hot dogs before turning myself in. He blessed me that day, and I always bring someone new with me, if I can, when I eat here to pay that kindness forward still today."
Ballweber's kind and generous spirit affected scores of people. Randy Cate, a lifelong friend, knows this firsthand. Cate treasures memories of visiting his friend nearly every day during the summer months in the early 1990s. Sometimes Cate would sit for two hours in an easy chair eating lunch and watching customers chat about everything from the Blazers—Ballweber was an avid fan—to politics and literature with other customers. "Skip had this amazing ability with every customer—regardless of who they were—to talk and listen to them," remembers Cate. "And for those three to four minutes, while he was preparing your lunch, that conversation was the most important conversation he had that day."
Passing the Torch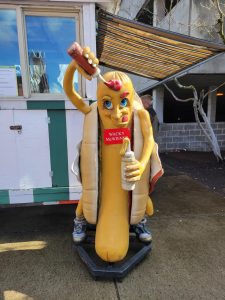 Povec purchased the cart in 2010 under mentorship from Ballweber before going solo in 2012 after he retired. Owning her own business was also a dream of hers, and it just seemed natural to take the reins of the Wiener Wagon after years of devoted service. The Wiener Wagon predates the city's current guidelines for food carts. It is grandfathered in, so the hope is the Wiener Wagon will continue its legacy as a community connecting place.
"I'm so happy Robin is at the helm and making it hers," shares Deacon. "She has been down on that corner for 30 some years, and she just gets it – she knows how to run the business, she knows the people, the culture, and the history of Vancouver."
The Wiener Wagon operates in winter and spring from 10:30 a.m. to 2 p.m. and 10:30 a.m. to 3 p.m. during the summer. Povec also does catering events, weddings, and recovery events. Call her at 360.513.4264 to learn more.