Dan Wyatt loves the movies—everything about them. "I love the cinema," he says. "It is the melting pot of everything. All artistic and technical disciplines come together to make a film."
In a roundabout way this led Dan to purchase downtown Vancouver's Kiggins Theatre in December of 2012. But first the Columbia River High School grad went to Washington State University to study cinema and television, graduating from the Edward R. Murrow School of Communication. He says that was more of news media/journalism education than anything and so he moved to southern California to study filmmaking at Loyola Marymount University.
"I had a career in SoCal for almost 11 years that I am proud of before moving back to Clark County," says Dan. "I had some great experiences and a blast living out most of my 20's in LA." After getting married and moving to Vancouver he became a stay at home dad.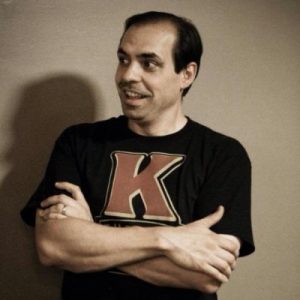 "After a year and a half I got stir crazy," says Dan. "I'm naturally creative and I needed an outlet." Since he loves film, music and comics he bought Moxie Soda in downtown Vancouver and channeled his loves into a business he renamed Pop Culture (later sold and now closed). Dan became active in the Vancouver business scene and in 2011 he was approached by Bill Lee (then owner of the Kiggins) who knew of his interest in film, with an offer to sell. Bill was a landlord, says Dan, not really a theater operator, and felt the operation should be in someone else's hands.
"I took a walkthrough," says Dan, "and decided it was too rough, so I bailed." You see, the historic Kiggins Theatre had been around for a while and had seen better days. The single-screen movie theater, named for former Vancouver mayor and businessman John P. Kiggins, opened in 1936 and has pretty much remained opened and operating since, though it's had its ups and downs along the way. A detailed history of temporary closures, uses, owners and managers is available via Wikipedia.
The old theatre is entrenched in the fabric of downtown Vancouver. Dan calls the movie house "an institution and a long-standing icon, like the library. People take comfort in knowing it's there." The Art Deco styled building was designed by architect Day Walter Hilborn, and was historically one of several Vancouver cinemas. Only the Kiggins endured—sometimes only by the sheer will of its owners.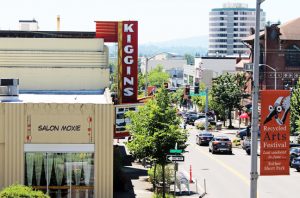 Back in the 60s and 70s you could catch a double feature of first run films for a $1.50 at the Kiggins. Dan sites obvious industry changes (such as multiplexes) for the demise of the single-screen movie houses. Many have gone away, though about a thousand, he says, still manage to keep their doors open in the U.S. And today, you can still get a good deal at the Kiggins, though you're more likely to see an art or indie film or a specialized showing of an older film (like a sing-a-long version of Grease for example). Gone also is the double feature. "People won't sit still for four hours anymore," says Dan.
At any rate, after some renovation, Bill Lee, again approached Dan about buying the theater and, to make a long story shorter, in 2012 he did. "Buying the building [rather than leasing] was a matter of survival," Dan says. "It allows you to put in sweat equity rather than pay rent."
Survival meant change and adaptation, too. The digital revolution was on. "Go digital or go dark" was the mantra heard from the industry—many films being distributed only on hard drive rather than celluloid. And so, the 35mm projection system was joined by a Barco digital system financed "by the skin of its teeth" and "30 days of mad frenzy" through crowdfunding in 2013. The theater was also added to the National Register of Historic Places that year.
Another change Dan lobbied for—it took two years for the State legislators to ratify what was dubbed the "Kiggins Bill"— was allowing beer and wine to be consumed in the auditorium. [The Marquee Lounge had opened upstairs in 2011.] The bill set a precedent for single screen theaters across Washington State.
According to Dan, running a small theater "is fun and frustrating—kind of a paradox. It's like a big puzzle, really," as there are many pieces to survival, including distribution, publicity, financing, staffing, alternative use events (like live shows, theater rentals and such) and even leasing the adjacent spaces—some of which came with the theater, others more recently purchased with thoughts of adding a second screen.
Even though the theater provides a number of services to the community Dan says, "It was built as movie theater; we're sticking with [it being] a movie theater." But you won't see this summer's blockbusters on the screen. The theater shows non-genre, documentary, indie, art and social-bent films that you won't see at the multiplex.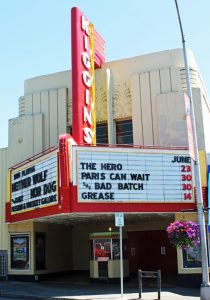 "In some respects they're more important films—deeper, more interesting," says the 'Couve's Cinema CEO. That's something he says that, "Vancouver's been timid at embracing; it's the progressive [big city] transplants" that find such films engaging. And, slowly, intellectual-art-loving-locals are coming around.
"Did I see myself jumping from production to exhibition? No," says the one-time film student turned theater owner. "I still have the story-telling itch."
The Kiggins Theatre is located at 1011 Main Street in downtown Vancouver. Visit www.kigginstheatre.net for showings, show times and events.