Clark County has a growing number of craft breweries with commitments to both sustainability and community built into their central, driving philosophy. When I arranged to speak with folks from three prominent Vancouver breweries, we intended to discuss local ingredients, and we did. But, these expert brewers had a larger vision of what a commitment to local means.
Trap Door Brewing: Bryan Shull, Majority Owner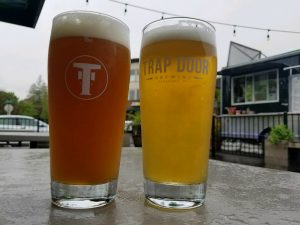 Born and raised in Vancouver, Shull is not simply buying local when Trap Door sources 98 percent of its grain from Vancouver's Great Western Malting, the oldest malting company in the United States. He is connecting with his lineage as well. Shull's grandfather was the malt manager at Great Western for 30 years, and it was the only job his father ever held. Both men retired from the company. Shull even worked there during summers in college.
For 30 years Shull worked in renewable energy engineering, and he has been a proponent of "sustainability, waste management, and energy transformation" for decades as he explains. He did not plan to become a brewer, but he appreciates being able to project his values onto his community through this type of business. Shull says, "If a supplier in North Carolina can give me a lower price, I don't care. I am going to my neighbor. It's super important." Ingredients are not enough, though. All the adjunct products, like hat printing, tee shirts and glassware have to be locally sourced as well.
Ghost Runners Brewery: Jeff Seibel, CEO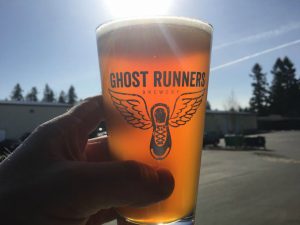 Part of Seibel's approach with Ghost Runners was to partner with people who had local access. Where better to start than with his literal neighbor? Located in the same Minnehaha Corporate Center where one can find the Ghost Runners production brewery and tap room, Marks Design & Metalworks was a natural place to start with tank design. One of the premium tank builders in the nation, Marks sells American-made steel products crafted by Vancouver welders. And, they have a pedigree, having built tanks for companies like Ballast Point.
Beer has four basic ingredients: grain, hops, water and yeast. Seibel asserts that Vancouver has all four on lock. He was the only brewer to detail his love of local water. In speaking with brewers across the nation, he realized how many of them were stripping the water entirely and building the liquid back up to mirror pH, mineral content and hardness of other cities' water. He is not pressed to do nearly as much tinkering in Vancouver.
Heathen Brewing: Sunny Parsons, CEO and Founder
Parsons is not satisfied just buying local produce; he is taking steps to have Heathen grow what they need. Heathen Estate is the company's 20-acre winery. Currently, six acres are designated for grapes, an acre-and-a-half is dedicated to a house nestled in a well-manicured yard, and the rest is being used for hay fields. However, a recent partnership is the first step in creating an acre-and-a-half of sustainable farming. In addition to developing a farmers market at the winery, Parsons intends to use the agricultural endeavor to create crops to use in brewing and to draw from for the meals prepared at the company's pub, Feral Public House.
All of these breweries are using local hops because Yakima Valley accounts for 74 percent of the nation's hops industry. "Why leave your backyard?" Parsons asks when explaining the hop selection that the brewery uses. When Heathen began brewing, this was not an option, but now they have relationships with local farmers. He knows the people growing the hops, and, working with a cooperative of farmers, he contracts a hop lot. Heathen is not just buying local hops; they are buying local hops from the exact same section of a farm year after year. This limits flavor and profile variances in the finished brews.
Making the Best of Local Ingredients
Though Parsons, Seibel, and Shull would rightfully argue the majority of the beers they have on tap are superb examples of local ingredients at work, they were forced by this writer to pick a single standout. All of the listed brews use Willamette/Yakima hops and Vancouver grains.
Seibel points to Ghost Runner's 5K IPA as both a mainstay of the brewery and a darn good beer. The brewery refers to it as a "bold bitter Northwest IPA with notes of pine, orange and grapefruit." It is medium-bodied and hop forward for sure, but the aroma is really fruity, even a little sweet and malty.
When I spoke with Shull, he chose Lighten Up as his preferred beer when answering questions from an intrepid reporter. "It's a session IPA, meaning it has a fairly low alcohol content," he says. "This means you can drink more without getting dangerous." It is one of the New England IPAs for which the brewery is becoming known. If Lighten Up is not on tap, look for another entry in the hazy "Up" series.
Parsons goes straight seasonal. You cannot get the Sinderalea pumpkin ale year-round; it's available in the fall only. Heathen acquires three varieties of local, fresh pumpkins, and they "cut 'em and gut 'em." The label reveals there is a half-pound of pumpkin per 22 oz. bottle. The squash relatives are enhanced with all spice, ginger, cinnamon and nutmeg. If you need a summer choice, try the Blackberry Heathenweizen, which uses blackberries from just outside Portland, augmented with blackberry puree out of Corvallis for balanced sugar levels.