McKenna McKee sits in her chair, shaded by the timing stand in the infield of the Alpenrose Velodrome. The 13-year-old just finished a hard workout, and she is debating with her dad Richard and coach, Kirk Whiteman, whether she should do a cool-down ride.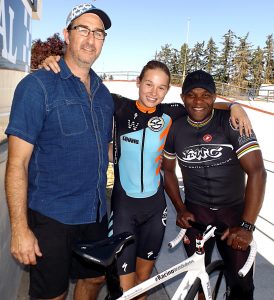 A couple other riders train on the velodrome, and they exchange pleasantries with McKenna before heading on their way. This is only McKenna's first full season at the velodrome, and she already fits in like one of the track veterans. In other words you would never know that the Wyeast Middle School eighth-grader has Type 1 diabetes and is still one of the top junior cyclists on the West Coast.
That is just how she wants it. She does not want to be known just as the diabetic cyclist. McKenna also does not want any sympathy if her blood levels plunge during a race, and she has to drop out halfway through. And she certainly does not want either pity or rah-rah encouragement about racing with her disease. It just is who she is – nothing more, nothing less.
"I hope people can learn from me and understand that diabetes can't stop you," McKenna said. "You've just got to fight through the pain."
"But I don't want people to think about diabetes and feel bad for all of us, or make it all about rainbows and sunshine. Don't make it such a big deal when it's not," McKenna suggested.
Credit her parents, Richard and Jennifer, with McKenna's fight and independent streak. Richard is ex-military, and he struggled with letting McKenna keep cycling – really, with letting her go on her own, afraid of what might happen because of her condition – until one day, he decided he was not going to struggle with it anymore.
"I want her to own it," Richard said. "McKenna needs to be independent. It's taken a lot of education and hard work to figure things out over the years. But that's why she's so good about taking care of herself – she has to control her diabetes."
Cycling at the Alpenrose Velodrome
It's a beautiful Thursday night at the Alpenrose Velodrome, nestled on the west end of the Alpenrose Dairy grounds in the Portland West Hills. The temperature is in the mid-70's, with nary a cloud in the sky nor a whisper of wind – perfect racing conditions for the OBRA Elite State Championships.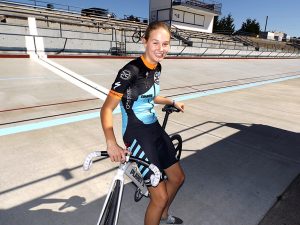 The velodrome celebrates its 50th anniversary this year. It is a quirky track, set up at 1/6th of a mile – long before track cycling converted from yards to meters – with 43-degree banking that is among the steepest in the nation. It is not a track for the faint of heart.
"There are people who are absolutely terrified when they first get on this track," McKenna said. "It's something you have to experience for yourself."
McKenna was not supposed to take part in this event, which had been scheduled for the previous weekend, only to be postponed by rain. She had recently competed at USA Cycling's Junior Track Nationals the first week of August in Carson, California, where she finished fourth in the omnium out of nine racers, and her team decided more rest was in order.
The postponement meant she and her younger sister Kayden could compete. The sisters were easily the youngest of the 25 or so cyclists racing on this night, but that is the case most of the time when McKenna competes at the velodrome.
"There's not a lot of junior women racing on the track," McKenna said matter-of-factly. At the OBRA Junior Championships in July, she was the only girl in the junior 13-14 division.
The first event of the night is the scratch race. Kayden, new to competitive cycling, races in the Women's 4/5 division – a fifth-grader going up against three grown women. She holds her own, though, does not get dropped from the pack and finishes just off the medals podium.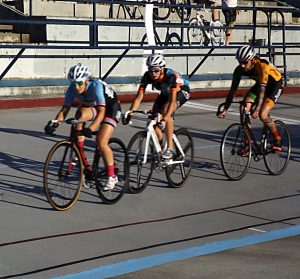 McKenna is up next. Because there were only three women competing, they get thrown in with the men's 4/5 division. The race starts, and no one wants to push the pace. Leading means breaking the wind and allowing others to draft off you and save energy.
McKenna ends up in the lead group, though, and when the bell rings signaling the final lap, she gets stuck on a lower line in the first turn and is powerless when her opponent slingshots off the high bank past her. The effects of McKenna's hard work-out earlier in the day and her position in the lead pack hit hard, but she holds on to finish second.
An hour later, it was time for the points race. Kayden again competes in the women's 4/5 division, and again she does as well as you would expect for a 10-year-old up against experienced cyclists more than twice her age. She finished fourth, but she did not get lapped, and she soaked up the experience and the enthusiasm from her fellow riders.
McKenna is now up again in a combined men's 4/5 and women's 1/3 race. Right from the start, Richard can tell she is not 100 percent. "I'm not sure she should have raced tonight," he admitted.
McKenna gets caught way behind the lead pack as the bell for the first sprint is about to sound. She pedals furiously to catch up, and as the points are calculated, she crosses the line third overall and second among the women.
That burst was the highlight of the race. Her energy spent, she struggled just to make sure she was not lapped. The long day ended with her finishing the 30-lap race and dragging herself to her chair in the infield.
"I don't think I've ever raced worse," she spat out, disappointed and frustrated with how the day turned out. She joked how she would give a faint wave on the medals stand for the photo.
But when the time came, she smiled and linked arms with her fellow racers, bronze medal in hand. All in all, McKenna's first season of track cycling was a success. And her favorite cycling discipline was set to start soon.
Managing Diabetes through Cycling
McKenna related a story about how her mother went into labor while out on a bike ride. Her parents owned a tandem bike, and when McKenna was a toddler, you would often find her napping in the stoker seat, her legs furiously peddling.
"I was born to be a cyclist," McKenna concluded.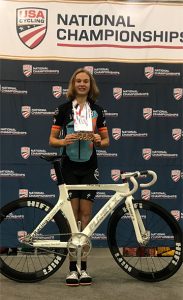 She took up competitive racing doing Kiddie Cross at age six, and it was around that time that she also was first diagnosed with diabetes after collapsing at her elementary school.
"I would drink a lot of water, and I would wet the bed a lot. You wouldn't think that a 6-year-old would do that," McKenna said. "My parents thought I was just sick, so they took me to the doctor. They used ketone strips to read my kidneys and then showed them to my mom. She's a nurse. She knew what it meant."
McKenna spent three days in the hospital as her blood sugar levels stabilized, and her father figured it was the end of his daughter's cycling career before it ever got started.
"My world was rocked," Richard said. "I mean, there was no way she could be an athlete? How do you do this? I thought it was impossible."
Then Richard started doing the research, and he found out how possible it was.
"Being physically active is part of the program of managing diabetes," he explained. "And when she's not cycling, you can see her blood sugar numbers get crummier because she's not micromanaging (her levels)."
The key, of course, is making sure that McKenna monitors her blood sugar levels on a regular basis. Before a workout or a race, she will take a reading – if it is below 80 or over 200, she is held out until it can be regulated with either sugary foods (to get the reading up) or an insulin dose (to get it down). She also checks her levels periodically during workouts and after races.
"One thing we've worked on is recognizing when her levels are off before even testing, what those signs are," said Whiteman, who started coaching McKenna about a year ago.
"But even when she doesn't feel good, she doesn't want to stop. I have to take the computer off the (training) bike because if I don't, when I turn around, she'd turn it back on and finish the workout," Whiteman explained.
What happens if she tries to race in that condition? McKenna recalled a cyclo-cross race about four years ago in Washougal. She neared the finish line when suddenly, she found herself lying on the ground, her blood sugar crashed in the 40's, almost passed out.
"I somehow found the urge to walk the couple of feet to the finish line. They gave me Smarties at the end," she said, smiling.
Recent technological advances make it much easier for McKenna to compete. She is currently in a pilot program for a device recently approved by the FDA that is advertised as the world's first artificial pancreas. A sensor "learns" how McKenna's blood sugar levels fluctuate and automatically makes adjustments in the insulin doses it provides through a pump that she pulled out of a pocket in the back of her racing suit.
She has to change the pump's injection site every three days and where the sensor is attached to her body every six days, but it is a small price to pay for the ease of use for McKenna and the ease of mind for Richard.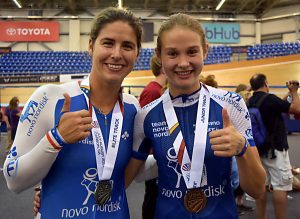 "You get used to it," McKenna said. "I don't really see it as a pain in the butt anymore. It just becomes part of life."
Cyclo-Cross Racing
Now that the track season has wound down, McKenna turns her attention to her favorite event – the cyclo-cross, which in essence is a bike race on an obstacle course, forcing riders to carry their bicycle up steep hills or over barriers. The local series starts in early October.
In January McKenna won a bronze medal with a third-place finish out of 20 girls in the junior 13-14 division at the cyclo-cross national championships in Hartford, Connecticut.
"The day before the race, I was doing a practice ride, and I'm carrying my bike through snowdrifts," she said. "They eventually had to cut part of the course out."
Just like at track cycling nationals, McKenna was one of the youngest competitors in her group. Her birthday is October 25, which puts her just on the wrong side of the divide for how USA Cycling determines age groups. Next year, she will be a 14-year-old riding in the 15-year-old division.
"Nationals were really fun and a really good experience for me, racing with a lot of girls who are really good for my age," she said.
McKenna's performances at nationals also caught the eye of the folks at Team Novo Nordisk, a global sports team that includes the world's first all-diabetic professional cycling team. McKenna has to wait two years before she can try out for the team, but at nationals she cultivated a relationship with Team Novo Nordisk's Mandy Marquardt, an 11-time U.S. champion, who was named to the 2016 Olympic Long Team for track sprint cycling.
Whiteman thinks it is just a matter of time before McKenna follows in Marquardt's tire tracks as a sprinter.
"McKenna is the future of USA Cycling," Whiteman said. "I've coached national champions, Olympic alternates. McKenna can do anything she wants to do because that's her nature. She's the youngest one in our group, and as her confidence gets higher, and she raises her level of professionalism, she'd be my team captain in a heartbeat."
"But could she be an Olympian?" he is asked.
"In track cycling it takes four years to be good, and eight years to be great," he answered. "By 2020 McKenna will be knocking on the door, letting everyone know that she's coming. Then in 2024, she'll be on it like the Green Hornet."
---
McKenna McKee's Favorite Things
TV show: Cake Boss
It's gross. I like to see them waste food by making disgusting cakes that look awesome.
Movie: Cars 3
It reminds me so much of Kurt and me. He coaches differently than other coaches. He's called "The Bike Whisperer" because he's so quiet, you don't even know he's coaching you.
Book: Not Dead Yet
That's easy. It's about a cyclist who's racing with diabetes – like me.
School subject: P.E.
I like to be active, and it's the only time at school where I can be active.
Food: Pizza
Hawaiian, all meat. Doesn't matter. I like basically the dough.
Cereal: Honey Nut Cheerios or Frosted Flakes
They're all delicious, but those two just wake me up in the morning.