In 2013, Christopher Luna, a prominent member of the local arts scene, was appointed the very first Clark County poet laureate by the Clark County Arts Commission. The average person being introduced to Luna by that title is unlikely to have a clear idea what it really signifies. Thankfully, the poet, editor and visual artist took some time out of his busy schedule to answer some basic questions.
What Is a Poet Laureate?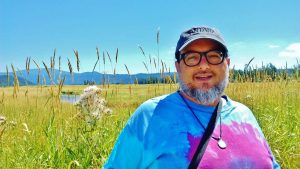 Sitting at a metal table outside Main Street creperie and coffee shop Mon Ami, Luna sips a ginger kombucha and tells me he has a "fifty words or less thing" prepared to answer this particular query.
"A poet laureate at any level—whether it's city, state or national—is an ambassador for poetry," he explains. "Your job is to meet with groups of people, to lead workshops, to give public talks and readings and basically to go anywhere that people want you to go as the public face of poetry."
In addition to acting as a general cultural ambassador in communities across the county, Luna is called upon to compose poems to commemorate special occasions. Every poet laureate is also responsible for launching a personal project. Luna's is the Poets in the Schools Program, which sends writers into local educational settings to lead poetry workshops.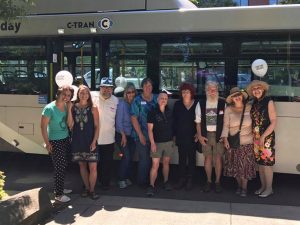 "It's a very small program. Right now, it's me and three other teaching poets from the community. It's a special thing when you have a guest in your classroom, and it's exciting for the kids and for the teacher. You want somebody who's really got that kind of passion and energy for it," shares Luna.
In addition, he has been involved in projects like the Poetry Moves program, which places poetry in C-Tran buses, and dtVANrainku, which celebrated National Poetry Month with poetry stenciled on Vancouver streets.
Why Was Christopher Luna Elected the First Poet Laureate of Clark County?
The Clark County Art Commission, established in 2010, is responsible for recruiting local artists to participate in activities with residents of Clark County. When the Commission was considering prospects for poet laureate, they would have had to make an effort to overlook Luna, who holds a Master of Fine Arts in Writing and Poetics from the Jack Kerouac School of Disembodied Poetics at Naropa University in Boulder, Colorado. He has been hosting an open poetry mic, now known as Ghost Town Poetry Open Mic, since 2004.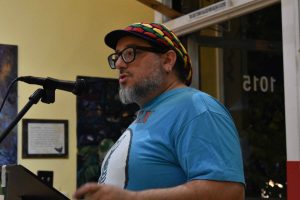 "When we started, we just had this slogan: All Ages and Uncensored. We were successful from the very first reading because there was nothing like that going on at the time. Now, that's not the case; we're one of four regular open mics in town," explains Luna. "The arts scene—visual arts scene and other arts here in Vancouver—has taken off and flourished over this period of time, and I contributed to that. But I'm not overstating my contribution; there are so many people that contributed to that in ways big and small, and it's wonderful to see it happen."
Luna is acutely aware of the importance of connecting the arts community to the larger Clark County community. One way to do this is by creating gathering places and events for members of the literary, musical, visual and performing arts scenes. This has allowed for strengthened connections in a more organized community. As one of the primary forces in creating a poetry scene, Luna was a natural pick for poet laureate. Further, he has the garrulous nature needed to draw people in.
How Long Does a Person Remain Poet Laureate?
Luna is in the unusual position of having occupied the title for considerably longer than is typical for a poet laureate.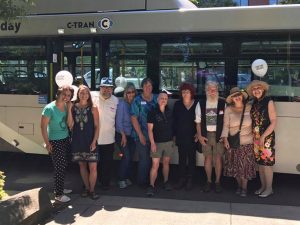 "The truth is that even with the national poet laureate, it's a two-year term. The state laureate? It's always a two-year term. In a way, it's good because what happens is it takes over your life." Continues Luna, "Your dance card, which – in my case and in a lot of people's cases who get this position – is already pretty full, gets even fuller."
During Luna's initial term, the Clark County Arts Commission, which is entirely filled by volunteers and operates without any funding, didn't create the infrastructure needed to elect the second poet laureate. Therefore, they asked Luna to continue in the position, and then they asked again. Luna feels the time has come to find a new poet laureate of Clark County.
Luna explains, "What we said [to the Commission] is we will help you come up with a process, including an application. As soon as we have shared this information with you, I'm going to get out of the process because I don't believe that it would be ethical for me to have any involvement in their decision about who the next one should be. So, if everything goes according to plan, I'll finish up five years of doing this at the end of this year. It was a great run, a great time. I really enjoyed it."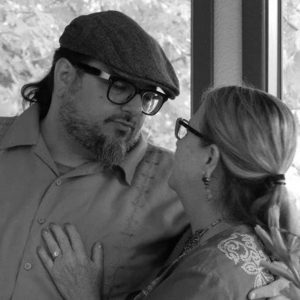 Though his service as poet laureate to the community will come to an end, Luna isn't going anywhere.
"What can we do to get more poetry out into the community or give people opportunities to understand what poetry is and enjoy it? That's what most of the things that I'm doing are about in one way or another, because our culture does a really bad job of helping people understand what poetry is and why it's valuable. Pretty much all the stuff I do has that agenda behind it," shares Luna.
If you are interested in participating in or attending Ghost Town Poetry Open Mic, you can keep up with scheduled readings via Facebook and the Printed Matter website.