Mark Allen is known as the "coffin guy." His description of his annual gift to the community of  "a home based yard display and walk-through haunted house" doesn't begin to capture the extent of the dedication and effort he puts in or the  effect it has on those who visit Coffinwood.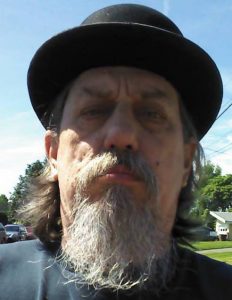 "I've had three to five years olds that went through and loved it and wanted to go through again and I've had adults that couldn't get past the entrance," Allen said.
Allen reports that up to 1,000 people might visit the attraction on Hallloween alone.
"My objective is they come out either laughing hysterically or screaming their heads off. Either way it is good . . . and I get plenty of both." Allen said.
The setting is spooky, dark and foreboding, Allen says, all year long. He lives in an old log house, built in 1942, and it is surrounded by old growth fir and cedar trees. The house is not part of the tour, though it's a backdrop for the animated monsters and scenes he sets up.
In the 25 years that Coffinwood has been open to the public Allen has done almost all the preparation and set up alone, though he has occasional volunteers and actors that work on the open days. He has created a cast of 35-40 monsters. "I created them from a pile of nothing and some of them have gone through several metamorphoses to what they are today."
So the monsters appearances change every year, except, perhaps for "George," who is "like most of my monsters," Allen says, "nine feet tall." Allen describes George as a "lunger," he lunges at people as they approach. People got attached to this monster in particular, asking them to bring it back when Allen tried to retire it. Pleasing the crowd is paramount for Allen.
Debbie Chevron is a happy customer. "It's part of our Halloween tradition," she says. Living in the neighborhood she and her family walk over each year. They find crowds of people, mostly families, driving and walking by.
These days she brings her eight year old grandson, who, she reports, hasn't been able to make it through the maze. He gets scared and turns back.
"I think it's as scary as you want it to be," Chevron says. She references the witch with the steamy cauldron and the guillotine with the head in a basket.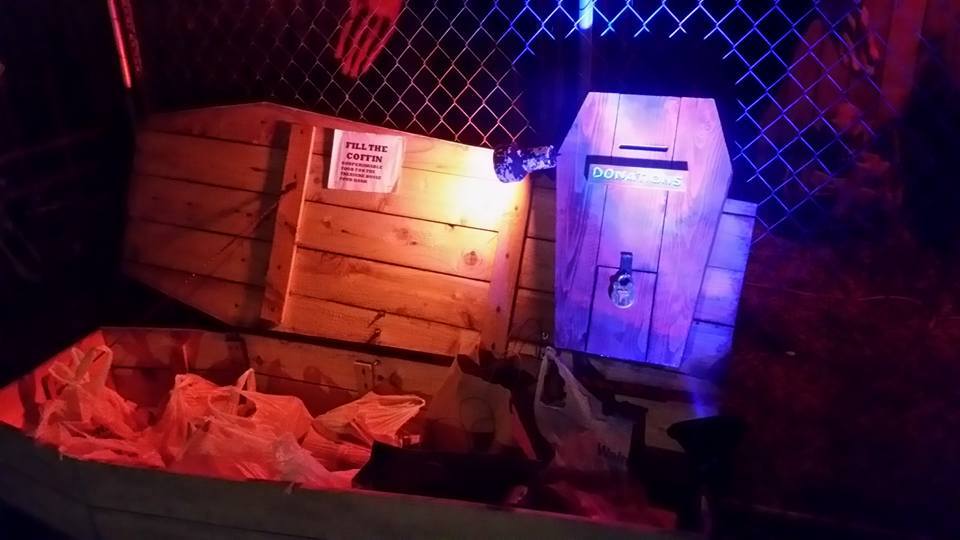 It's more than the visual, though. There's a rocking chair that squeeks and a gate that creaks. "It's cool. The scarier the better and it's all the sounds put together with it," Chevron said.
Coffinwood doesn't require an entrance fee, but Allen requests a non-perishable donation which he gives to the local food bank: The Inter-Faith Treasure House. Even with the bad weather in 2016, which slowed down donations somewhat, Allen said he was able to deliver 1,000 pounds of food.
Allen grew up with the Universal monsters, Dracula, Wolfman and the Mummy. But he doesn't use those or any patented monsters in his displays. He says the monsters he creates have changed over the years not due to popular culture, but because of changes in electronics. Technology advancements have made available pneumatic cylinders and servos to make better movement happen.
Allen started working when he was only 14 years old. "I needed money to buy parts for hot rods," he said. Now he drives a vintage hearse – a 1982 Cadillac. He's in a hearse club, and he can be seen driving in the Camas Days parade, the Washougal Christmas parade and to the pumpkin lighting in St. Helens, Oregon. Plus he drives the hearse to deliver the food donations to the local food bank The Inter-Faith Treasure House.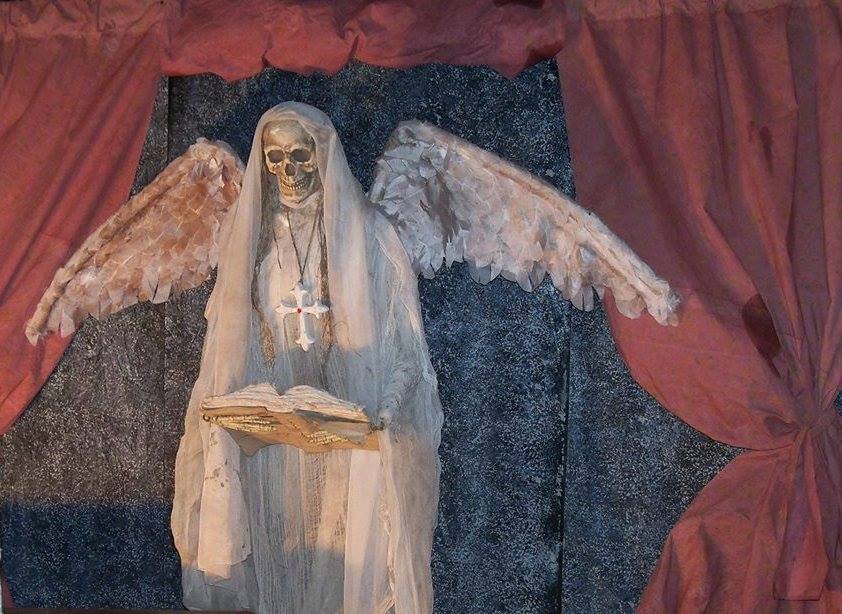 Five years ago Allen took a disability retirement from being a heavy equipment operator and manager when he injured his back after working for 48 years. That year Coffinwood didn't make it through the three weekends in October the community had come to count on.
That year he had an operation and was then besieged by people knocking on the door, inquiring whether the haunted house would be open. His friend made a sign with an apology to avert the processional of door knockers, but then people came to his door with casseroles and pies. "It's my adopted home and they made me feel pretty good," said Allen, who notes he is stopped in the store frequently by those inquiring about Coffinwood.  He realizes he's become something of a local celebrity.
In all the years he's only had one serious incident of theft. Chevron remembers the community mourning the loss of the activities that year. Mostly Allen keeps it in check. He was a manager and is a large guy.
"And he looks even bigger when he's in costume," said Chevron.
Allen says he is retired, but he works, sometimes a lot, creating, not surprisingly, coffins and props for other haunters and the "haunting industry," which sometimes includes the movie industry.
While he'd like to stop working he says: "I can't turn down jobs, I have new body parts to pay for."
Coffinwood Manor Haunted House will be open the last three weekends in October and Halloween at 730 9th St, Washougal, WA 98671