People like to look askance at British cuisine in general, but rarely does anyone have anything negative to say about the practice of afternoon tea. Established by the wealthy social classes in the 1840s, the British afternoon tea was created to compensate for the fatigue that set in during the late afternoon. During that period, people typically consumed only breakfast and a late dinner at 8:00 p.m. They desperately needed a little boost in energy.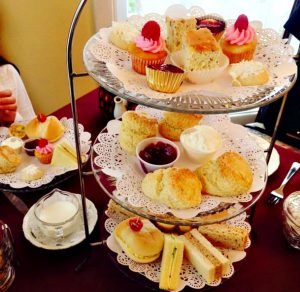 With time, the practice also became popular among the middle class. To this day, people still pause between 3:30 and 5:00 p.m. to enjoy a cuppa' and a snack, but the full high tea is reserved for special occasions.
In the United States, the opportunities for a full tea experience are limited, but residents of Clark County are fortunate to have access to two local tea houses, meaning you don't have to drive far to enjoy cups of loose leaf tea, scones, and sandwiches. These are great options for you to consider when you want to slow down and treat yourself.
Sweet Peas Tea Room
Sharon Harbeck was born in England, so the tea house she opened with her daughter, Chantelle Davis, draws from a tradition and culture she has been a part of her entire life. This is actually her third tea room, having owned Her Majesty's Tea Room in Omaha, Nebraska, and A Taste of Britain before opening Sweet Peas Tea Room in a home in Vancouver. However, it soon became clear that they needed more space, so the business moved to Battle Ground. Now guests can enjoy sitting at large tables with room for substantial, tiered stands punctuated with delightful treats.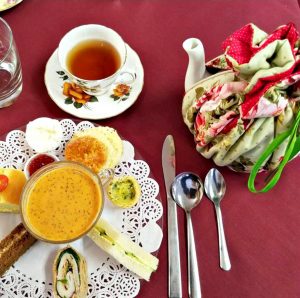 Guests have their choice of menu options that meet a variety of budgets, appetites and ages. At the low end of the range is the Union Jack Tea for guests under 10, which starts with a light, delicious sorbet, then is followed by two tea sandwiches, a true English scone, clotted cream and preserves, two desserts, and a small pot of tea or cocoa. For people who want the complete experience, the Full Afternoon Tea is the way to go. A bright, refreshing sorbet is served to cleanse the palate before the soup of the day is served. Next, diners enjoy four tea sandwiches, a savory treat, two homemade scones, clotted cream and preserves, four delicate desserts and fresh fruit. All of this is served with a bottomless pot of tea.
In addition to the dining area, there is a quaint gift shop that sells the teas served at the shop. There are beautiful tea wares and pieces of China. Davis sews tea cozies that are sold in the shop, and Harbeck knits garments in quality English yarns. She even takes custom orders. They make it a point to feature the work of a local female artist, as well.
Sweet Peas Tea Room
619 SE 1st Street
Battle Ground, WA 98604
360-984-6422
Myrtle's Tea House & Herbery
Myrtle's Tea House also serves a traditional British tea, but the inspiration for the business isn't a love for jolly old England. No. Owner Elizabeth Brush draws on the memory of her strong, Southern grandmother Myrtle. As Myrtle's only granddaughter, Brush received special treatment during visits and made some amazing memories. Now, in Myrtle's name, she serves fresh food and quality tea in an environment that welcomes good conversation.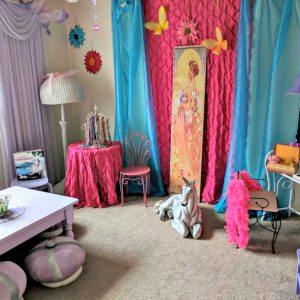 The tea house is divided into a variety of spaces, including the Florida, Bonbon, Cat's Meow, and Unicorn rooms. The Unicorn space is for tiny guests who are looking to try on feather boas and enjoy treats in a brightly colored room punctuated with unicorns and butterflies. There is also a gift shop filled with all the demi-spoons, infusers, tongs, China and teas that any lover of a good British tea could want.
As with Sweet Peas, there are a variety of menu options at Myrtle's. The children's option is the Wee Sipper Tea for those under 10, and it includes peanut butter and jelly tea sandwiches, a fresh fruit cup and a few tiny treats. Tea is a popular option, but young people can also choose to drink pink hot chocolate instead.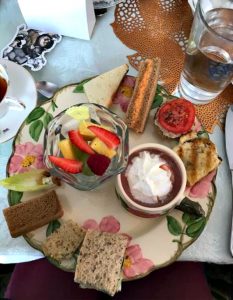 For those who want the full experience, Miz Myrtle's Afternoon Tea includes refreshing sorbet, soup, fruit and a mix of seven tea sandwiches and savories with a crudité. Afterwards, guests receive a dessert course with one freshly baked scone and three treats.
Myrtle's Tea House & Herbery
32 North 3rd Avenue
Ridgefield, WA 98642
360-887-9018
It is recommended that you make reservations at both locations and that you check their websites for information about upcoming events. Themed teas are simply amazing and not to be missed. In some cases, calling ahead and sharing dietary restrictions will allow them to make accommodations.