Looking for someone who puts up gaudy numbers while creating highlight-reel moments to post on social media?
Sorry, this story isn't for you. That's not what Union High School senior Tyler Combs is about.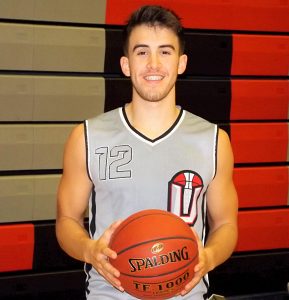 Now, if you're looking for someone who's capable of doing those things, but instead has been all about elevating his team, then Combs is your guy.
"Tyler could go out and score 20 points a game," said Union coach Blake Conley of his three-year starter at point guard. "He could have been a 1,000-point scorer, but that's not the role we asked him to play. He knows that moving the ball, sharing the ball with his teammates – that's what is important to our success.
"The biggest compliment I can give a kid is that he's a competitor, and Tyler definitely is a competitor," said the coach.
Combs made The Columbian's All-Region team last season while averaging 11.8 points and 3.0 assists per game, shooting 40 percent from 3-point range in helping the Titans get to the Class 4A state championship game, where they lost 81-61 to Kentwood.
The Titans hope to follow Kentwood's footsteps – the Conquerors lost in the 2016 state title game to Federal Way before coming back the next season behind college-bound guards Darius Lubom and Rayvaughn Bolton.
Union lost 4A Player of the Year Cameron Cranston, who's now playing at an elite Kansas prep school, as well as five other seniors. Combs is one of five returning seniors, and he knows he'll be expected to be a leader this season if the Titans are to take the final step up the ladder – fourth at state in 2016 and second last season.
"Someone has to do it, and I think I should be that one," Combs said matter-of-factly. "We're not the biggest or most talented team, but what puts us past a lot of teams that we see is that we're really unselfish and do the little things. That's what we have to do to make a run like that."
That sentiment describes not just the Titans as a whole but Combs in particular. He stands just 5-foot-11, but he's a career 40 percent 3-point shooter who's made 99 treys – including two he hit during limited action as a JV swing player his freshman year – and is as tenacious as they come.
"He's always been fearless," Conley said. "He has never back down from a challenge. Nothing intimidates him."
That fearlessness stems from the one-on-one battles with his dad, Brian, a former Prairie and Clark College standout who introduced his son to the sport at an early age.
Play THISorTHAT with Tyler Combs
Hot | Cold
Chinese food | Italian food
Cat | Dog
Beach | Mountains
Tom | Jerry
Batman | Superman
Heads | Tails
LeBron | Steph
Madden | World of Warcraft
Hamburger | Hot dog
Ketchup | Mustard
"When we played, it was intense," Combs said. "He played old-man ball. He caught me a few times with pump fakes and all these old-school moves. Around freshman year, though, I got bigger, stronger, and he couldn't bully me in the post anymore."
Combs doesn't limit his fearlessness to the basketball court. He recently took up snowboarding, and many summer days, you'll find him and his buddies on the river cliff jumping at Punch Bowl Falls, Sunset Falls, Naked Falls or just about any deep watering hole in the region.
"I just love the rush," he said, a big smile creasing his face.
That aggressiveness will be needed as Union faces its usual brutal schedule that includes a rematch with Kentwood at the John McCrossin Memorial Classic in the first week of the season, as well as games against Northwest District champion Glacier Peak, 3A state qualifiers Stanwood (a program-best fourth-place finish) and Timberline, and a trip to the Surf 'N Slam Tournament in San Diego.
And that's just the nonconference schedule. The Titans have won six straight Greater St. Helens League titles, and Conley sees Camas – which snapped Union's 29-game GSHL win streak last January – and an improved Skyview as their biggest challengers.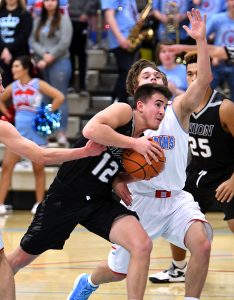 Combs knows he needs a strong senior season for everything to fall into place – Union winning a seventh GSHL title in a row and making another long playoff run, his dreams of playing in college (a 3.7 student, he's talking to Biola University in La Mirada, Calif., and the University of Providence in Great Falls, Mont.) becoming a reality.
To that end, Combs spent the summer honing his shot in anticipation of carrying a larger scoring load, as well as hitting the weight room to better absorb contact and finish at the basket. He felt like he had a midseason lull last winter, and it wasn't until Union made its playoff run that he broke out, averaging 13.3 points per game at state.
"I just switched gears," he recalled. "I started playing and stopped overthinking, and it came to me."
Conley is counting on Combs to deliver both on the court and in the locker room, being an emotional leader and becoming more vocal.
Combs appears ready to accept the challenge.
"I'm trying to implement the leadership skills I learned from Cameron last season," he said. "I think teams will think we'll be down, but we always have guys stepping up, filling spots.
"If we do the little things – talk on defense, bring intensity, all those little things that are bigger than basketball, that's what will separate us from other teams. That's what will make us go far."