Like father, like son, the saying goes.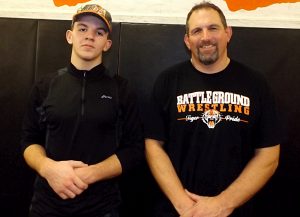 Except Jay Rogers didn't necessarily want that to be the case for his son, James – at least not at first.
Jay, you see, was a two-time state champion wrestler in the mid-1980s for Prairie High School. He became the coach at Battle Ground High School. He knew how grueling the life of a champion wrestler could be. He saw his son was enjoying swimming and thought maybe that James should stick with that sport.
But how's that other saying go? Ah yes – Mamma knows best.
Mamma, as in Jodie Rogers, took little James to a family friend in Scappoose, Marc Sprague, a Hall of Fame coach who had coached Jay before starting Cobra Wrestling Systems.
And just like that, a budding swimming career ended.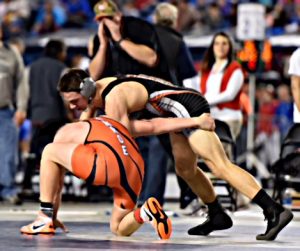 "Wrestling has been really good to me, but I knew it's a tough sport," Jay said. "But Jake (James's family nickname) was just something on the mat. He naturally picked up on it."
You might say so. By age 9, James was already having success at national tournaments. Since then, he's won national championships at the Schoolboy (2014) and Cadet (2016) divisions, and in February he capped off an undefeated sophomore season at Battle Ground by winning the Class 4A 160-pound state title at Mat Classic in Tacoma.
The championship came after he finished second at state at 145 pounds as a freshman – a loss that gnawed at Rogers.
"I was a little star-struck in the final, being a freshman and all, and I just had a flat match," he said. "I grew from it, though. The voice in my head said, 'You're not going to lose this year. There's no way you're even going to get scored on.' "
That little voice almost nailed that prediction. Rogers allowed only one takedown all season – in the third round of a match in which he was well ahead but suffered a minor injury. All other points he gave up came on escapes or technical violations.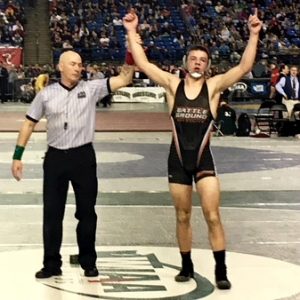 "It felt good to win the title, to finally get what I'd been working for all year," Rogers said. "But I knew that wasn't the end of the road. I had two more state titles to think about. I knew I needed to get back in the room to train more."
That's been his style throughout his career, and all along the way, there stood his father in his corner, coaching and cheering.
"I can tell when he's being my coach, wanting what's best for me," James said. "I've always had a good relationship with him due to wrestling. At the end of the day, it's great. After practice, he turns into my dad."
Ask Jay what it's been like to coach his champion son, and he takes a long breath and pauses as the pride swells.
Finally, he finds the words. "It's been an honor to be my son's coach. We've shared some real special experiences over the years. I hope the relationship we've developed will continue for a long time. It's not easy to be your son's coach and father, but we've figured it out."
The key, Jay said, was for James to develop his own love for the sport and determine what he wanted out of the sport. "They couldn't be my goals for him," Jay explained. "They have to be his. My role right now is to just keep the ship going in the right direction, to love and support him."
James reached Untouchable status by studying matches up close and personal. Jay recalls taking James to youth tournaments and once his matches were done, losing James in the crowd. "I'd find him under the scoring table, watching match after match," Jay said.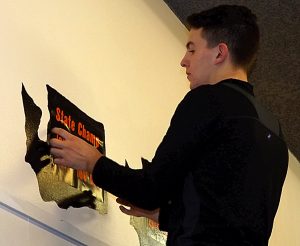 James kept honing his technique to the point where his dad said, "He surpassed my technical ability a long time ago."
That's where Sprague, who has coached a half-dozen Olympic wrestlers, picked up the slack – he still works with James on refining his moves, which showed in his 12-0 rout of Tyler Dow in the 2016 national Greco-Roman final in Fargo, ND.
"I like how Greco-Roman flows. It's more about technique, using angles and getting your opponent off balance, and less about pure strength," James said. "It really helps with collegiate wrestling, even though you can't use your legs."
After James won his state title in February, he took a few months off from competitive wrestling. He didn't defend his title in Fargo, instead deciding to rest up, let some nagging injuries heal fully and prepare for his junior season.
That didn't mean he gave up the sport entirely. James spends probably six days a week either in the mat room that sits above an annex to the high school building or in the weight room working out with teammate Luis Arellano, a senior 152-pounder.
THISorTHAT with James Rogers
Hot or Cold
Italian or Chinese food
Dog or Cat
Beach or Mountains
Tom or Jerry
Batman or Superman
Heads or Tails
Rulon Gardner or Cael Sanderson
Greco-Roman or Freestyle
WWE or UFC
Madden or World of Warcraft
Hamburger or Hot dog
Ketchup or Mustard
"There's been some pretty late nights here, trying to figure out a particular technique," James said. "I definitely reignited that fire for this season, going into February."
Already this season, Rogers won the 170-pound title and shared Outstanding Wrestler Honors at the Three Rivers Classic in Longview. He'll likely wrestle at 170 throughout the high school season, then start preparing for Fargo Nationals while sifting through the college offers that already are starting to arrive – Oregon State and Wisconsin being just two of the schools he's considering.
"The Olympics are a goal of mine, but for now, I'm more focused on short- and medium-term goals – finding a college, being a three-time state champion," he said. "But I can't see where I'd be without wrestling."
And in that way, James ended up just like his father.
"Wrestling is a way of life," Jay said. "It defines who you are. I feel honored to be a part of it."