The first time I heard the harp duo Celtic Muse was on a chilly December afternoon at the Camas Public Library. I found a seat by the fireplace in the periodicals room while the harpists nestled their instruments into their shoulders and plucked the first chords. It was utterly captivating—the sheer emotion and energy of a live performance. I could feel the vibrations of each note as it coursed through the harp's wooden heart, or "soundbox." It was a joyful, completely immersive experience, like sinking into a warm bubble bath of sound.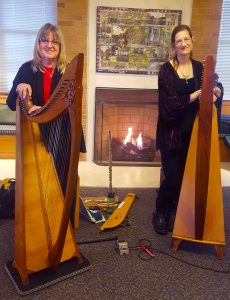 Valerie Blessley and Jennifer Pratt-Walter have been playing together since 1995. They met in 1993, as students of concert harpist Marion Fouse. When Blessley was asked to play at a medieval-themed wedding in Portland's Crystal Springs Rhododendron Gardens, she invited Pratt-Walter to join her. Word of mouth spread, and they performed at more weddings, private parties and showers, and public venues like Dulin's Cafe and Vancouver Pizza Company.
The name Celtic Muse came to Blessley one day when they were in Pratt-Walter's back yard, thinking about what motivates them. They agreed that their shared passion for traditional Celtic (pronounced "KELL-tick") music is their muse: a person or thing that inspires creativity.
They both feel a strong kinship with their instruments. Pratt-Walter's main harp is named Bruin — "bear" — because of its deep tones and the ursine face that seems to be visible in the woodgrain. Blessley's big cherry wood harp is Kirsi, a Finnish girl's name meaning "cherry." Blessley's husband, Mark, made this harp especially for her; the woodworking project was a relaxing respite from the pressures of chiropractic college. He soon made another harp, which Blessley's instructor purchased — an endorsement that attracted the interest of other harpists. He has since made 26 harps, with another, nearly finished harp in his workshop, awaiting varnish and strings. You can learn more at blessleyinstruments.com.
Celtic Muse has performed everywhere from cultural festivals and civic fairs to libraries, bridal showers, graduation ceremonies, and the Portland Christmas Revels, in addition to dozens of weddings. "They forget what flavor the cake was or what color the bridesmaid's dresses were," says Blessley, "but they never forget the harps." Harps, however, aren't the only instruments they play. Blessley was a flautist before she took up the harp, and she's studied Finnish kantele (KAHN-tuh-lay) at the Maine Kantele Institute. Now Pratt-Walter is also playing the kantele. ("It only took me 16 years to get her to pick one up," quips Blessley.)
They create their own arrangements of melodies that have been around for hundreds — or thousands — of years. "When we started playing together, there were no arrangements written out for two harps," explains Pratt-Walter, "so between us, we've made up 99 percent of our own arrangements. That is how we created our repertoire." Blessley says they will try a new tune on every combination of instruments — harps, kanteles, flutes, Irish penny whistles, recorders, fifes, bodhran (Irish drum), tambourines and shakers — until they get "the right flavor."
As musicians and friends, Blessley and Pratt-Walter are as well tuned as their harps. They have a broad, shared history, finishing each other's sentences and adding details to one another's stories. They have been playing together for so long that they are able to read each other's intentions, allowing for frequent improvisation — although Blessley says she usually plays it straight, sticking to the melody, while Pratt-Walter adds tuneful flourishes and harmonious embellishments. "I'm kind of like the George Burns to her Gracie Allen," Blessley chuckles.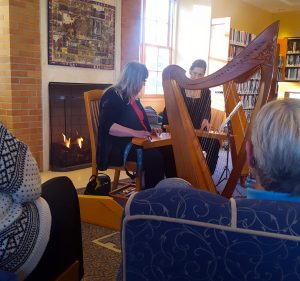 Pratt-Walter fell under the harp's spell in 1984, when she saw an album with a picture of a lady playing a harp. "I had always wanted to play the harp," she recalls, "but I bought it for the picture on the cover of the album. And in the first five notes I was hooked, totally hooked, and I knew I had to do that somehow." Pratt-Walter worked as a registered nurse for 14 years, but the long and irregular hours took a toll on her health and her ability to care for her three young children — twins and a newborn. "At that point I made a decision to stop working as a nurse, and that allowed me to work on music," she says. "I've never looked back from that, and now I combine nursing and music in interesting ways." She plays solo for hospice patients, in neonatal intensive care units, and in home healthcare settings.
What makes the harp so mesmerizing, so healing? The harpists have a ready explanation: it's the only instrument —besides a cello —that you hug. "You hear all the harmonics, the overtones," says Pratt-Walter. "It goes through your whole body." Blessley calls it a "soul massage," and says harp music prompts her to ponder life's deeper matters. Both women, in fact, have had their share of soul-stretching challenges: caring for aging parents with Alzheimers and Parkinsons, tending to a spouse with long-term medical issues, and, in Blessley's case, enduring a battle with breast cancer. "We see all these things in life through our music. We're looking at the whole spectrum of being," Pratt-Walter explains. "Our music is going out of us, and experiences are becoming part of us, enriching who we are as artists."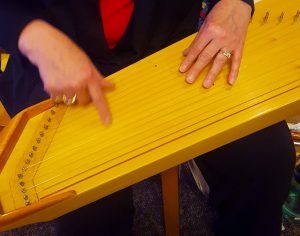 When you hear their music, you might also fall under Celtic Muse's magical spell. Fortunately, both women offer private harp lessons. Contact information and booking details for Celtic Muse is available online. Look for them, as well, at other arts venues around town. Pratt-Walter has authored two chapbooks — "Wrought of Singing Earth" and "Syrup and Butter." Blessley, meanwhile, is an accomplished potter with her own studio who has been featured several times on Clark County's Open Studios Tour and you can also see her stunning earthenware online.