When four good friends get together over dinner and a good bottle of wine, it's amazing what might happen.  Gerald and Yolanda Taylor and Tony and Raechill Dotson met at Cellar 55, where they all stored their bottles of wine.  It wasn't long until they were best friends, going to wine tastings, dinners, going camping and sharing times with their kids. In conversation they realized they all had the dream of having their own wine bar.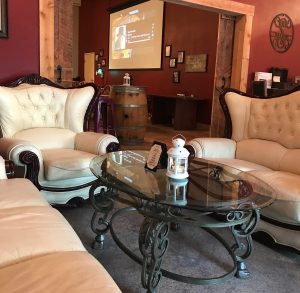 Salud!, located at 224 NE 3rd St in Camas, is the group's creation. The location includes a wine bar, a restaurant called Le Petit Bistro, an event center and offers wine storage in their "Wineville" area.  Their food is natural and innovative. Their events include movie nights, painting parties and themed parties. And their wine storage is another place that can induce friendships like the one shared by the four friends.
Yolanda, who works for Care Oregon, came home from work one day stressed.  As a "distraction technique," said Yolanda, her husband asked her "if money weren't an issue, what would you do?"
Start a wine bar was, of course, her answer. But he kept asking her more and more specific questions, and they both realized that this idea had depth.  "I had a plan, but I didn't know that I had it."   What Yolanda also didn't know was that after that conversation her husband Gerald started looking for commercial properties.
One day he drove her to the site of Lemo- Aid Automotive, a long-time auto repair business in Camas which had gone out of business and was up for lease.  They both got very excited about the property.  They called the leasing agent, but by the time they got through the property was leased to a brewery.
Fired up now, they continued to look at properties. Yolanda took classes at the Washington Center for Women in Business, learning how to work out a business plan and calculate the details of the potential business.
After many more false starts, though, Yolanda couldn't take the disappointment and asked her husband to not show her any more places.
There was more drama ahead, though. Her husband took her to "buy a dishwasher" at the Sears Home Store on 3rd St. in Camas. While there her husband told her "I don't want you to be mad, but this guy is trying to sell his business."  It had high ceilings and exposed beams and the kind of square footage she had originally envisioned.  It was perfect.  But it wasn't for lease.
Another year passed with their dream still in the dream stage.  Finally they got a photo from a good friend, it was the front of the Sears building. The Sears building was officially available.
They called their good friends Tony and Raechill to ask them what they thought. Over a Washington wine, Beresan Carmenere, they all decided to go for it. They signed on March 15, 2017. Just a few short months later, in July, they had a soft opening, mostly for family and friends.
At their grand opening in August 2017 the Mayor of Camas cut the ribbon and good food and wine were enjoyed by all.
Now Salud! is up and running.  Gerald, who works for Thrivent Financial, manages the kitchen and Wineville. Tony, an accountant, is their marketing guru. Raechill is in charge of events. Yolanda fills in the gaps, declaring herself as a jack of all trades, and wondering about what title to give herself: General manager? Controller? Representative "agent" for any state filings including licensing, taxes?  Staff Coordinator? Or accounts payable?  All apply.
In deciding what wines to carry Tony is the connoisseur, but they all have their areas of interest and expertise in that Yolanda knows whites, Tony focuses on Old World Wines, while Gerald prefers New World wines, and Raechill is all about big, bold reds. Each of them spends time working in Salud!
"In a small town like Camas, people really like to come in and know the owners so it's important for one of us to be there," said Yolanda. One wine they carry is Black Stallion, from Napa Valley. It's a wine they all enjoyed on their last big trip together. They all miss the fun times they had, and probably the freedom, but enjoy the time at Salud!  "Our favorite night is Friday when it's busy and all four of us are there," she added.
"I feel very grateful to be partnered with our best friends," Yolanda continued. "If it had been just me and Gerald I don't think we could do this."
They've brought in a fifth friend, Joleen Person who Gerald has known since middle school, as their wonderful chef. "She's super creative and cooking and baking is her passion," Yolanda said. "People come back for her bread."
Joleen practices her cooking on her husband and the four owners before introducing it to the clientele.  Yolanda has come to love Joleen's chicken masala, four-cheese ravioli, and especially her cheese stuffed ravioli with pumpkin sage curry sauce and her mushroom pate. They use fresh ingredients, with no preservatives, and everything is made in house.
The place has been packed for movie nights that have featured films such as Coyote Ugly and Dirty Dancing. Yolanda has been surprised that the types of "goofy" events that she and the other three enjoyed for years and they now offer, such as the 80's night and the murder mystery, have been so welcomed. "People really like doing stuff like that, getting dressed up, really getting into it," said Yolanda.  "I thought we were just dorks."
Yolanda said she's pleased with the results so far and of the changes in the last few years of her life. "It's definitely been a great journey," she finished.