Scott Preuninger steps into the middle of the key to give instructions during a recent Camas High School girls basketball practice.
Fourteen players rivet their attention toward their coach, who is setting up a drill to run out of a free-throw situation.
Courtney Clemmer, though, stands on the far block, swaying, bobbing her head, and dancing to the beat of the music playing inside her head.
It's not that Clemmer is showing disrespect. That's just how Clemmer rolls.
"We have a lot of girls on this team who love to have fun," Preuninger said. "She's the ringleader."
The 6-foot-2 senior post is also the leader of the two-time Greater St. Helens League 4A champions, the GSHL 4A Player of the Year, and the glue that helped keep the team together after the loss of Cal State Fullerton commit Madison Freemon, who suffered a season-ending knee injury at a November intrasquad scrimmage.
Clemmer wore Freemon's jersey for Camas's season opener to honor her teammate and filled Freemon's shoes as a leader the rest of the time.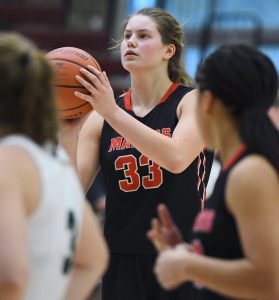 "She keeps us together as a team," said teammate Maggie Wells.
Despite losing a Division I player, the Papermakers made it back to state for the second straight year. Camas (16-7), ranked No. 8 in the state at 4A after beating Kentlake 40-39 in the third place game of the bi-district tournament on February 17, takes on nationally ranked Central Valley (23-0) in the regional round February 24 in Spokane.
Win or lose, the Papermakers will head to the Tacoma Dome the following week for the state tournament – either for a one-and-done game February 28 or a quarterfinal matchup the next day.
Clemmer isn't your prototypical MVP player. The Oregon Tech signee doesn't put up eye-popping numbers, averaging just 10.5 points (shooting 65 percent from the field) and 6.7 rebounds per game – partly because the Papermakers won their eight league games by an average of 28.9 points, meaning Clemmer sat most of the second half of games, and partly because it's just not in her nature to hog the ball.
"She's a true teammate," Preuninger said. "She's not concerned about the spotlight, how many shots she's taking, how much she's scoring. We've been on her all year that she needs to be more aggressive. She has a nice mid-range shot and can score with her back to the basket.
"But that's not in her makeup. She's nice, almost to a fault, but I'd rather have her that way."
THISorTHAT
Hot or Cold
Pizza or Tacos
Fried rice or Chow mein
Cat or Dog
LeBron or Steph
Beach or Mountains
Tom or Jerry
Batman or Superman
Clemmer's value comes more with all the intangibles that coaches and teammates love. She makes the extra pass. She involves her teammates on every play. She even sacrificed her starting spot on Senior Night so that Brooklyn Pascua, a transfer student from Tacoma who normally comes off the bench, could be honored.
"I've been a head coach for 23 years," Preuninger said. "I've never come across a player like Courtney."
"She's just so aware on the court," added Wells, who's been best friends with Clemmer since the third grade. "She won't make a poor decision. She knows our team so well, she just knows when to hit that pass or when to take a shot."
Clemmer deflects all the praise with her ever-present smile. She considers herself first among equals and shared the credit for being named league MVP.
"The great thing about this award is that as a post, it reflects as much on my teammates as it does on me," she said. "I'm not in control of getting the ball. For every shot I take, someone is going to have an assist. It just showed all the hard work that not only I put in, but all of us."
Clemmer's value also shows when she's not on the court, as happened when she suffered a back injury in Camas's first-round bi-district game on February 8 just seconds after tipoff. She deflected a ball at midcourt and when she reached out for it, her entire back seized up.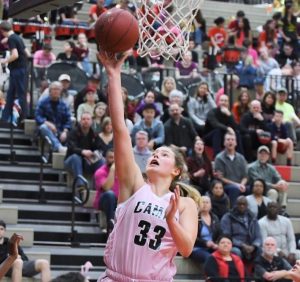 "All my muscles just decided at once that it's not going to happen today," she said. "We got the ball back, so I went downcourt, started screening people. As soon as the play was done, though, I ran off the court and didn't come back."
With Clemmer out, the Papermakers struggled to beat Hazen in overtime and faced the prospect of having to play a winner-to-state quarterfinal matchup against Rogers of Puyallup without their leader.
Clemmer spent all that next day visiting doctor after doctor, trying to figure out exactly what happened. One doctor thought it might be pinched nerves, while others said it was just strained muscles. All agreed that she wasn't likely to aggravate the injury if she returned to the court – if she could play through the pain.
"Physically, it was like, why are you are even trying to do this?" Clemmer said. "But I felt that if I could just get through this, just push through it, I'd get five days rest if we win."
And win they did, with Clemmer scoring 10 points in a 56-46 victory that clinched a spot in the state regional round. "Mentally, I was a 7 or 8," she said. "Physically, I was about a 2 or 3. It was just pure relief when we won."
A week later, her best friend was still amazed at Clemmer's determination to play.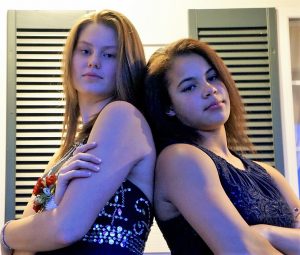 "It's definitely impressive," Wells said. "But it's something I'd expect her to do, knowing her resilience as a friend and teammate."
Clemmer felt closer to normal at this midweek practice, and she played in both of Camas's games last week – a 64-50 semifinal loss to defending state champion Kentridge in which she sat much of the time in foul trouble, and the Kentlake win in which she had a game-high 12 points and nine rebounds.
To think, her back was the last thing on Clemmer's mind when she walked into the gym for that first-round game. She was more concerned about the cut on her right thumb she'd suffered that morning trying to open a bagel with a bread knife.
"It was a Courtney moment," she said with a shrug. "It seemed logical at the time."
These "Courtney moments," as her family termed her momentary lapses of common sense, happen with such frequency that Wells couldn't pinpoint just one. "She's always forgetting or losing something," Wells said.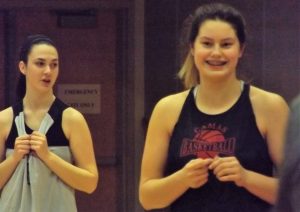 They're both hoping to redefine a Courtney moment over the next couple of weeks to mean a shining moment at the state tournament. It would also provide the perfect close to a season that Clemmer had hoped to share with both Wells and Freemon by her side.
"When she got hurt, I couldn't imagine my senior year without her," Clemmer said. "My freshman year, we were the only two freshmen on the varsity. We came into high school doing this thing together, and I'd wanted to finish it together.
"That first game, I wore her jersey, and it made me feel, OK, she's still part of this. We started this together. We're going to finish it together."