In Northeast Vancouver, not far from where NE 78th Street veers off and becomes Padden Parkway, sits a genuine historic artifact from Vancouver's early days.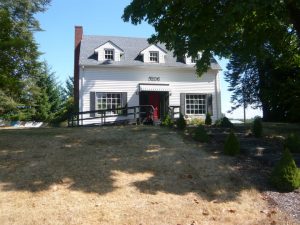 You've probably driven by it dozens of times. As it's a bit removed from where your eyes are focused (or at least where they should be if you're behind the wheel), it's easy to miss.
The historic Padden Farmhouse has sat quietly on the north side of the road for more than 100 years. In recent years, it's been where a gift shop, a tea room (twice), a children's culinary school, and soon, a bakery, have all called home.
Back around 1910, it was built by James J. Padden, Jr., one of Vancouver's "First Citizens" (so named by the Columbian). Padden operated a dairy farm on the site, and also was the proprietor of a well-known downtown clothing store that remained open until the 1980s.
The Padden family first came to Vancouver in the 1860s. Michael Padden and his wife Mary were natives of Ireland, and they had many children. One of their son's, Thomas Padden, opened a saloon on Main Street in the 1870s, which was successful until Prohibition dealt it a fatal blow in 1916. Thomas's nephew was James Padden, Jr., who entered the clothing business in 1901 and eventually became one of Vancouver's most influential figures, serving on the city council, as a member of the Prunarians (a local booster group), and as chief of the city's volunteer fire department.
History is unclear if Padden, Jr. and his family ever actually lived in the farmhouse. These days the Padden House is owned by retired businessman Bill Smith, who also owns Padden Park Place RV Storage on the property behind the historic old home.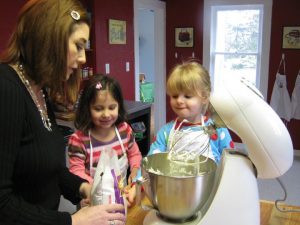 The house is eclectic, with small, oddly-shaped rooms, interesting angles and an epic curving staircase that can't help but capture the attention of even the most casual visitor. Upon climbing the main stairs, visitors are rewarded with a small common room with even smaller bedrooms to its right and left. Open what might appear to be a closet door in one of the bedrooms, and you'll be led through a tiny alcove into a third bedroom that, it's pretty clear, was not part of the original architecture.
From 2010 until late 2014, the Padden House was home to the Kids Cooking Corner, a non-profit with a mission of teaching kids the lost art of scratch cooking. The founder of the KCC, Heidi O'Connor, is responsible for the house's current bright and cheery dollhouse-like exterior color scheme.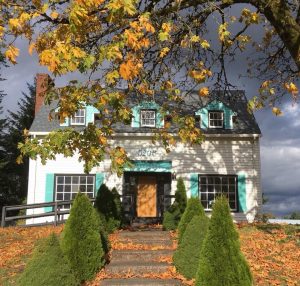 "When we first found the place, the outside was black and white and very plain. The yard was overgrown, and a huge blackberry bush had completely taken over the backyard," Heidi remembers. "We wanted to turn it into a place that was inviting for children to come learn and play. With the help of donations and volunteers, we painted the house inside and out with happy colors, cleared the grounds, planted organic gardens and poured a patio behind the house. Kids loved coming there."
Although successful, the KCC eventually closed in 2014 after Heidi developed health issues. For the next two years, Sweet Peas Tea Room called the Padden House home, until it moved to its current location in Battle Ground in summer of 2017.
The new tenant of the Padden House is Chandelier Bakery, a confection, coffee and sandwich shop by proprietors Mike and Monica Kersey of Vancouver. Monica described how they stumbled across the Padden House when looking for the perfect location to start their bakery. A friend of their son had volunteered at the Kids Cooking Corner, and when she realized it was available to lease, insisted they check it out. "We fell in love with it instantly," said Monica.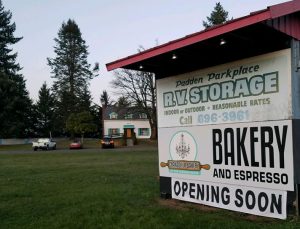 "The Padden House holds a special place in my family's heart," she continued.  "I remember visiting it as a young child when it was a gift shop."
What will the next 100 years bring to the Padden House? Only time will tell. But for now, you can get delicious gourmet baked treats and experience a piece of Vancouver's storied history, all in one place.