Ingrid Kenny steps lightly from the door of her bright yellow food truck looking the picture of health. You'd expect that from a business owner who believes so strongly in providing good, healthy street food. But this wasn't always so. Years ago Ingrid was diagnosed with dilated cardiomyopathy (DCM), a serious heart condition, so serious she was put on the heart transplant list. She and her husband, John, were devastated.
The Value of Healthy Food
It was at that point that Ingrid's husband John set out to find a healthy diet that might just help Ingrid regain her health without a transplant. "I wanted to save my heart and my husband supported me by creating heart-healthy Mediterranean cuisine for us," Ingrid says. "John even traveled to Turkey and Greece to research the diet." Over the next years, the couple became known for their whole food, heart-healthy cooking and friends urged them to go into business with their cuisine.
As time passed, the Mediterranean foods combined with good medical care did, indeed, save Ingrid's heart. "I have a pacemaker and defibrillator and am doing well," she says, patting her chest. Ingrid and John joined the developing food truck scene in Vancouver with her large yellow (she calls it golden) food truck, emblazoned with the business name, Ingrid's Good Street Food.
No Regrets Meals
After looking at Ingrid's menu, I have to say I couldn't find anything unhealthy. For sweetness she uses natural honey. They use fresh natural, organic, locally grown ingredients. Very popular is their unique take on hummus, a blend of roasted beets and chickpeas served with house made flat bread. It makes for a good snack or starter.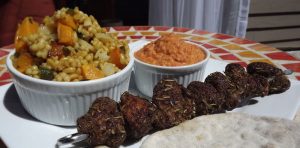 The chilly day I was there, the smell of spices wafted from the truck parked at the base of the Salmon Run Clock Tower in Esther Short Park. I ordered a bulgogi wrap from the Paleo menu. The lean Korean seasoned ground beef, freshly chopped red and green cabbage, carrot, cucumber, romaine lettuce leaves and sesame seeds were wrapped up in a healthy looking dark collard leaf. I chose the zippy honey mustard sauce to add a little more zest to the delightful spices. It was fresh, filling and something I'll order when I return. And, I loved that it was healthy for me!
Spices that fill the air with wonderful aroma are available to take home. Called the rub, you can experience that robust flavor in your own cooking.
More Good Food is Good Business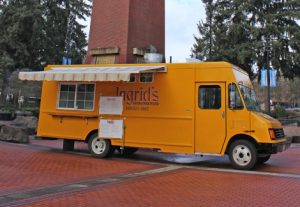 Ingrid and John had a plan after the success of their first food truck venture. They dreamed of a fleet of trucks and, eventually, a brick and mortar restaurant. Just recently they did expand and added another food truck. But, it wasn't a clone of the popular Ingrid's Good Street Food. For the second truck they decided to focus on healthy Paleo foods. The Paleo Grill, also in a huge bright yellow truck, was launched. They decided to add another variation of healthy foods because they felt that the Vancouver food truck scene was ripe for more healthy food options. It's the direction that people want to go – fast, convenient and healthy. "Busy people deserve to eat good food," Ingrid emphasizes. "Fast food doesn't have to be unhealthy food."
Watch the Ingrid's website for news and possible new locations. For the rotating truck's location you can check the Ingrid's Good Street Food website, Facebook Page, Twitter or give them a call at 360-921-7802.