What's life like as an elite high jumper at an in-season invitational? A whole lot of waiting and watching.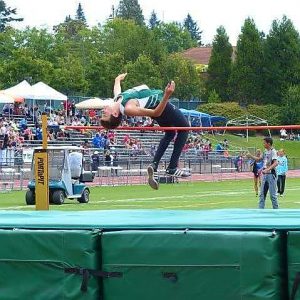 Take March 24, for instance. Ethan Gould sits around for several hours in 37-degree chill, dodging the drizzle as one by one, 43 other jumpers in the Tiger Invite field fall by the wayside.
Occasionally, Gould chats up one of his fellow jumpers, perhaps giving them a quick tip, paying it forward as others did for the Skyview High School senior as he moved up the ranks.
But mostly, Gould alternates between bundling himself in a blanket with his girlfriend and stretching in the infield at Battle Ground's District Stadium, just biding his time.
Finally, there's only Gould and Wyatt Prutch of Hudson's Bay left as the bar rises to 5 feet, 10 inches. Gould originally was going to wait until 6 feet to enter the competition, but he's growing antsy and wants to get the blood pumping.
Prutch misses on his first attempt. Gould hears his name called, sheds the tie-dyed T-shirt covering his Skyview blue singlet, quickly takes his approach, and unfurls his 6-4 frame over the bar with ease.
Prutch clears 5-10 as well but goes out at the next height, 6-0. Gould, meanwhile, clears 6-0 and 6-2 on his first attempts. When the bar goes to 6-4, though, Gould struggles.
"It always happens when I clear a winning height. In my head, I'm thinking, 'I'm going to get this,' but then my subconscious is over here like, 'You just won.  You can go for it, but you don't have to,'" Gould explains an hour later, in the comparative warmth of a nearby restaurant booth. "My form is always the best when I have competition, because it just pushes me harder. I don't know why that is. It's just how I am."
This seems to be working for him. Last season, he jumped a career-best 6-6 to qualify for state for the first time, where he placed third by clearing 6-5. This season, he has his sights set on the school record of 6-10, set in 2015 by Peyton Fredrickson.
THISorTHAT
Hot or Cold
Spaghetti or Chow mein
Cat or Dog
Beach or Mountains
Tom or Jerry
Batman or Superman
Heads or Tails
Black or Red
Madden or World of Warcraft
Hot dog or Hamburger
Ketchup or Salsa
Gould knows to hit that height, he'll need to have a perfect day both physically and mentally. He's put in the work in the offseason to strengthen his core muscles, so he can hold his arch longer, carrying his hips past the bar after getting the necessary lift to get over it.
Now, he says, it's a matter of having the confidence to put everything together for that one special jump.
"A lot of it is mental. You're running up to a bar that's 4 inches taller than you are, and you're thinking, that's really high, so you mess up," he says. "And it gets nerve-wracking to jump against guys with personal records of 6-8, 6-10, and you're just hoping you can keep up with them.
"I know now that I can keep up for most of the time, but once you get to higher heights, you have to have your form perfected or you're not going to make it."
Gould didn't think of himself as a high jumper as a freshman. He'd played basketball and soccer in middle school and tried out for both sports at Skyview. He was cut from both – even now, he shakes his head in puzzlement about why – but when he didn't make the soccer team, he decided to turn out for track.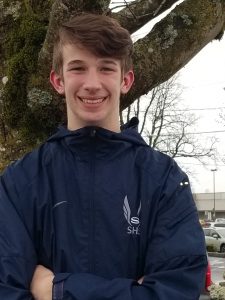 Gould had dabbled in the high jump ever since that day in sixth grade when they put the mats down in the Gaiser Middle School gym and he jumped over the band that served as a practice bar. When he cleared 5-10 at the end of that first high school season to win the Freshman Invitational, though, there was no turning back.
He made huge strides as a sophomore, clearing 6-5 twice in the middle of the year to announce himself as a state contender. Then at regionals, disaster struck – literally.
On his first jump, he cut his head after hitting it on the top of the standard that holds the bar in place. It took a minute to staunch the bleeding, but a shaken Gould couldn't calm his nerves so easily. He missed on his next two jumps and, like that, his season was over.
"My goal all last year was just to get past regionals," he says. "Then, when I got 6-6, that was two birds with one stone – I got past regionals and got my PR."
Scott Rice, who coached Gould in the high jump the past three years and now works with him in the long jump, didn't predict this level of success when he first saw Gould show up at practice after getting cut from soccer.
"Not at all. I would have said, yeah, that kid's hopefully going to be a state competitor someday," Rice says. "He's developed a lot athletically over the last couple of years, and he's coming to the point where he feels physically a lot more confident than he has in the past. He's grown like a giraffe, and he's learned how to move this big body in an athletic way."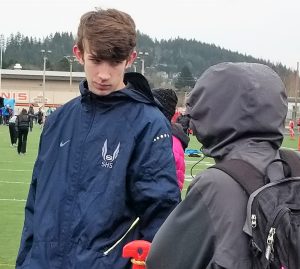 Gould's current high jump coach, Megan Grant, has a different animal in mind when she watches Gould in action.
"The visual that replays in my head, whether he clears a jump or doesn't, is that he'll get over the bar in some fashion, whether he knocks it down or not, he'll roll over, then his head pops up, and you'll swear it's like a meerkat or a gopher coming out of its hole," she says, laughing. "He just stares at you with these big old eyes, and he does it every single time.
"Ethan's just a big ol' goofball. We love him dearly. But as goofy as he is, he's able to recognize there's a lot more work to do, a lot more that he can accomplish. He wants to beat the school record, and he's certainly capable. But it's totally up to him."