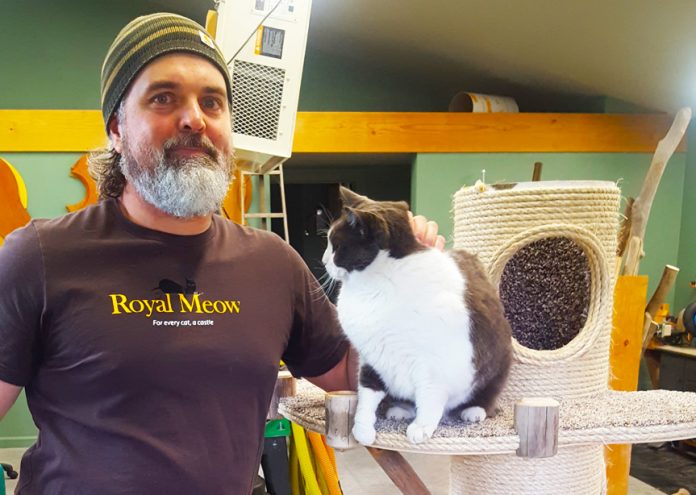 Earth Day is one day out of the year, but for Mark Hircock, it's every day. That's how often he thinks about recycling, reusing and repurposing for his Royal Meow Cat Castles, the stylish and environmentally friendly cat furniture that he makes in his Vancouver studio workshop. The rest of the time, he's thinking about cats – how they like to stretch, scratch, climb and snooze – and how he can make his cat trees even more irresistible to our feline friends.
From E-Commerce to Nursing to Cats
Hircock had worked for a successful e-commerce company in the 90s before later deciding to become a nurse. By the late 2000s, he had nearly completed the nursing program at Clark College when he broke his arm in a construction accident. While he was healing at home, he began to consider alternative career paths. It was about this time that he bought a cat tree—the standard, mass-produced variety—to keep his restless cats occupied. "It was poorly built and it was all carpet," says Hircock. "When they scratch on the carpet, it creates airborne particles that are really bad not only for the cats, but for people." In a short time, the cats reduced it to an unattractive mess. "My cats scratched it up. It was real wobbly," recalls Hircock. "It wasn't very long before it was something you wanted to hide in the back room."
He was convinced that that he could make a sturdier, more attractive cat tree with natural materials. He and his wife wrapped the first couple of experimental cat trees in sisal, a rough-textured, hard-wearing rope made from a fibrous species of agave plant. "It's the best thing, it really is," explains Hircock. "It's durable and it can be repaired pretty easy." Hircock's initial design was big and bold. "It went all the way to the ceiling," he says, where it connected with shelves on the wall. Then he tried a couple of medium-size, free-standing pieces. He enjoyed the process of constructing them, and the cats certainly enjoyed the results. "So I said, 'Well, I'm gonna try this out,'" he adds. "I built a few and I took them to Natural Pet Northwest over on 164th and the owner there, Vicki, was like, 'Wow, these are great.'"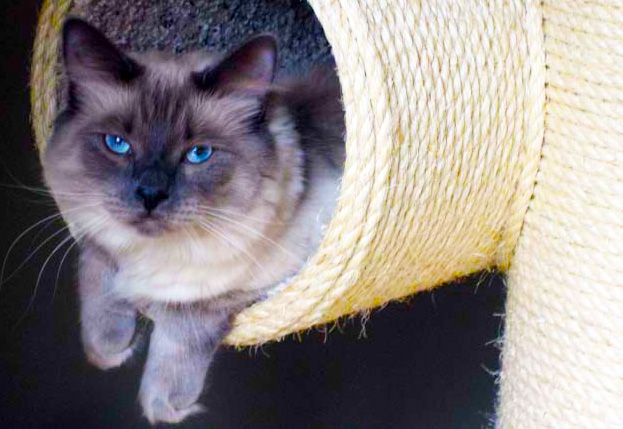 She suggested that he make a few modifications, then bring the cat trees back. "I did, and she bought them all," he shares. "She gave me some referrals to some stores in Portland and from there it just kind of went bananas. I honestly haven't had to do any sales or anything since then. I've just had people come to me." Hircock began making Royal Meow Cat Castles for several local pet stores—including Pet Loft, Western Pet Supply, Pets on Broadway and Portland Pet Supply—as well as taking custom orders.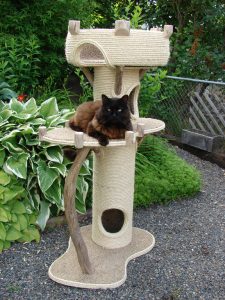 Royal Meow's success isn't much of a mystery. Hircock's beautiful, earth-friendly cat castles are a triple-win: elegantly designed, responsibly built and made to last. They're handsome enough to occupy a place of honor in the living room, while rugged enough for the sharpest claws—and with enough perches and hidey-holes to keep cats busy.
Upcycled and Recycled Cat Trees
Hircock is firmly focused on sustainability. Most of his designs incorporate driftwood, which he finds on walks by the Columbia River, trips to the beach or hikes around Lake Merwin and Swift Reservoir. He uses food-grade or non-toxic glues such as Elmer's. He uses plywood instead of particleboard, because it's more durable and because particleboard can emit toxic off-gases. He uses carpet remnants that would be otherwise be thrown out. He collects used tires from local tire shops. "I've actually recycled more tires than I make garbage, per weight," says Hircock. "There's just landfills of these things and they get full of water…they're big mosquito breeding grounds. They do make things out of them, like playground mats and stuff. But there's just so many. I'm making a small dent." He also makes scratching posts from discarded wooden pallets.
Several years ago, Hircock saw the need for a larger workshop where he could store supplies and install customized machinery. Rental shops were pricey, so he decided to build his own. Three years and a lot of hard labor later, he now has a soundproof studio workshop with a high ceiling, plenty of space, and a cozy wood-burning stove. He's got orders coming in faster than he can build them—"I've had to actually turn away tons of business because I can't keep up!" he says—and is considering making the leap to e-commerce on his website, royalmeow.com.
Hircock isn't necessarily ready for Royal Meow to become a Fortune 500 company, though. He values his work-life balance, making it a priority to spend time with his wife, who's a nurse, and his 4-year-old daughter. "I feel pretty lucky, really, that I've been able to make them," says Hircock. He clearly loves what he does: creating cat furniture that's pleasing to look at, sturdily constructed and a benefit to the planet. And what about the cats who are lucky enough to own a Royal Meow? They're going to enjoy a vigorous sisal-scratching session followed by a nice, long nap in their very own castles.
You can follow him on the Royal Meow Cat Castles Facebook page or call 360-696-8924 about orders.