Beyond the city limits of Clark County is a treasure trove of unfettered landscapes. One of the most impressive features of the area is a collection of waterfalls in Moulton Falls Regional Park. Just 10 miles northeast of Battle Ground is an open-air retreat that seems a world away from the city. There are multiple paths throughout the falls, and depending on the type of experience you're looking for, choosing a specific one can make all the difference.
Moulton Falls Regional Park strikes the careful balance of both having useful amenities and being a natural escape. There are no fees for park use and no paid parking, making this a no-cost day out. Parking is a breeze due to two paved parking lots, which is especially helpful during the popular summer months. Other amenities include picnic tables and bathroom facilities, as well as a single public grill, provided you bring your own fuel. Swimming is also allowed at many places, but swim with care, as the river can have fast currents and there are no lifeguards on duty.
For those looking for an easier hike or wanting to take small children, starting at the larger, easternmost parking lot is probably the best option. This is the perfect spot for families with kids because the walking path is paved and well-kept. The incline is relatively tame so that kids shouldn't have much trouble walking it on their own, but it can still be a good workout for a parent pushing a stroller.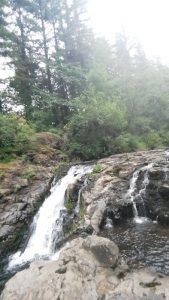 As for the falls themselves, there are a total of three waterfalls within a couple of miles of the parking lots, and it's helpful to keep a copy of a trail map to make sure you see them all. Coming from the west, the first one you'll come to is Lucia Falls. This hike is a loop that's a little over a mile long that leads to a smaller waterfall. Lucia Falls is a great place to start, but you'll be missing out if you don't continue to the other two.
The main trailhead at Moulton Falls is about two and a half miles long and passes through a forest, a couple of bridges, and several water features. Moulton Falls itself is about 12 feet high and runs over several small pools before returning back to the main river. If you complete the entire loop, you'll also come across the falls at Big Tree Creek, the largest of the three waterfalls. This one is visible from a steel swing bridge and a great opportunity for that perfect selfie.
Perhaps just as famous as the waterfalls at Moulton Falls is the arch bridge overlooking the Lewis River. More than 30 feet high, this bridge is popular for sightseeing and is featured on dozens of personal online hiking blogs. The water below is approximately 12 feet deep and is frequented by swimmers. Fortunately, it's still a good distance to any of the falls and the water stays relatively tame so strong swimmers have little to worry about.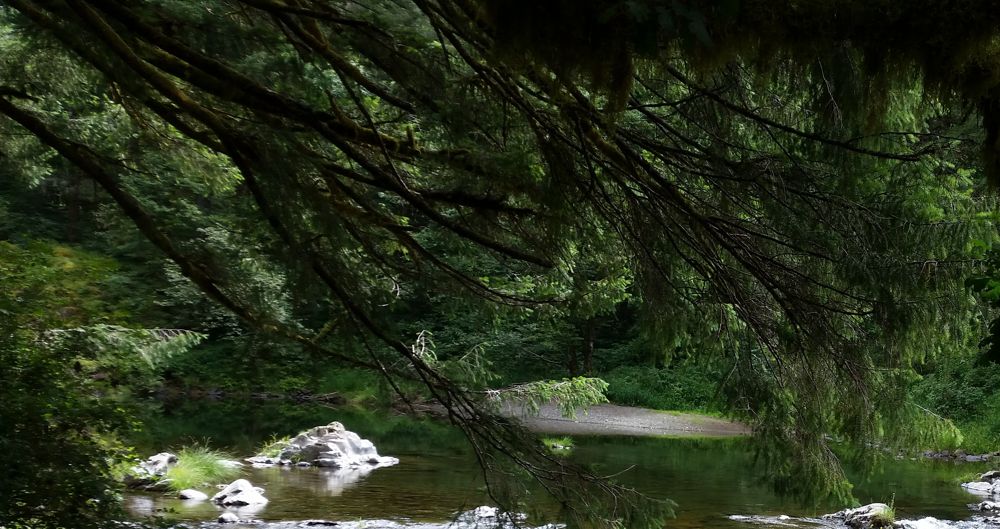 The Moulton Falls trail connects to several other trailheads of varying difficulties. One of these connecting trails is the Bells Mount Trail. Considerably longer and more difficult than the hiking trails in Moulton Falls, the Bells Mountain Trail is nearly eight miles long and a steep climb that leads to views of Mount Hood and Mount Saint Helens.
While you're welcome to bring your own food and eat at one of the many picnic tables along the trail, you aren't out of luck if you forgot to pack a lunch. You won't find any fast food around, but about a mile away from the falls is the Moulton Falls Winery. Even though their main attraction is wine and cider sourced from local farms, the winery also has a small kitchen with famous wood-fired pizza. Their signature Moulton Falls Combo is a 12-inch pizza that would be perfect for a couple to share after a day on the trails.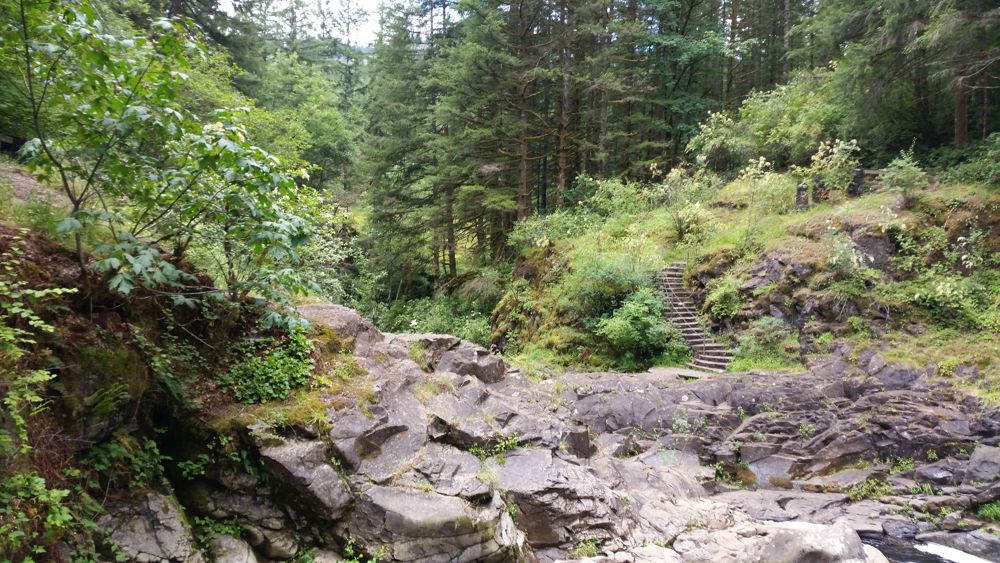 Moulton Falls Winery also hosts a wine tasting package in conjunction with the Chelatchie Prairie Railroad. One of the Moulton Falls trails leads to a small rail station that may seem out of use, but runs trains for special events and weekends from May to December. Passengers can purchase tickets from the Chelatchie Prairie Railroad website  and ride the authentic 1929 steam train for a short trip around the area that stops at Moulton Falls. Riders can also purchase a wine tasting package online or in-person at Moulton Falls Winery that includes a train ride, a wine tasting event, dinner and live music.
With trails of varying difficulties and plenty to see, there's something for everyone at Moulton Falls, a hidden gem right outside the cities of Clark County.