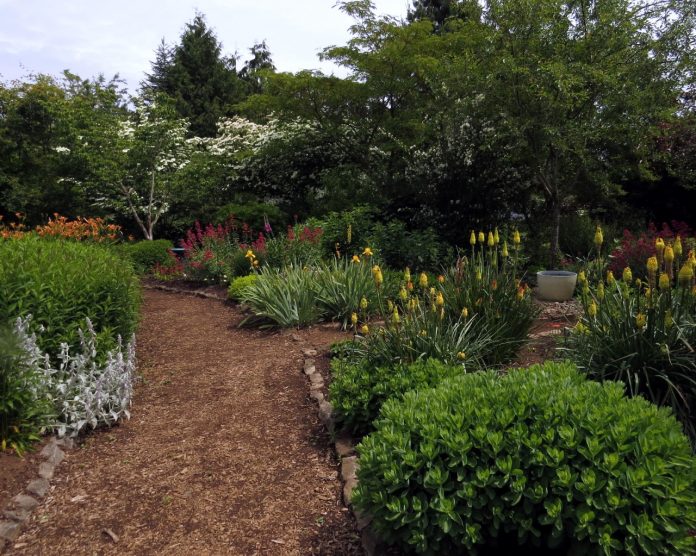 Clark County's NatureScaping of Southwest Washington Wildlife Botanical Gardens is putting the spotlight on creating backyard wildlife habitats using a cohesive blend of 10 specialty themed demonstration gardens spread over three acres in Brush Prairie.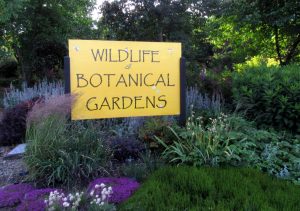 "All the gardens have winding paths," says Marlene Dellsy, administrative assistant for NatureScaping of Southwest Washington Wildlife Botanical Gardens. Dellsy is also a master composter and recycler. "They are all intertwined. They all kind of blend."
NatureScaping, an all-volunteer nonprofit organization, is the group responsible for maintaining the gardens. The purpose for the gardens is to educate and encourage people about the value and importance of developing, restoring, maintaining, and conserving our natural areas and wildlife habitats. Each garden has a coordinator to assist in its maintenance, which takes a lot of time and devoted effort by master gardeners and volunteers. "The gardens mean different things to different people," shares Dellsy. "There are so many ways to use these gardens, and when I discovered that, it made me appreciate them even more."
Open from dawn to dusk, each themed garden is specifically designed to show people how they can transform their own yards into wildlife sanctuaries. With more than 500 species and varieties of labeled plants, special emphasis is placed on using native plants of the Pacific Northwest. This means each plant in the gardens is in some way attractive to native birds, butterflies, hummingbirds, and other wildlife. This work is important because over decades of urban growth, the gardens demonstrate through instruction, volunteer effort, or just walking through them for pure enjoyment, how to take an active role in helping to restore our natural heritage by creating private backyard bird and wildlife sanctuaries. "The gardens are here for the community," says Dellsy. "They are here for people to enjoy."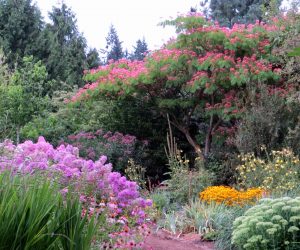 NatureScaping offers monthly classes to provide the instruction to create these wildlife garden havens. Each learning opportunity features a lot of information, including lists of native plantings, sustainable gardening practices, different presenters, and garden design, to name a few. "We change it up every month and every year," explains Dellsy.
Maintaining the gardens is no small task, and it is not just about pulling weeds. There is a wide array of gardening tasks large and small designed to meet either maintenance or improvement needs. "We all work together as a team, because your garden may affect somebody else's garden," says Dellsy. "We have no fences or walls between the gardens."
Volunteer
More volunteers are needed, and Saturday morning garden work parties happening every Saturday March through October from 9 a.m. to 12 p.m. are a great way to dig in and make a difference. Help is needed with basic gardening chores such as weeding, raking, pruning, planting, and shoveling. "The main purpose of the volunteers is to help maintain the gardens," says Dellsy. "It's a whole variety of gardening tasks–there are all kinds of projects–and if you have a particular talent you want to use, we would love to put you to work."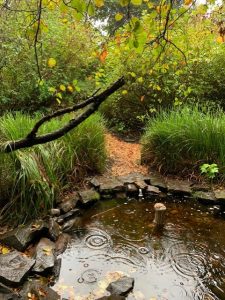 As a volunteer, you can help as your schedule allows. Some volunteers are committed and will team up with one of the gardeners and come more often. "There are some volunteers that spend a lot of time here," explains Dellsy. Younger volunteers are also needed so the older and more seasoned volunteers might have a chance to "pass the torch" to a new crop of devoted garden lovers.
"My experiences in the garden have been really amazing," says volunteer Theresa Lind. "I love it there whether I'm volunteering or there as a visitor. I am a forever fan and plan to be a member this year and in the future."  Lind's reasons for volunteering and visiting the gardens are highly personal. The Wildlife Botanical Gardens became a welcoming and calming place of healing and solitude, especially, during the stress and difficulties caused by the 2020 pandemic.
"I think most of all, I got so much from becoming a volunteer," shares Lind. "Working with the master gardeners — learning about each specific garden and the differences — I also learned about composting, types of gardens, and how to manage them. I learned to identify plant species, weeds, harmful invasive species, and how to pull, dispose, and prune them the right way."
NatureScaping collaborates with The Center for Agriculture, Science, and Environmental Education (CASEE), which sits next door to the gardens on 88 acres of DNR land. The CASEE Center serves as nature's laboratory for Battle Ground students to study wildlife, forestry, organic gardening, soil and water conservation, plant propagation and habitat restoration. "The kids come out and help us sometimes," says Dellsy. "We do a lot of work with CASEE, and they are very important to us."
Plans for 2021 include new membership benefits, increasing education around native plants and landscaping for wildlife, completing the new website, and holding the annual plant sale in late April, and Art in the Garden in July.
For more information call 360.737.1160 or e-mail Info@NatureScaping.org. You can also visit the NatureScaping of Southwest Washington Wildlife Botanical Gardens website.