For 31 years, Vancouver's Downtown Association (VDA) has been instrumental in the health and vitality of the city by successfully implementing its mission to keep downtown Vancouver vibrant through creativity and collaboration. The positive pace of the Vancouver community is a strong indicator of its health, which makes the thriving area a great place to live, work and play.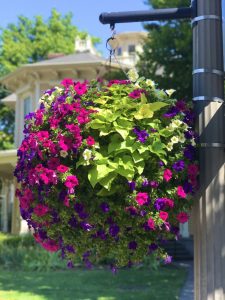 "Our work is fueled by passionate volunteers who are committed to our city center achieving its full potential," says VDA Executive Director Michael Walker. "We are a community development organization creating a vibrant downtown district and an attractive place to bring new business."
An all-volunteer run nonprofit organization, VDA follows the Washington Main Street Program. The Main Street Program is a unique preservation-based economic development framework that enables communities to revitalize downtown and neighborhood business districts by leveraging local assets. These assets include historic, cultural and architectural resources, to local enterprises and community pride. The program's comprehensive strategy addresses the variety of issues and problems that challenge traditional commercial districts.
Walker explains that VDA's many revitalization programs fall under a structure consisting of four committees. These are Design, Promotions, Economic Vitality, and Organization. "It's a holistic strategy," shares Walker. "When people go to a downtown with a unique environment it's experiential and provides a sense of place that people can identify with."
Part of downtown's beautification process over the years has included public art, banners, flower baskets, new trees on Main Street, improving the look of storefronts, and Turtle Place, a former C-Tran bus stop now serving as a public gathering place rich with public art and environmentally friendly fixtures and plantings. Other veteran programs such as First Friday Art Walk serves to inspire and connect the community. In the wake of COVID, fewer galleries and shops are participating in the art walk for the time being, and VDA is working hard to cultivate consumer confidence and finding safe ways for people to engage with their community.
Launchpad, E-Commerce Assistance, Parklets, and Clean & Safe are among four new VDA programs. The Clean and Safe Program's Spruce the Couve will include graffiti removal, power washing, new trash cans, and improved city lighting.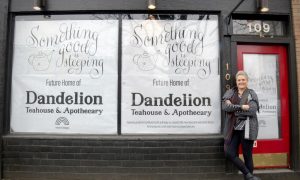 Launchpad, an initiative from VDA's economic vitality committee, is a "Shark Tank" style competition program for the area's next creative entrepreneurial retail idea. Launchpad provides an incentive package worth up to $40,000 for the selected retail business that will open in downtown Vancouver. The incentive package is made up of corporate sponsorships, donations, and in-kind contributions from local businesses. Natural Earth and Body, with the concept of an apothecary and tea shop created by Marianne Wilson Stein, won the 2020 competition. "The goals for the Launchpad program include bringing people and aspiring entrepreneurs in to drive business recruitment and expansion with business models that will create cross-pollination with other businesses," explains Walker.
In 2021, VDA is launching an E-Commerce Assistance Program to lend a technological hand to help downtown Vancouver businesses navigate online presence development, a Shop Safely campaign to cultivate consumer confidence, and continuing their Street Eats Assistance to aid in dealing with outdoor seating for customers. The Parklet Program is a creative solution to support downtown Vancouver eateries during Washington's phased reopening process. The Parklets are an urban planning technique in which street parking is turned into outdoor seating.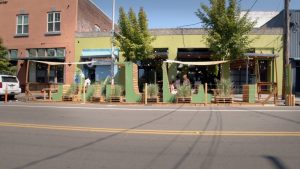 Call to Action
Forty volunteers, including a dedicated board consisting of downtown business owners, collaborative partnerships, and supportive community members put their time and talents to use implementing programs and creating new ones to keep Vancouver vibrant, growing and thriving. Volunteers are always needed and welcomed at VDA. You could volunteer your time, become an investor, give a general donation, or give a program specific donation for any of VDA's specific programs. "There are many ways to give," says Walker. "Everyone has something different to bring to support the effort."
VDA's impact on the Vancouver community is great. The nonprofit further offers tax incentives, many additional programs, and organizes the annual Van-Tastic awards ceremony celebrating local small businesses and the city's community-centric values. So, the next time you are looking for a cool destination place to explore, Vancouver is right in your backyard, awaiting your arrival, and brimming with innovative places to see and things to do.