There are more than 5,000 acres of protected land in Clark County's diverse natural landscape. La Center Bottoms is one such protected area spanning 3,500 feet of shoreline of the East Fork Lewis River. The north Clark County wetland is part of a large greenway system to protect habitat along the river. The lush county-owned stewardship site features a flood plain, shoreline and forested uplands.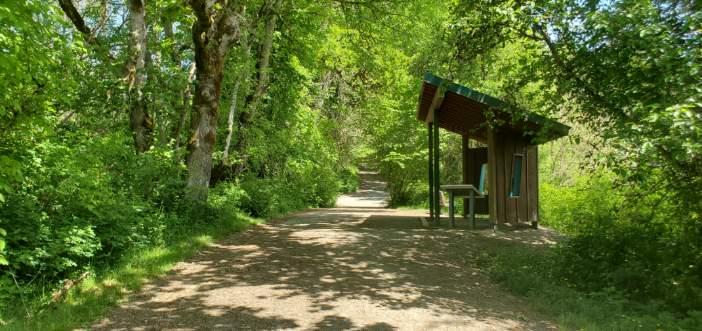 "It's a sprawling wetland and nature observatory that gives people year-round access to the unique views of the Pacific Northwest," says Magan Reed, communications manager for Clark County Public Works. "The scenery itself is worth the trip."
Spanning more than 300 acres, La Center Bottoms offers more than just wetlands. A paved 0.66-mile trail with interpretive signs and two camouflaged wildlife observatories let you step off the trail and get a closer look at the wildlife in their natural habitats. The viewing areas are designed to help you remain a steward of the land for the animals by not disturbing them. And the trail, compliant with ADA standards, is accessible to wheelchairs. "Everyone in our community is a huge priority, says Reed, "And we love that people of all abilities can enjoy nature safely." There is also a canoe tie-up.
The wetlands have been the focus of restoration projects to replant native plants and remove invasive species. Restoration efforts will help protect the wetlands for years. County literature recommends bringing identification books to help spot your favorite flowers along the trail.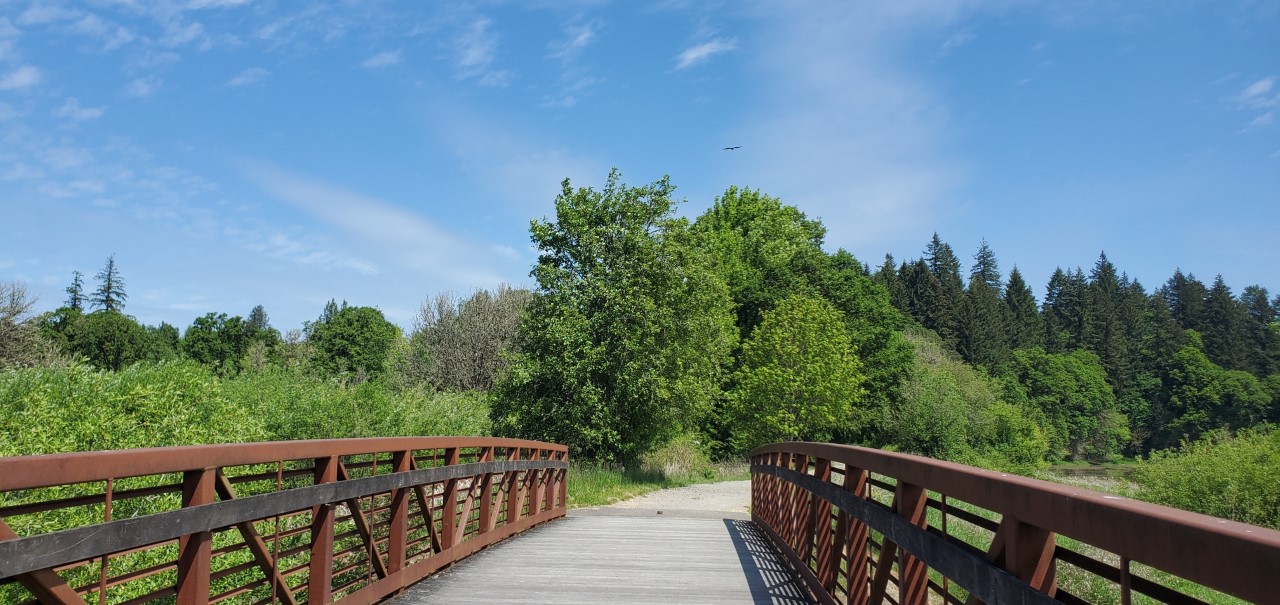 "Throughout Clark County we have thousands of acres of protected wetlands," shares, Reed. "It's a really big deal to us. We understand that we are in a position to preserve nature, and as an organization that provides services to the community, we want to be able to share that with them."
La Center Bottoms is also one of three state-designated Watchable Wildlife sites in the county, which means you can also discover migratory waterfowl (during fall season), ducks, coyotes and otters. For bird lovers, La Center Bottoms is known for its great bird watching. So, remember to bring your binoculars. If you get lucky, you might spot a red-tailed hawk, great blue heron, or red-winged blackbird soaring through the air in sync with the natural landscape. Bug appreciators will find an assortment of many insects. Reptiles, amphibians and mammals have a stake in the wetlands too. The Lewis River is also home to many protected fish such as salmon and trout.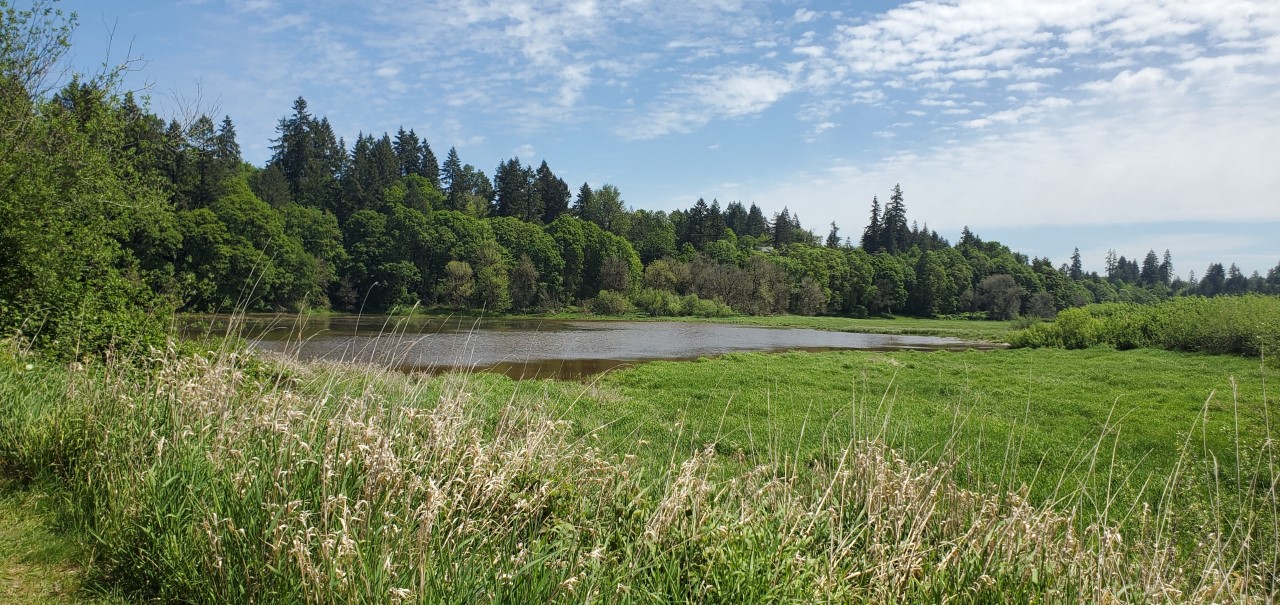 The wetlands site was developed in partnership with Clark Public Utilities, the City of La Center, TDS Telecom, and private ownerships. The stewardship site is also connected to La Center's beautiful Sternwheeler Park to the north on 100 E 4th Street, which features additional park amenities including picnic tables, walking trails, an award-winning gazebo, kayak racks, artistic carvings and more. So, you could opt to spend a day at the wetlands and pack a picnic at Sternwheeler Park to add to the day's fun. Concerts and other ticketed events happen at Sternwheeler too. "The park encompasses a lot and provides the community with great variety," says Matthew Jenkins, public works director for the city of La Center. "It's pretty versatile. And there are all kinds of things to see and do. At Sternwheeler, we host everything from concerts and ticketed events to picnics with families."
It is important to remember to leave the wildlife area and Sternwheeler Park the way you found it. Reed explains it is great to bring snacks, a picnic or water, but all trash and recycling needs to be disposed of in receptacles you bring with you and taken out when you go. This includes dog waste. Sternwheeler does have trash receptacles and bag dispensers for dog waste, but it is still a good idea to bring your own. Due to the sensitive natural wildlife area, dogs are not recommended on the wetlands site. Dogs must be on a leash if attending with you.
Know Before You Go
Be prepared for your visit and remember to stay on the trails to minimize damage to plants. Trail access to La Center Bottoms is from the parking area on 101 Aspen Avenue, just south of the water reclamation plant. There are no parking fees. We have seen such an increase in park visits over the past year because of Covid," explains Reed. "And we want to provide these opportunities for the community to connect with nature, but we need people's help keeping it clean, healthy, and safe, so enjoy responsibly."