Fasten your seatbelts because the New Year is coming and blazing the way are Christmas lights throughout Clark County that beckon us toward yuletide joy. This year, light-goers will not be disappointed, as the following houses are sure to dazzle you and fill you with good cheer. Here is where to find Christmas lights in Vancouver and throughout Clark County.
Vancouver 
15309 NE 7th Street, Vancouver
Season Greetings, everyone! This Vancouver house is a showstopper with more than 12,000 lights, familiar Christmas music, and 70 brightly shining characters, toy soldiers, and a nativity scene spanning the grounds. Santa and his sleigh are gliding to the roof. You might stand with your mouth slightly agape while musing how long it took to cover every inch of lawn, house, roof – displaying a 45-foot-tall candy cane — and trees with so much lit-up festivity. It seems impossible not to get into the Christmas spirit upon visiting this gem spot.
516 NE 147th Avenue, Vancouver
Illuminated candy canes surround the grassy border of this festive home featuring snowmen, reindeer, angels, Christmas trees, and other holiday goodies that are sure to inspire hope for the New Year ahead. The brightly lit animals seem to claim the yard with a certain confidence that is hard to dismiss.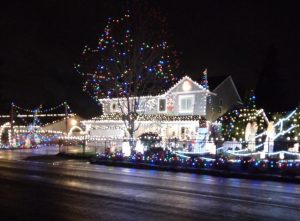 4610 NW Franklin Street, Vancouver
More than 130,000 lights are shining on Franklin Street. Christmas lights are on nightly from 5 p.m. to 10 p.m. Expect snowfall at 7:30 p.m. Dec. 18 to Dec. 23. This street is magical. About 10 homes participate with 4610 as the centerpiece. A life-sized nativity scene with a 24-foot-tall star, dancing Christmas trees, frozen characters, Olaf the snowman, Grinch, Charlie Brown, Snoopy, and so much more await you at this lights and holiday fun extravaganza. For a full calendar of cool happenings and live entertainment visit holidays on Franklin Street.
204 NW 45th St., Vancouver
After the awe you feel visiting Franklin Street, you can tootle up the road to a small and unassuming home lit in its own array of festive lights sure to allure you towards a closer look-see at festive decorations adorning the trees and glowing reindeer.
14407 NW 25th Court, Vancouver
Vancouver's little cul-de-sac off Bliss Road is glowing in glory once again this year. The houses circling the community are spreading plenty of cheer for those who get a chance to visit. Holiday favorites include Frosty the Snowman, gingerbread men, lights on the trees, houses, and shrubs, presents around the Christmas tree, candy canes, and more.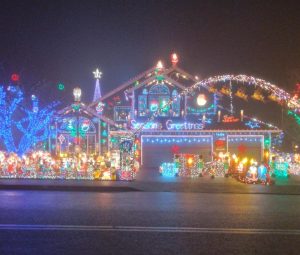 1719 SE 162nd Avenue, Vancouver
Enjoy lights and music from the comfort of your car at this local favorite featuring about 10,000 lights, computer-controlled animation, and traditional Christmas music transmitted from FM 88.9.
12508 SE Angus Street, Vancouver
This Angus Street light show is getting more exceptional each year. The dazzling house will get you tapping your foot and feeling the beat as you gaze upon more than 5,000 multi-colored rhythmic lights set to FM 98.9. The lights dance to the music and seem to hop, flow, and groove to every note you hear. The sequencing is innovative and completely fun. This one is a smiler for sure!
6523 NE 52nd Street, Vancouver
This blue paradise of holiday spirit is a great one to view. The home's centerpiece tree drips and moves in blue lighting with a vibrant blue skirt flowing beautifully. Brightly lit reindeer, snowmen, candy canes, and colorful roof lights add to this venue's holiday spirit and joy.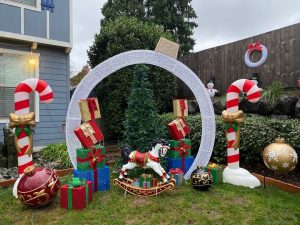 Be sure to also check out:
 4714 NE 43rd Street, Vancouver
15810 NE 96th Street Vancouver – show runs until January 2. 30 minutes of different songs!
15601 NE 35th Street, Vancouver – "A Northwest Chrismas"
Battle Ground
1300, 1302, and 1305 S Ash Avenue, Battle Ground
Inflatables, anyone? This trio of Battle Ground houses on Ash Avenue offers you a whimsical inflatable experience with snowmen, Santa, and house lights. The Grinch steals the show with his newfound heart on full display. Although his hands are behind his back – a nonverbal cue of resistance? Perhaps Grinch's heart-a-tude could be discussed over a cup of cocoa.
Ridgefield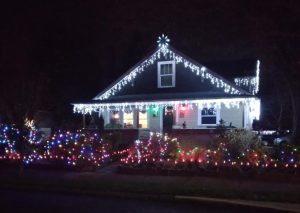 502 N Main Avenue, Ridgefield
Ridgefield is a holiday destination spot. The charming city is always a delight. This brightly lit house on 502 Main Avenue is glowing with lights and festivity, complete with a bright star atop its shingled crown.
Camas
4155 NW Sierra Drive, Camas
Camas never disappoints, and this house on Sierra Drive reminds us of this fact. The house is awash in lights, festive decorations, and characters on what would seem every square inch. It is a stand and stare-at-it-for-a-while place for sure to take it all in.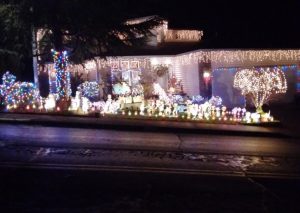 2002 NW Fargo Loop, Camas
A bright Merry Christmas Sign, nativity scene, Grinch, and other Christmas characters greet you at this charming house just a hop skip from 20th Avenue with multiple houses ablaze with holiday decorations and lights for those wanting to take an evening stroll.
Washougal
601 and 603 51St Street, Washougal
These two houses sit next to each other with winter festive scenes and lights to enjoy. The entire street illuminates with homes decked out for the holidays. Fifty-first street is fun to walk up and down. The houses are beautiful, and the lights make them feel magical and filled with possibilities.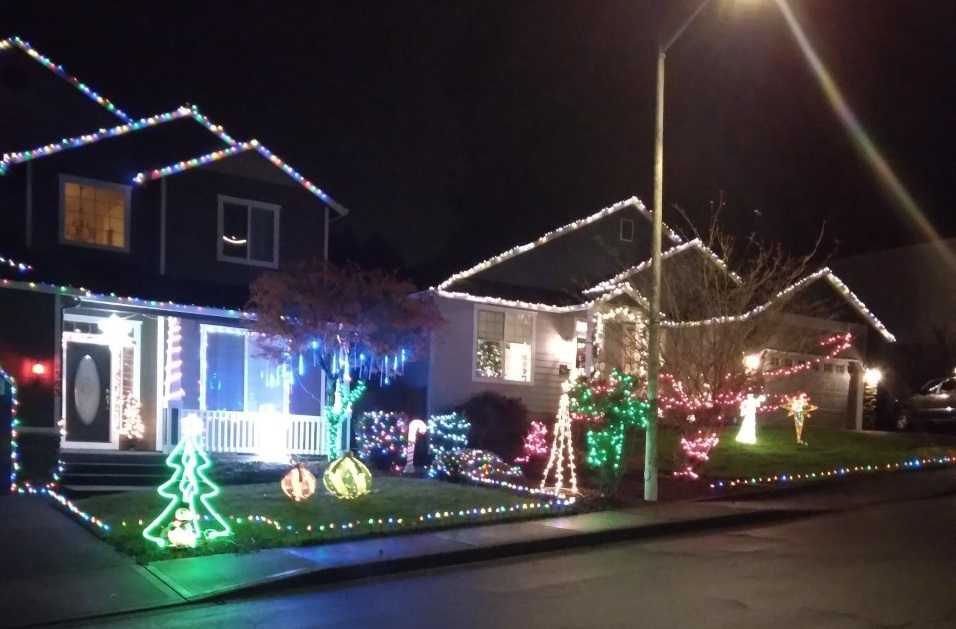 Are we missing your neighborhood? Send us an email with your address or neighborhood and a photo to submit@ClarkCountyTalk.com.