There is something wonderful about buying an item from the person that made it. You can see the passion, hard work and love that went into it, which makes the item special. Whether buying for yourself or someone else, it's nice to have something unique that can't be found at a big box store. Or maybe you are an artist, crafter or maker that's looking for a place to sell your wares? Either way, there are plenty of annual craft fairs, festivals and markets in Clark County that all should attend!
Clark County Fairgrounds Craft Shows
The Clark County Fairgrounds has craft shows every year that are large and draw big crowds. From holiday craft fairs to Northwest's largest garage and vintage sale, they have a variety of events to suit every shopper and every artist. Find out more about upcoming events at the Clark County Fairgrounds website.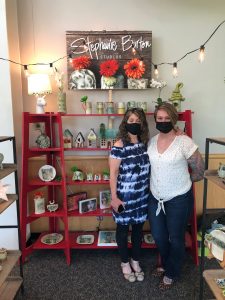 Night Market Vancouver
Night Market Vancouver is one woman's mission to support local artists and business with her pop-up fairs! Events happen throughout the year at various locations in Vancouver. You'll find all sorts of fun artists and each event is different, so always worth going to—you never know what you may find! Visit the Night Market Vancouver website for information on upcoming events.
Farmers Markets
Farmers Markets are a wonderful place to not only get fresh, local produce and flowers, but to shop a variety of local artist vendors. You can find all kinds of gifts, home décor and even every day essentials like homemade soap, lotions or candles at Farmers Markets. Check out their websites for more information:
The Downtown Alley Flea Market
This seasonal flea market is great place to look for local crafts in Vancouver. They have everything from the vintage resellers to artists selling their homemade items. They also have music and food. If you are a crafter, they are always looking for vendors! Visit the Kindred Homestead Supply website.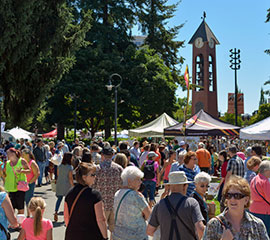 Recycled Arts Festival
This annual June event was started in 2005 to help Clark County residents get excited about going green! All vendors help with waste reduction by reusing, recycling and upcycling to make incredible pieces of art and other items that make amazing gifts. They usually have tables for kids to make their own recycled art, music and more. Visit the Recycled Arts Festival website to learn more.
Planters Days
This annual Woodland event has been happening in June since 1922! On the weekend of the four-day event they have a market, which is always full of fun vendors, many of them local crafters and artists. Along with food, contests and plenty of activities, it's a fun event for all. Check out the Planters Days website for more information.
Camas Vintage & Art Faire
The Downtown Camas Association hosts the annual Camas Vintage & Art Fair in August. Vintage and local artists line the streets of downtown Camas for a fun day of shopping! Explore vintage furniture to shabby chic your home. Then pick out paintings, woodworkings, metalwork and more to refresh your décor. There is always handmade jewelry, fiber art, repurposed art and other creations that are perfect to treat yourself or as a gift. They have music and food to make shopping fun. Learn more at the Downtown Camas Association website.
Ridgefield Multicultural Festival
The City of Ridgefield puts on an annual Multicultural Festival each year in September. Vendors include a host of artists and crafters showcasing talents that celebrate their culture. It's a great place to look for items you won't find anywhere else. It's like traveling the world without leaving your county! For more information, visit the City of Ridgefield website.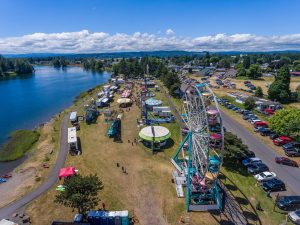 Crafts Unlimited Holiday Boutique
This annual holiday craft fair in Vancouver happens the first weekend of November, so you can get your holiday shopping done early! Put on by a group of crafters, you can be sure to find unique items for yourself or a loved one that you won't see anywhere else. Visit the Crafts Unlimited website for more information.
Ridgefield Children's Holiday Bazaar
This fun craft fair in Clark County is unique because all the fun holiday items are made by children from kindergarten through 8th grade in the Ridgefield School District. Happening early December, it's the perfect holiday craft fair to visit to get unique items that support our local students! Visit the Ridgefield School District website for more information.
Ridgefield Hometown Celebration
Every December the City of Ridgefield hosts their Hometown Celebration, complete with an arts and craft bazaar at the community center. There will be plenty of wonderful gift and décor items to look at, lovingly made by local artists. Or maybe you just need a fun White Elephant gift, you can find that here too! They also have tons of fun activities, food, music and of course, Santa Claus. Visit the City of Ridgefield website for more information.